The Lady in the Van famously recounts the autobiographical story of Alan Bennett's unlikely friendship with an eccentric, unsanitary and fanciful homeless woman, Miss Mary Shepherd. Following a short-term agreement for Miss Shepherd to park her van – out of which she lives – in Bennett's driveway, she remains resident there for 15 years.
Wittily narrated by Bennett's 'writer self', Bennett records his encounters with Miss Shepherd as a form of memoir, later developed into a play. With Shepherd's health in decline and Bennett racked with guilt at his decision to put his elderly mother in a home, the fractious and exasperating interactions give way to a genuine affection and a touching friendship.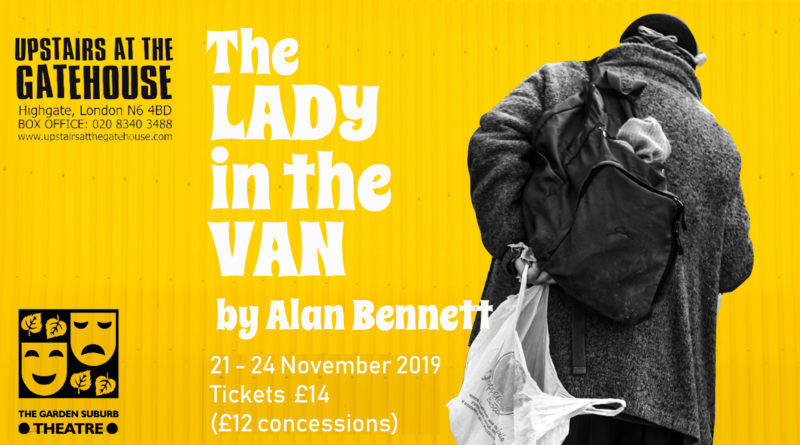 The production makes great use of the snug stage, with the static set splitting the action between Bennett's study and Shepherd's van, which is excellently constructed. The staging didn't necessarily lend itself to the three-sided black box style theatre, and sitting on a side row I did miss a bit of the action. However, some superb performances by the lead roles in particular made for an entertaining evening.
Adrian Hughes and Richard Tinworth deliver both a perfectly meek, anxious and awkward Alan Bennett and an acerbic counterpart who narrates and oversees the action, often berating 'real Alan' for his timidity and lack of backbone. The star of the show, though, is Natalie White as Miss Shepherd, whose comic timing and powerful monologues bring charm and geniality to a rather unsavoury character. Well documented is Miss Shepherd's dubious personal hygiene and she is frequently selfish and stubborn, yet White creates a layered and fascinating character who I really enjoyed getting to know. Overall, a fascinating story well told by a strong cast.
Reviewer: Zoe Meeres
Reviewed: 21st November 2019
North West End UK Rating: ★★★