It takes a cracking amount of guts to stand up in front of an audience and improvise an entire show. But it takes real talent to stand up and improvise an entire show and do it really well. But then, Jason Kravits has form, (American TV regular and Broadway veteran) and when he steps on stage the showbiz aura exudes so powerfully you are rapt in his off-the-cuff musical comedy from the – off.
Drawing his inspiration for content from slips the audience have completed just moments before the show starts, "the last text you sent", "where were you born", and other banal questions form the basis for Kravits' cabaret genius as he treats the audience to vivid off-the-knuckle hilarity.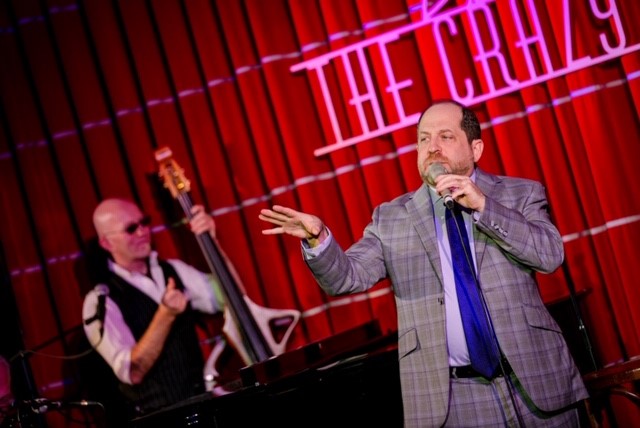 How on earth the band keep up with him is a mystery, but the whole performance works seamlessly.
It's easy to see how this show has been performed around the world because it's adaptability to suit the audience is built-in from the outset. Audience participation is guaranteed – everybody wants to hear their contribution feature as part of the set. Which makes the content very local and very relevant to whoever's watching.
The added bonus of a guest star each night, is also a plus. Ruth Bratt was the guest when I attended and the duo riffed off each other brilliantly. As part of his week-long residency at Crazy Coqs, Kravits will also be joined by Rachel Tucker, Sarah-Louise Young, Alan Cox, Stephen Frost, Joe Stilgoe and more.
Perhaps the only potential downside to Off The Top is it's never the same show twice. That means the show I saw won't be the show you see – so who knows if it'll be as good – or maybe it will be even better? But that's the attraction of spontaneous cabaret – you never really know what's going to happen and that's part of the special thrill. Either way, I don't think you'll be disappointed. Kravits is a performance masochist who would rather die than not make an audience laugh.
Off The Top runs until Sunday 19th January. https://www.brasseriezedel.com/live-at-zedel/jason-kravits-jan-2020?date=230420955
Reviewer: Samantha Collett
Reviewed: 13th January 2020
North West End UK Rating: ★★★★