What makes a comic genius? The story of Charles Spencer Chaplin who rose from a background of poverty and dysfunctional family relationships in London to become one of the most iconic figures in the history the film industry poses this question. His parents had a background in theatre but that apart there was little in his upbringing which could have foretold his outstanding success but as Ross McGregor hints in this new play there may clues in the underlying sadness in his famous Tramp figure.
This new production at the Brockley Jack directed by the writer documents the rise of Chaplin from East End poverty to Hollywood glory. It is not a straightforward narrative: the action moves backwards and forwards in time between his childhood and his time in Hollywood.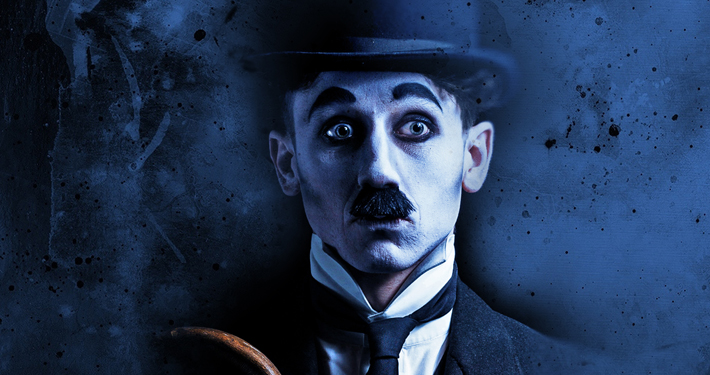 The cast of six portray a range of characters in both his family and in his theatrical career. It is a highly stylistic production with effective use of dance, movement, music and projection to tell the story. The action is fast moving, comedic and entertaining owing not a little to the style of slapstick which was the hallmark of Chaplin's own performances.
The limited space in the Brockley Jack's performance area meant that the single set used to depict the family home in London and Chaplin's studio in Hollywood was a little cramped but the projection of images and titles to the scenes was extremely effective and meant that the changing locations of the action was easy to follow.
The performances by the six actors never lacked energy and commitment. Outstanding was Lucy Ioannou who played the young Charlie Chaplin and then morphed into his famous Tramp figure. She had no words to speak since the play uses the intriguing device of having the older Chaplin (Conor Moss) to speak his younger self's words but her portrayal of Chaplin as his screen persona was exceptional. However, I found the scenes of Chaplin as the esteemed director at the height of his career in Hollywood lacking in conviction.
This is an innovative production of a new work which does throw light on one of the great personalities of the 20th-century and provides an excellent evening of theatre.
Playing until 22nd February https://brockleyjack.co.uk/jackstudio-entry/chaplin-birth-of-a-tramp/
Reviewer: Paul Ackroyd
Reviewed: 6th February 2020
North West End UK Rating: ★★★★