The master of multitasking, Martin Kaye gives a truly amazing show and we (the audience) are all engaged by his love and devotion for Elton John, and his near childlike joy and anticipation for his idol and motivator, as he takes us through his adventure, when meeting his idol, and I am sure that we can all relate to that feeling, especially when it was as unplanned, as it was for Kaye.
We (the audience), gathered in a small space, where the stage comprise of a sofa, three sofa chairs, a bar stool and a massive piano, making the venue small and intimate, and in the back, there are five free standing massive letters, spelling the name " ELTON", where the E functions as a shelving unit, containing various props and the O is made into a cinema screen, showing and enlightening parts of the show, and the orchestra (guitar, bass and drums) are placed behind the big letters, barely visible. The sound guy, is tucked away up by the ceiling.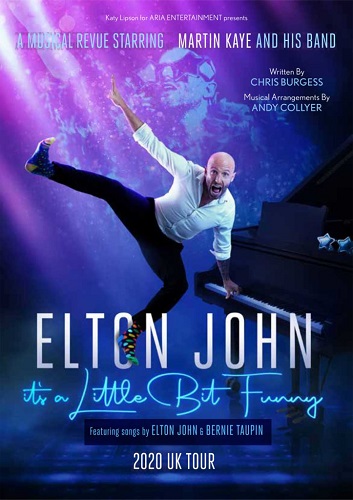 The intimate space, makes us feel like we are a lot closer to Kaye, like we are sitting on the sofa with him, him telling us his amazing encounter, combined with beautiful songs by Elton John and Bernie Taupin, of which three songs were written by other composers; "Are you ready for Love" written by Thom Bell, Leroy Bell and Casey James, "Great Balls of Fire" by Jack hammer and Otis Blackwell and "Madness" by Elton John and Gary Osborne.
Kaye, has such an amazing voice with a wide vocal span and he is really witty and engaging with the way he's describing his encounters with Elton John. We were laughing with Kaye and we (the audience) got to engage with him as well, cheering, clapping and even singing. An amazing response from the audience showed how much they loved the show, myself included.
Having, myself, only heard a few Elton John songs previously, this show made me download his songs and Kaye's story telling made me understand the reasoning behind Elton's lyrics in his songs and what they represent, in different stages of Elton John's life, and I felt that I got to know both Elton John and Kaye a lot better as the evening went by.
Also, I can relate to wanting to succeed and taking all the measurements it takes to fulfil that dream, that being a musician or something else.
This show is well worth watching, if not in London but on the show's upcoming venues of Radlett centre and Hope Mill Theatre.
I felt like, we were there with Kaye, discussing his adventures and jamming away to the lovely songs, not just a play but also the audience response you sometimes get from when you attend a concert, where you interact, sing a long and cheer, perfectly staged and very cosy, bringing us all together, regardless of age and no matter that we were all strangers from the beginning. We left the theatre as at least acquaintances.
To top it all off, I really recommend the Gatehouse pub's lovely two course theatre meal, to be booked online, for a shy price of £17.50, and in addition a good variety of drinks, which you could bring with you to the show.
I truly recommend the entire experience, as a night out with friends, parents or the in-laws.
This show, made me walk home very happy and cheerful, humming and even singing a bit of the song "It's a little bit funny", when going down the escalators to the tube.
Reviewer: Annika Akerlund-Wheble
Reviewed: 25th February 2020
North West End UK Rating: ★★★★