Joshua Sobol is not a playwright who shelters under a veil of obscurity. In one of his first plays 'Ghetto', he examined the holocaust, 'The Jerusalem Syndrome' caused a riot in the theatre and 'The Palestinian Girl', which was staged in the 1980's, used the word 'Palestinian' on its poster, causing controversy at the time. In a more recent play 'Bereaved', he examines two families (one family are Israeli Jews and one, Palestinian), examines their mutual grief of losing a child, performed partly in Hebrew and part Arabic.
'Sinners' was previously staged with Nicole Ansari in the leading role and Brian Cox directing at The Mirror Theatre, Vermont in 2016 and then at The New Repertory Theatre, Boston the following year.
As we walked into the auditorium, we were transplanted to the Middle East by Veria Amiri, with his atmospheric strumming of his Persian instruments. The impressive stage with a wall of stone with bullet holes and dried blood was littered with stones and sand which is pressed against the sides of a covered figure.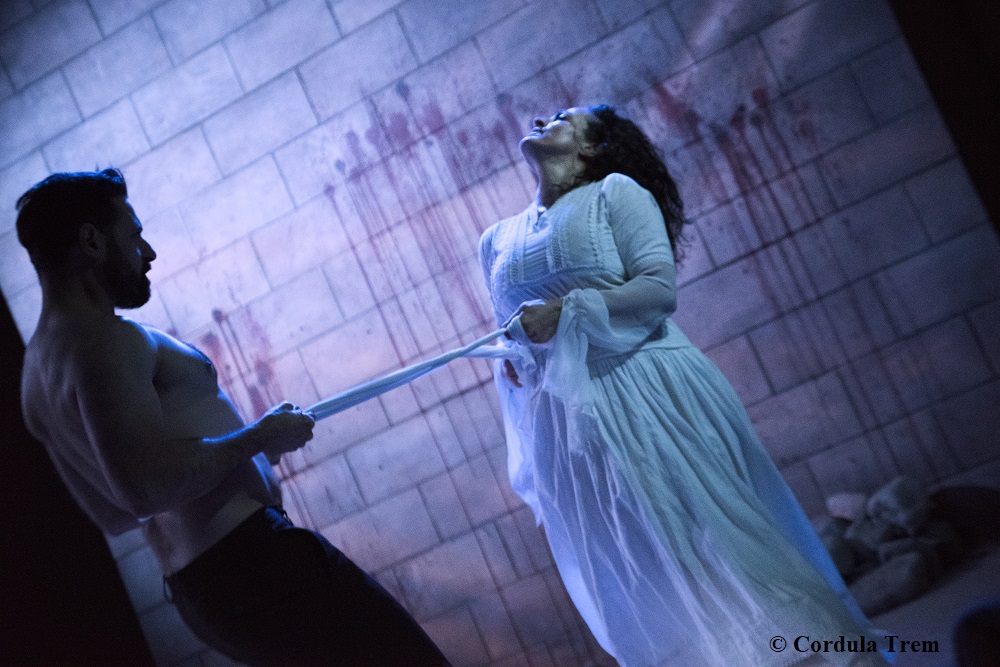 This covered figure is Layla (Nicole Ansari) who has been buried up to her chest and now awaits her fate for her part in an adulterous affair. Her ex-lover Nur (Adam Sina), is busying himself collecting rocks in a wheelbarrow. This pastime gives Nur some mobility, but the lack of variety means it becomes tiresome as he his achieving very little in this pursuit.
Layla (Ansari) epitomises the strong, well-educated woman who has struggled with oppression during her life and simply wishes to be respected and loved. There seems to be a lack of warmth between these two characters. Nur (Sina), often seemed confused and it is difficult to see what drew these two together and how the flames of passion and love were first ignited; and it felt a little contrived. As Layla was buried through a good portion of the play, it meant that this story of adulterous passion lacked physicality, and it was left to Ansari, to become the narrator of reminiscence, and the sometimes vulgar language seemed at odds with her love of literature and it felt rather clumsy in places.
There are some wonderfully intense moments when Ansari truly comes into her own and this is when the play shows us why it was written. In a country where women are restricted and have no freedom of speech, Layla uses her last moments to vent her frustrations. Her feelings that the men of her country suppress women because they are afraid of their lust for life. Education of women is not encouraged, as a passionate educated woman would make them feel emasculated. Women should know their place! Sobol also manages to squeeze in some wonderful gallows humour, which does lighten the mood.
It is easy to see why Nicole Ansari and Brian Cox wanted to be involved in the production of 'Sinners'. It is a play that is relevant and has a subject matter that needs to be heard, but somehow falls short in its execution. You cannot fault Ansari's passion for her performance, but some aspects need re-thinking and the direction reconsidered.
Sinners runs until 14th March 2020 at The Playground Theatre and tickets can be bought online at https://theplaygroundtheatre.london/events/sinners/
Reviewer: Caroline Worswick
Reviewed: 26th February 2020
North West End UK Rating: ★★★