The Royal Opera House launched their 2010/11 season with this revival of Jonathan Miller's 1995 production of Mozart's comedy with Miller returning to direct the launch of what was then ROH's first planned live broadcasts to over 200 cinemas around the world which seemed somewhat apt in the current circumstances.
The story begins with an old cynic and philosopher, Don Alfonso (Thomas Allen), betting two young soldiers, Ferrando (Pavol Breslik) and Guglielmo (Stéphane Degout), that their respective fiancées, Dorabella (Jurgita Adamonytė) and Fiordiligi (Maria Bengtsson), will not stay faithful if put to the test. The two young men accept the bet and pretend to depart for the front line whilst secretly returning in disguise and under the direction of Don Alfonso, ably assisted by a maid, Despina (Rebecca Evans), they attempt to woo each other's other half. Cosi fan Tutte – 'all women are like that' – is the challenge set down. The question is though: are they?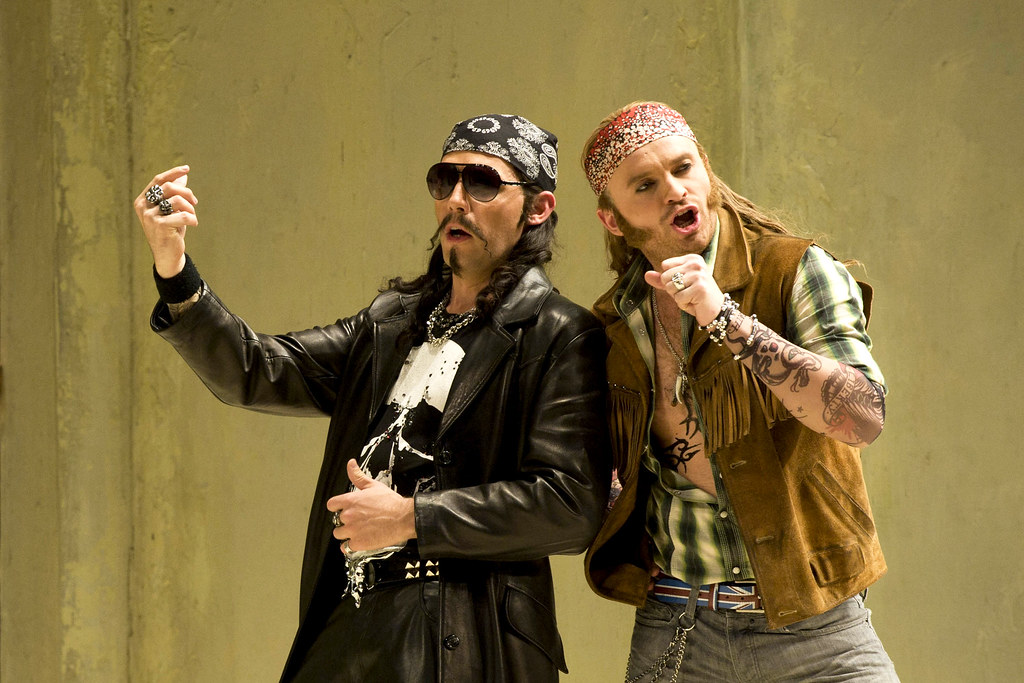 Sadly it has to be said that the Royal Opera House and Miller were not up to the challenge in this updated modern adaptation which whilst cleverly embracing the technology of the time – smartphone selfies haven't changed in the last ten years – felt somewhat flat on what I can only describe as a bland singular set which Miller had apparently designed: whilst Mozart imagined a coffee house, lounge, garden, and bedroom, we were presented with an open and unfinished space that lacked the intimacy and warmth that the piece demands.
This was conductor Thomas Hengelbrock's debut with ROH and whilst a competent performance, perhaps his focus on the orchestra being accurate resulted in a loss of the fun in the music which is at the heart of this piece.
This and the grand scale may have affected the singing, which was turgid on more than one occasion, particularly in the opening half, and reinforced that lack of intimacy between our two couples throughout. Whilst Bengtsson and Adamonytė could easily pass as sisters, there was a coldness and sadness to their affections that became a little more coarser as the action unfolded but never felt like the sexual frisson that gives this comedy its edge and this was reflected in their singing which was adequate but unremarkable. Breslik and Degout were more accomplished in voice but with their alter ego's respectively camp and butch it again meant that the deeper sensuality essential to the piece was lost in bawdy farce rather than the erotic comedy which was the fashion of the time.
In contrast Allen and Evans were impeccable. Don Alfonso is a part that can be easily swamped but here Allen's experience was to the fore as he credibly oozed cynicism and wit throughout with Evans' more complex Despina a joy to watch and hear. It is worth watching for their performances alone.
I'm all for trying something new with a production but in what was its seventh revival, perhaps it was time for someone new to have a go: I've seen it done better – and with an English libretto – closer to home.
Royal Opera House and Royal Ballet are offering a schedule of free Friday premieres and live content that audiences can access for free, anytime, anywhere. Further details and access at https://www.roh.org.uk/
Reviewer: Mark Davoren
Reviewed: 10th April 2020
North West End UK Rating: ★★★★★