Beth Steel's muscular play about the 1983/4 miners' strike is part of a joint venture between The Guardian and Hampstead Theatre in bringing previous live performances through streaming.
Originally performed in 2014 and directed by Edward Hall this is a dark journey into the troubles that the mining industry found itself in. It is a story about the breakdown of trust between the miners themselves and the Thatcher government of the time; it is a play that is about division and opposition, about crossing lines and being true to what you believe.
There is no doubt that Steel's script is spirited and energetic even though it does have some obvious issues. The characters "them & us" suffer from being quite stereotypical (the young naïve miners, the crass government types, the grizzled old timers who have seen this all before etc.) and the fervour and heat of argument, debate and political manoeuvring is never ending and a little exhausting after a while.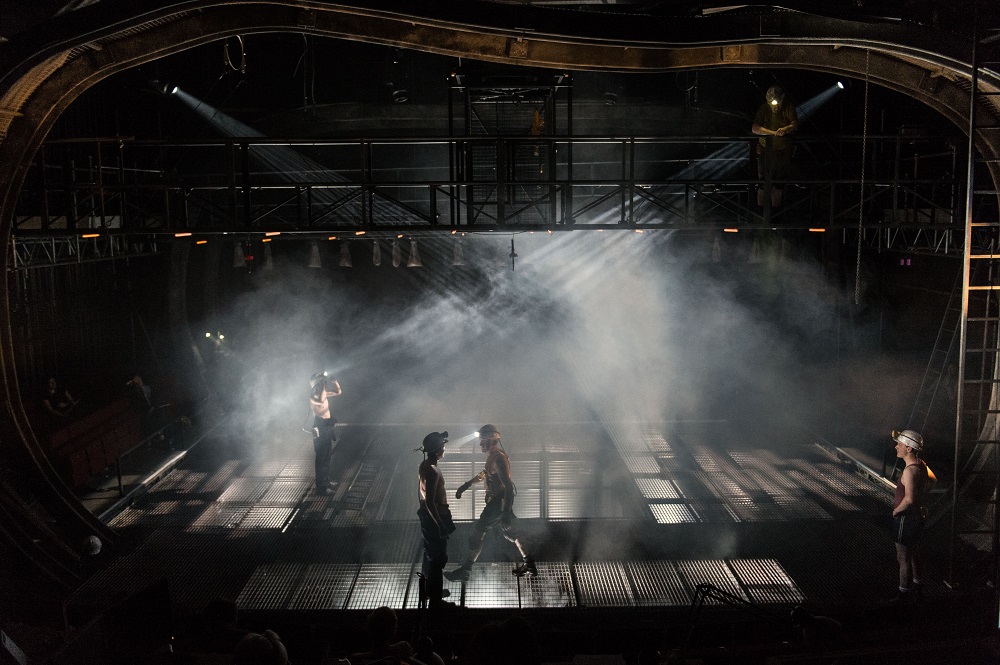 I didn't particularly care about the characters that much which was a shame and the use of an occasional "sea shanty" type of male bonding sing-a-long didn't really work for me either. It was quite irritating – I knew what they were trying to do but it was just a little flat
On the plus side however, the set design, lighting and sound were all excellent and really helped move the script along. The technical fireworks offered much needed pace and nuance. The use of the miner's light helmets was a genius idea giving the stage an almost surreal vision of hell and transitions between the pit head and the halls of government were fluid and expertly achieved.
The famous Battle of Orgreave where the miners went head to head with the police was so well realised and imaginative, using sound, lighting and stage effects that it almost felt as if we were watching a documentary.
Even though Steel's script left a lot to be desired, Hall managed to get some fantastic performances from his strong cast.
Paul Brennen as Colonel, the loud and loyal union man gave an outstanding performance as did Andrew Havill as the minister Peter Walker who is torn between his leader Thatcher and the men at the coal face. Special mentions also to Michael Cochrane as the wealthy American businessman Ian Macgregor who just see's the dollar sign in everything and Paul Ratttray as Fanny, who gives the final tragic monologue of the performance.
This play had a lot to say about how we treat people, how we try to negotiate out of difficult situations and how we manage to survive and protect individual principals.
I just wish that the script had served both Hall and his ensemble in a better way.
You can watch Wonderland for free online HERE until 10pm on Sunday 12th April.
Reviewer: Kiefer Williams
Reviewed: 10th April 2020
North West End UK Rating: ★★★★★