Well, this was certainly very different from anything I've seen before, and not sure it is something I would have chosen to see however I was quite pleasantly surprised by what I did see and especially what I heard.
Renamed Myth: The Rise and Fall of Orpheus, Sam Cassidy's rock musical 27, played at The Other Palace in March 2018 and it had a revised book and new songs. It was a semi-staged concert type production with Arlene Phillips returning as director.
The piece is a modern retelling of the ancient Greek story of Orpheus and the underworld. It looks at mental illness and addiction and it is believed that the original title '27', referred to the early deaths of some of the world's greatest musicians including Jim Morrison, Jimi Hendrix, Janis Joplin, Kurt Cobain and Amy Winehouse.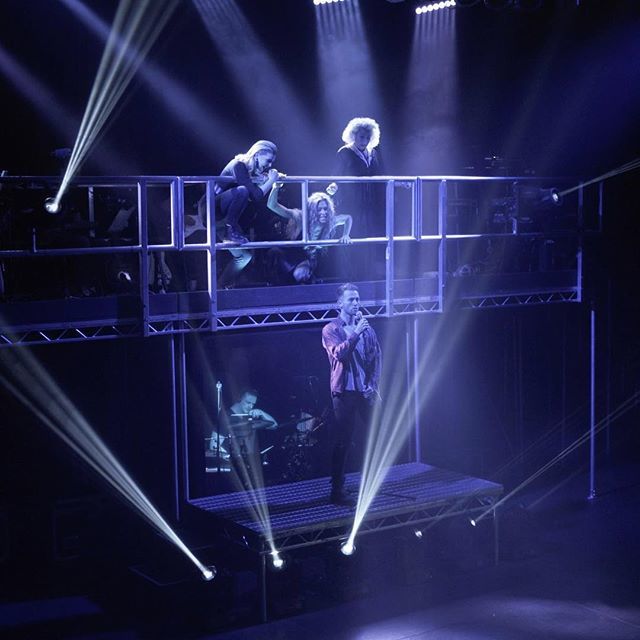 The set was just a one piece which was very simple and highly versatile. Just basically scaffolding on 2 levels which not only house the band but was used by the 'sisters' for most of their performance.
The sound team did well with no issues at all however I do believe there were occasional 'blind spots' from the lighting. I understand the atmospheric lighting for the story being told but a couple of times, I lost people mainly scene stage right with Orpheus and Hades.
Again, I understand the need for the dark costumes and for the most part, the effect was achieved however the costumes on the sisters were undecided (either they are portrayed as witches or not) and the 'seductive' costume for Miss M, for me, was a little too revealing. There are ways of making something sexy and full of promise without showing too much.
I love rock music and was not disappointed in the slightest with a highly competent band behind them, this cast delivered.
And now to our cast, well what can I say? A very small but tight cast on the stage and every single one deserved to be there, but I have to mention a few.
Richard Carson as Jason and Damien Walsh as Eurydice were a superb fit and gelled well together as part of 'The Argonauts'. Both sang and acted very well.
Miss M was played extremely well by Zoe Birkett and her 'Temptation' number suited her fabulous tones.
Matthew McKenna portrayed Hades and a very smooth dog he was too. Gorgeous voice and super, sometimes comic, acting as well. His timing was excellent.
The 3 sisters had voices to die for, absolutely fantastic and I would be honoured to play one of them… A trio that worked and, vocally, blended extremely well together.
Eurydice was played wonderfully well by Diana Vickers. As Orpheus's girlfriend, she took on the task of trying to help him with dire consequences… Superbly acted and sung by Vickers.
And finally, to our lead, our Orpheus. Brilliantly played by Joel Harper-Jackson. A fabulous performance with some sublime vocals to boot. His portrayal of a drug addicted, mentally charged artist is something too well known and was absolutely spot on. Extremely well acted and I can imagine it must have been a difficult head space to get into... Well done Joel!
Although I was unable to tell you the name of the final number, it was absolutely outstanding and made the hairs on my neck stand on end… Superb.
All in all, a very thought provoking, dark piece of theatre that makes you take note.
Reviewer: Hazel Bumby
Reviewed: 16th April 2020
North West End UK Rating: ★★★★★