Another free showing from the NT Live archives – Treasure Island is a well-loved children's book, although children now would probably relate to Pirates of the Caribbean's Jack Sparrow, rather than the iconic Long John Silver. This 2014 production was big, bold and rather dark but lacked the adventure and excitement of previous adaptations. Bryony Lavery's script was poetic in its narrative but was deficient of real storytelling and never allowed its characters to develop.
The shining star of this production was the magnificent set. Lizzie Clachan's powerful and dramatic concept flourished in the space. The National has a revolving stage and from this grew, literally, the ship and the island. A gigantic rib-cage structure leading us into the heart of darkness of this play. The Hispaniola ship appeared before our eyes as the audience let out sighs of wonder. At one point the sky gave us the constellation as we were navigated through the stars. The smoky, shadowy island gave us mystery and inventiveness.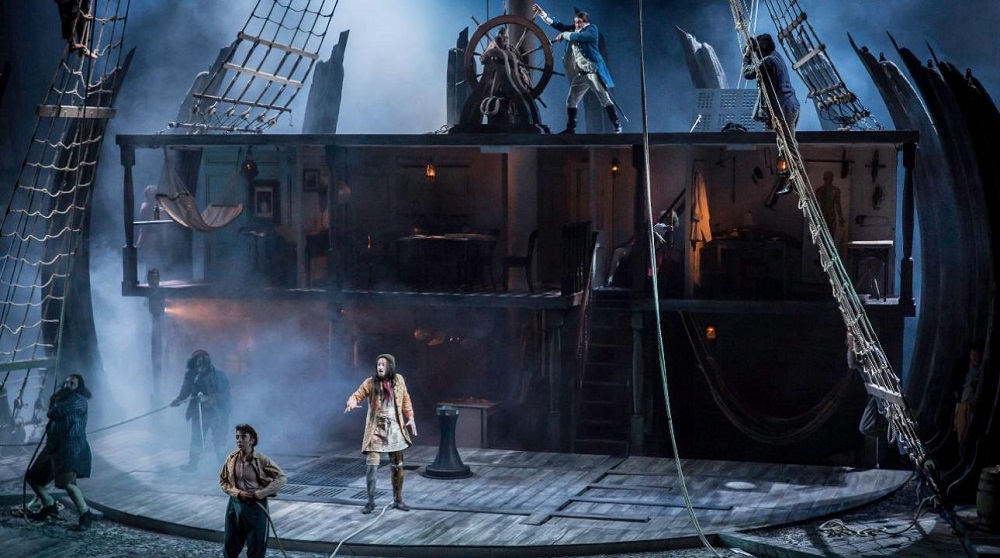 Very few theatres would have the budget to present such an extraordinary vision but what this production gave us in style and design, it lacked somewhat in engagement and delivery.
Director Polly Findlay presents us with a female cabin boy Jim (Jemima) and various other characters switched to female roles – which was absolutely fine, after all there were women pirates in history and as a modern telling it works just as well. Findlay tells us - "it's dark, frightening yet comic": the set was dark but I failed to feel either fear or the urge to laugh. Instead, we start with Jim as a narrator in that style of staccato, over-emphasized voice that is often heard now. Actors appear to shout rather than project and use their hands to describe their words – as if we, the audience, are incapable of under-standing without sign language. Of course, the national is a very large space and words must be heard but the only actor who seemed to know how to project (rather than shout) was Squire Trelawney.
As the central character, Patsy Ferran's "Jim" is expressive, lively and agile but the relationship between her and Silver (played by a badly cast Arthur Darvill) didn't materialize. Darvill is a young, soulless sketch of a character that never finds any true depth but does model a variety of coats, as well as some kind of leather clad prosthetic limb. There was never an emotional connection, even in the star-gazing scene which should have been the magic moment of the production. The rest of the crew gave us an assortment of characters that we never really got to know, except for Israel Hands's explosive departure and Gray's popping up out of nowhere from time to time, very little else was memorable. The most rewarding performance was Ben Gunn played meticulously by Joshua James, as a physical Gollum type character – his eyes capturing the truth of something behind a stripe of yellow makeup. Suddenly, the play became alive and we were engaged.
Before the journey was begun it was over, missing out a lot of the original detail, as Jim and his friends find the treasure and are on their way back home.
The set, complimented by stylized costumes, a soundscape of sea shanties and some impressive special effects, saved this production and earned it its four stars but I would have liked a bit more swash-buckling energy and charisma from its lead characters. Still, I accept that spectacles like this need to be experienced Live on stage or at least in a cinema; maybe some of its power was lost on the small screen.
Treasure Island is available to stream online for free until the 23rd April. Visit https://www.nationaltheatre.org.uk/ for more information.
Reviewer: Bev Clark
Reviewed: 16th April 2020
North West End UK Rating: ★★★★★