'As Gregor Samsa awoke one morning from uneasy dreams he found himself transformed in his bed into a gigantic insect.' The opening line of Kafka's 1915 novella sets the dramatic scene and highlights perfectly the challenge facing Arthur Pita with his 2011 dance-theatre adaptation.
Pita cleverly steps away from the dark surrealism to show us Gregor's (Edward Watson) humdrum existence in the days leading up to the unexplained transformation as he rises in darkness to his alarm clock, collects the apple from the table and catches the train to an apparently soul-destroying job with daily interactions with the train conductor (Amir Giles) and a coffee lady (Bettina Carpi) boringly the same. Each evening he arrives home to an anxious mother (Nina Goldman) and immature younger sister (Laura Day), with the barest of acknowledgements from his father (Neil Reynolds). Day in, day out, regular as clockwork. We can sense that despite the surface appearance, deep down things are not right.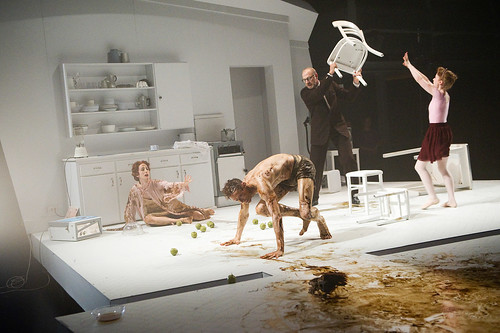 And then it changes. The alarm clock goes off and Gregor fails to rise. He lies on his back, twitching, unable to get out of bed. The family are concerned and even the boss (Greig Cooke) comes knocking. Kafka's story is not explicit whether Gregor has physically transformed into an insect or whether the daily toil and troubles have caused a mental breakdown and this production cleverly maintains that ambiguity: Watson's physical transformation as he contorts in the most unhuman-like manner could reflect the behaviour of a giant insect or the deranged behaviour of a mind run amok, both scenarios further reinforced by the black liquid that comes to smear the stage.
There are actually two transformations and Simon Daw's clever use of a split stage allows both to unfold as we see into Gregor's room – or is it his mind – and the family kitchen where despite what is happening, normality slowly resumes. The madness of both scenarios is perfectly captured through the set's stark white design with Guy Hoare's clever use of lighting taking us between the depth of darkness and the glimmer of hope to the accompaniment of Frank Moon's haunting and unsettling score which included a delightful Klezmer nod to the original tale.
Watson's performance is mesmerising as he hideously knots himself into horrifying dehumanised shapes with only his ever-staring eyes suggesting that the original Gregor may still lie within. The choreography throughout was excellent from Watson's solo tour-de-force through to the solo and group performances of the other cast members. Whilst much praise must indeed go to Watson, equally mesmerising is Day as she transforms from spoiled brat to confident young woman with a knowing look hinting that the hope she reflected at the beginning has now turned to darkness itself: the human factor perhaps? Ultimately Carpi's strong re-appearance as a no-nonsense maid clears matters up and away, once and for all.
This isn't a story in the usual sense, it is a tale of confusion and only the audience can interpret what that means to them. There's much to admire about what Pisa has achieved with this production, including excellent performances from the whole cast and a superbly claustrophobic atmosphere, but to have taken this work of psychological absurdism and successfully translated it into a physical performance is the pinnacle of achievement, and it moved me in a way that the novella never did.
Royal Opera House and Royal Ballet are offering a schedule of free Friday premieres and live content that audiences can access for free, anytime, anywhere. Further details and access at https://www.roh.org.uk/
Reviewer: Mark Davoren
Reviewed: 17th April 2020
North West End UK Rating: ★★★★★