Cheek by Jowl are based at The Barbican, London but are much more than just a British theatre company. They produce and stage shows internationally with performances notably in France and Russia produced in their native language but have also toured their shows to 50 countries.
This production of Measure for Measure is a joint venture with the Pushkin Theatre, Moscow and The Barbican, London and the actors and dialogue are Russian. For our English ears, Shakespeare's iambic pentameter will seem at odds with the Russian dialect, it seems to disrupt the rhythmic delivery of the speech. However, there are subtitles, and the acting more than makes up for the extra concentration required to multi-task with reading and watching.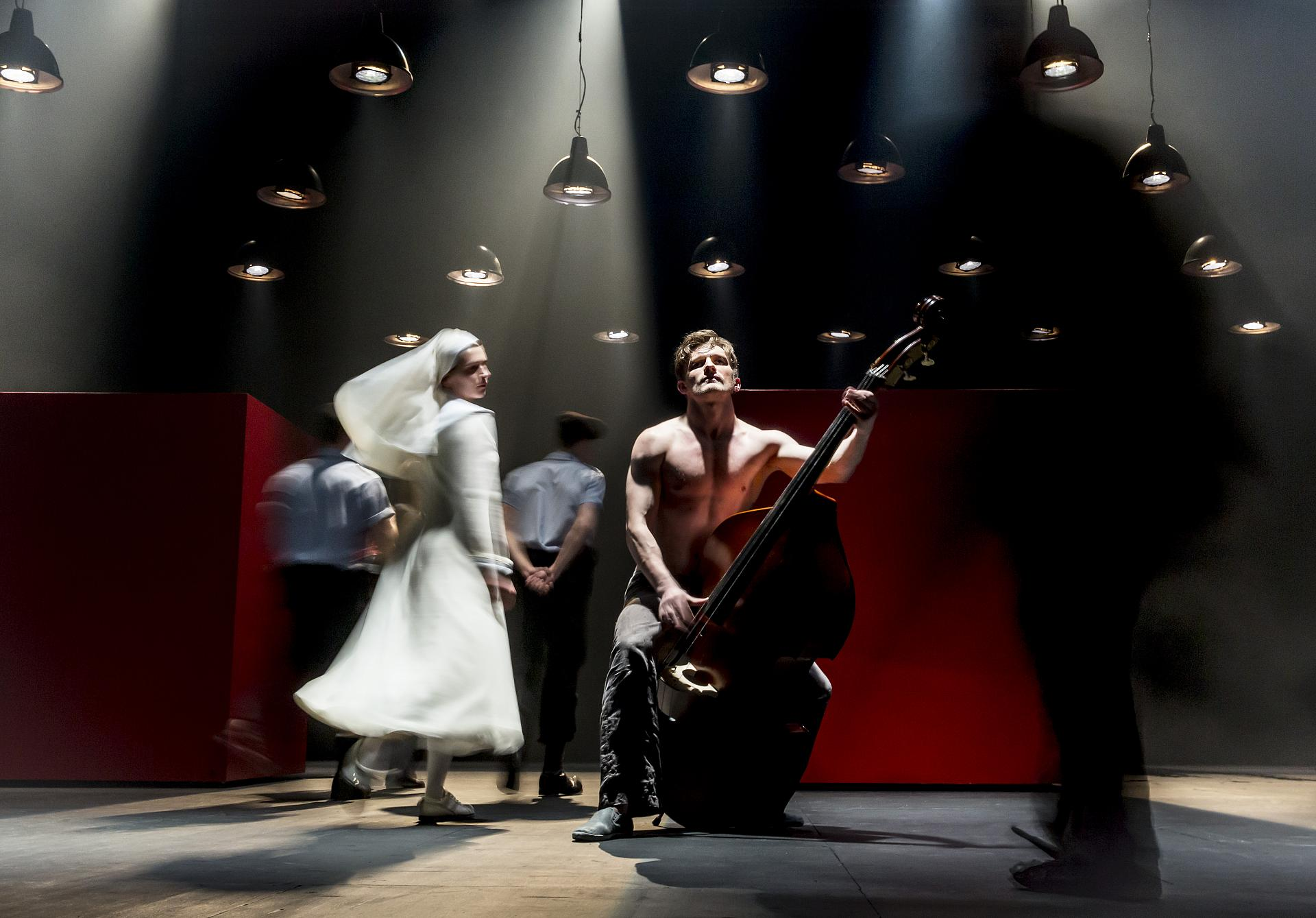 Measure for Measure is timeless, a political play that was written in roughly 1604, but the themes are still relevant today. Controlling Governments and religions, all trying to make us feel that we must act a certain way, handing out retribution if we don't comply. It is also packed full of human emotions and frailty - when to love, when to forgive, when to regret.
As this play is not performed as frequently as some of Shakespeare's other plays, the story is less well known. Set in a city which is losing its morality, the Duke (Alexander Arsentyev) is reluctant to effect the sweeping changes needed, so hands over responsibility to his deputy Angelo (Andrei Kuzichev). After being a little reluctant at first, Angelo takes the baton and decides to introduce an archaic law which outlaw's fornication out of wedlock. Very quickly Claudio (Petr Rykov) is arrested for getting his girlfriend Juliet (Anastasia Lebedeva) pregnant, even though he intends to marry her. Claudio's sister Isabella (Anna Vardevanian) who is due to take her vows to become a nun, hears of her brother's arrest and death sentence and goes to visit Angelo to plead for her brother's life. Angelo offers Isabella an indecent proposal in return for leniency for Claudio; she refuses. The play follows the moral struggles of Isabella and how she has both the State and her religious views pulling her in different directions whilst feeling love and loyalty to her brother. The Duke also disguises himself as a Friar so he may observe unhindered, the goings on within his City.
The stage design is kept relatively simple using only a basic table and chairs for some scenes, but by far the most striking focal point is the three large red glossy boxes, which rotate and are used intermittently to heighten our visual focus and to communicate the confused thoughts running through the mind of the Duke.
There are some truly magical scenes in this play, the scene between Claudio and Isabella at the prison and the following scene with Claudio playing haunting notes from a cello which is lit to outline the actor's silhouette and perfectly captures the mood. The death dance around Claudio is poignant.
Anna Vardevanian gives a stunning performance as Isabella; in fact, the whole cast give life to this wonderful play and it is a credit to Artistic Directors - Declan Donnellan and Nick Ormerod.
I would highly recommend you step out of your comfort zone and take the time to watch this superbly acted and directed play.
To watch the play go to https://www.cheekbyjowl.com/productions/measure-for-measure/ Please also remember that Cheek by Jowl are a charity and rely on donations, so if you watch the play and you can afford to make a donation, you can do so here https://www.cheekbyjowl.com/support-us/
Reviewer: Caroline Worswick
Reviewed: 30th April 2020
North West End UK Rating: ★★★★★