One of Shakespeare's later plays, The Winter's Tale seems a surprising choice for a narrative ballet given it is incredibly wordy. Fortunately, choreographer Christopher Wheeldon and designer Bob Crowley have successfully navigated a route with the atmospheric accompaniment prepared by Joby Talbot in this 2014 production.
King Leontes (Edward Watson) of Sicily is increasingly overcome by unfounded jealousy, believing his pregnant wife, Hermione (Lauren Cuthbertson), to be having an affair with his childhood friend, King Polixenes (Federico Bonelli) of Bohemia with Leontes' resultant actions tearing the two families asunder. When the newly born baby daughter is abandoned in Bohemia, serving lady Paulina (Zenaida Yanowsky) advises that Hermione has died of distress. The baby is rescued by a shepherd (Gary Avis) and his son (Valentino Zucchetti). Growing up to become the beautiful Perdita (Sarah Lamb) she falls in love with Florizel (Steven McRae), who she believes to be a shepherd, but he is in fact the son of Polixenes.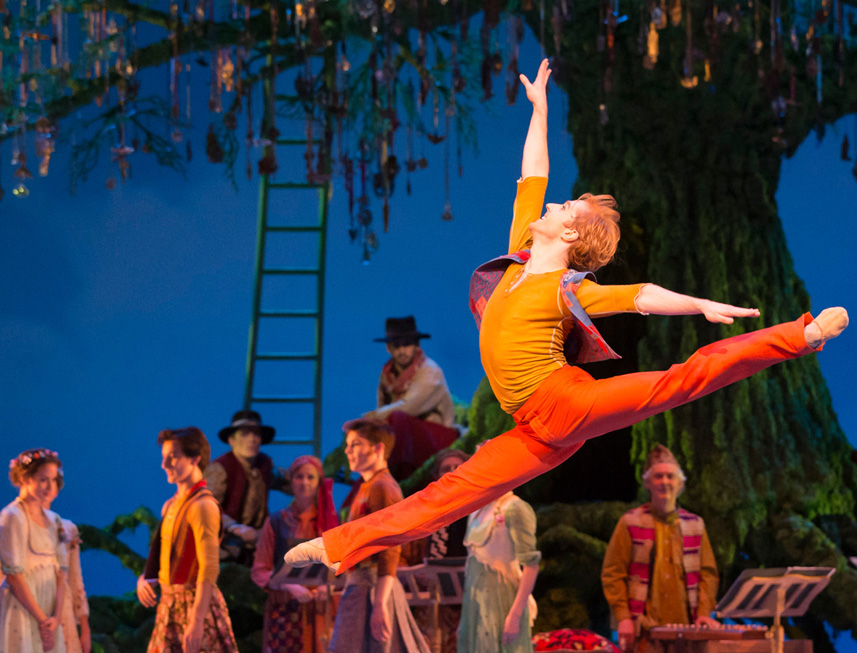 Fleeing Bohemia to be together, the young couple arrive in Sicily where Paulina identifies Perdita and she is reunited with a remorseful Leontes. The arrival of Polixenes sees old family divisions healed and Hermione miraculously returned to life.
The success of this production lies in Wheeldon's brave decision to cut some action and characters and re-tell the tale in a manner more suited to the silent form of ballet with some adept skill moving us beautifully and intricately between scenes and countries as sophisticated use of lighting from Natasha Katz, projection from Daniel Brodie, and silk effects from Basil Twist, allow us to feel the force of a ship's journey through the waves and a storm, and the fear of and fleeing from the unknown without an actual bear in sight.
The initial colourful gaiety of Sicily is turned to a sombre mood with the clever use of costume reinforcing Leontes' descent into a personal hell as his tunic changes from a bright green to a dark grey and other characters are similarly shrouded. There is great use of shadow and light in contrast as Hermione appears in white in the chill marble of the court as a foretaste of the statue she is to become.
The later pastoral scene of Bohemia brightly captures the hope and promise of spring much in contrast to the earlier winter with a striking design and filled with joyous folk songs and dancing as Perdita becomes the May Queen. In a scene that many theatre productions struggle with, it is refreshing to see how it has been seamlessly translated here, although as enjoyable as it is in showcasing the depth of talent the Royal Ballet has to offer, it is overlong and could easily be shortened without detraction.
The return to Sicily again sees the clever injection of colour into the grey and the return of light to a dark place to provide a visual interpretation of the uplifting music as David Briskin conducts the orchestra of the Royal Opera House in leading us away from the earlier anger and bitterness towards a place of love and redemption.
The dance material is rich enough to fill the same tableau with Watson superbly capturing the self-inflicted torment of Leontes. Cuthbertson offers an innocent touching grace whilst Yanowsky, without the assistance of words, excels as Paulina, capturing her sensitivity, strength, and magic in the best stage performance I have seen. Lamb and McRae perform delightfully together, as do Zucchelli and Beatriz Stix-Brunell as a young shepherdess, hinting at bright futures.
The Winter's Tale is available to watch until the 1st June, further details and access at https://www.roh.org.uk/
Reviewer: Mark Davoren
Reviewed: 1st May 2020
North West End UK Rating: ★★★★★