La Traviata is considered a great introduction to opera and this production, under the direction of Richard Eyre, delivers a truly musical feast that not only embraces and relishes its traditional 19th Century roots but whose theme continues to resonate strongly today. At its heart is a love story which draws upon Alexandre Dumas the Younger's real-life doomed love affair with well-known courtesan, Marie Duplessis.
We open with Violetta (Renée Fleming) aided by her friend Flora (Monika-Evelin Liiv) hosting a lavish party where she is introduced by Gastone (Haoyin Xue) to his friend, Alfredo Germont (Joseph Calleja), a fervent admirer, who is more concerned for her failing health than her escort, Barone Douphal (Eddie Wade). When Alfredo declares his love for her she wonders if he could be the one amidst her desire to be free to live her life.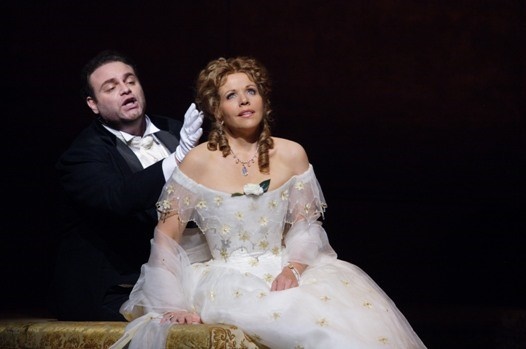 A year on and Alfredo and Violetta have been living together for some time in an isolated country house. He soon learns from maid Annina (Sarah Pring) that Violetta is having to sell her possessions to maintain them and he hurries to Paris to sort his affairs. His father, Giorgio (Thomas Hampson), arrives and with guile and cunning persuades Violetta to end the relationship.
At a party in Paris, the Marchese (Kostas Smoriginas) announces that Alfredo and Violetta are no longer together, much to everyone's amazement. The arrival of Alfredo followed by Violetta with the Baron leads to an inevitable confrontation as Alfredo is challenged to a duel. As we are thrust into our final scene, does an ever-present Doctor (Richard Wiegold) suggest there is time for wounds to be healed? The truth unravels as our lovers are reconciled but…well, you'll have to tune in to see.
The return of Eyre to revive his 1994 production for the first time made for a highly engaging experience, enriched further by the sumptuous stage and costume design from Bob Crowley which captured perfectly the superficial glamour of 19thC Parisian high life whilst serving to contrast the intimacy between Violetta and Alfredo that culminates tragically in the heart-breaking final act of blood-stained sheets and all. Supplemented by Jean Kalman's lighting design, we were served up a visual treat.
Verdi's sublime score contains some of his most inspired arias and duets including Violetta's introspective 'Ah fors'è lui' and hedonistic 'Sempre libera'; Violetta and Giorgio's poignant Act II encounter; and Alfredo and Violetta's 'Parigi, o cara', in which they dream of a happy future, and we were swept along in the meticulous hands of conductor Antonio Pappano, who coaxed up a full palette from the Royal Opera Orchestra.
Violetta is the star of this opera and Fleming undoubtedly the star of this production where she is in complete command from the beginning, delivering her first act solo with assurance and a strong tone which was to continue throughout as she imbued her Violetta with a greater sense of self than is often seen and which was complemented further by the energy of her acting.
Calleja captured the duality of Alfredo, from his vulnerability to his headstrong nature, the latter none more so than in the violence of the gambling scene. Hampson's paternal Giorgio was more matter of fact in his manipulation of both Alfredo and Violetta with his cunning only brought to the fore when his on-stage brutality wasn't working, and which made his character that much more believable.
Applause rang out frequently throughout this production as well as at its conclusion which came as no surprise given the high-quality befitting of the venue.
This production and others are free to view at https://www.roh.org.uk/
Reviewer: Mark Davoren
Reviewed: 8th May 2020
North West End UK Rating: ★★★★★