In New Orleans, Blanche has arrived in town to see her sister, Stella Kowalski whose pregnant and now beginning married life with her husband Stanley Kowalski. Blanche a southern beauty of a bygone era dwells in extremities; her past is both innocent and filled with scandal. From here Blanche scatters a bed of lies and a power struggle between her and Stanley becomes final nail in her unnerving demise.
Benedict Andrew's production is more than just another production of the play. It's a re-examining that translates this much-loved play for the 21st century, an action which only intensifies the rifts between fact and fiction. Here, the Kowalski couple are placed in modest urban dwellings attired in the timeless modern. And somehow, Tennessee Williams' writing even just manages, even when, in a fit of fury, Blanche reaches for a cordless phone and demands to speak to the operator; it all increases the sense of reality breaking down. Its testament to Williams' writing that the production can withstand this artistic interrogation and translation.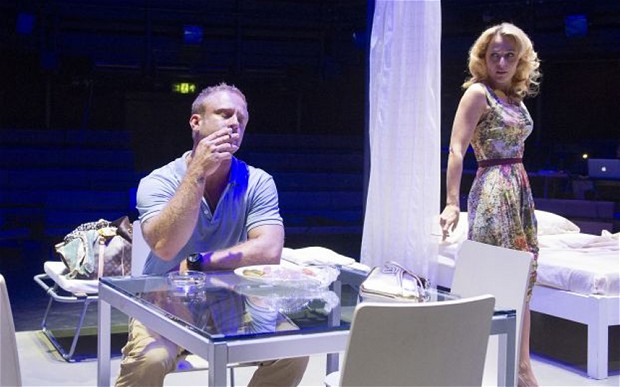 The quartet of the production are all a tour de force. Naturally, it goes without saying that Gillian Anderson's Blanche is a masterclass in marathon stamina. From bath soak to endless bath soak, Anderson delivers an impressive timeline in character development. Bearing in mind this 21st century edge, Ben Foster's Stanley is a subtle rendering and a refreshing change to Marlon Brando's famous portrayal. As well as physically oppressive, Foster's Stanley portrayed with added dimension of emotional intelligence that enables him to become darkly coercive and manipulative. Yet as brilliant as it is, Vanessa Kirby's portrayal as Stella falls a little short. Yes, it's an excellent and refreshing Stella but at times falters, especially when Stella's accent strays away from being convincing and edges towards feeling forced. Finally, Corey Johnston's Mitch is consummately performed, and is another well delivered character.
Regardless, it goes without saying that these portrayals are all top of the draw performances. But, perhaps the unsung character of the production is the staging and lighting design. Those that know William's text well often remember the beautiful poetry of his stage directions that prescribe time, place and sound so succinctly. Here, designer Maga Willi and lighting designer Jon Clark translate the significance of Williams' writing for this very modern adaption.
The set and lighting are so central to Andrew's vision that it is not only respects Williams' verbose stage directions but makes them as intrinsic to the drama as any character on stage. Crammed into a long rectangular frame in the centre of the theatre in the round, the audience is presented with the entirety of their apartment, that rotates sporadically. The actors behave as if they can't see the walls, observing the isolated door frames as entrances, and interacting only with those they can see in the rooms. Meanwhile the audience is given a bird's eye view into this Big Brother reality tv scenario of highly-strung personalities crammed into tight spaces. It's fitting viewing for a generation who are high on television produced out of secretive omnipresent cameras; it reflects the popular culture that destroys its participants and we should be ashamed to crave. And, more importantly for this production, it's an innovative staging concept that renders this production of the play as quite simply, unbeatable.
Reviewer: Melissa Jones
Reviewed: 21st May 2020
North West End UK Rating: ★★★★★