This production was part of the Summer 2019 season and played on the main Globe stage. It is not certain of when this play was first performed, but we do know that by 1602 it had been performed by Shakespeare's company the Lord Chamberlain's Men, before her Majesty Queen Elizabeth, in public playhouses and may have toured. It is believed that Shakespeare wrote 'The Merry Wives of Windsor' under the orders of Queen Elizabeth who so loved the character that she insisted that he write the play within 14 days, and this may go some way to explain why it is not one of his better efforts.
Coming to this without knowing the story in advance might make it difficult to follow. The story moves at a quick pace, so concentration is needed otherwise you will lose the gist of the plot.
Here is a brief summary to assist with your understanding. The play begins with Justice Shallow (Dickon Tyrrell), his nephew Slender (Joshua Lacey) and Parson Evans (Hedydd Dylan) being upset at the behaviour of Falstaff (Pearce Quigley) and his sidekicks Nym (Hedydd Dylan) and Pistol (Richard Katz). Anne Page (Boadicea Ricketts) has several suitors with Slender being favoured by her father and Dr Caius (Richard Katz) is her mother's preferred choice. In amongst this is Parson Evans who insists on meddling by sending a note to Mistress Quickly (Anita Reynolds) (Dr Caius' housekeeper) to assist in pushing Slender's case. Fenton, (a third suitor) also asks Mistress Quickly for help.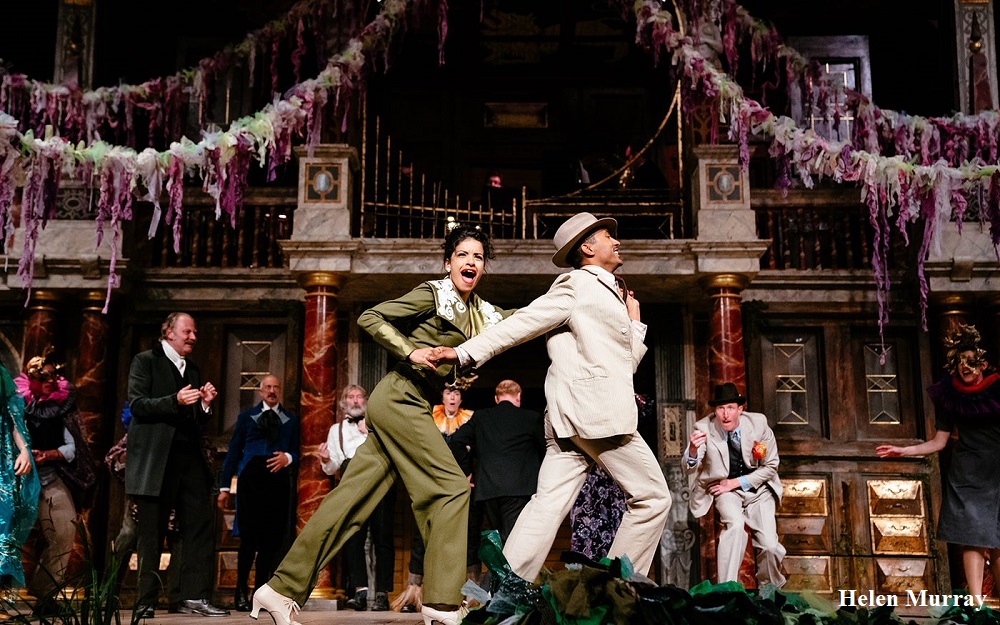 Amid this is Falstaff, who believes that both Mistress Page (Sarah Finigan) and Mistress Ford (Bryony Hannah) are sweet on him and decides to write letters to them. Both ladies are married and Mr Ford (Jude Owusu) decides to spy on his wife in disguise to catch out any impropriety. Falstaff is being played by the two ladies, who are not attracted to him and Anne Page tries to assert her wishes to her parents, in her choice of suitor. This is the bare bones of it; there are lots more comings and goings and characters are in abundance. You have been warned!
The creative team decided to set the play in 1930's as it would sit neatly between women getting the vote in 1928 and the second world war. We see this influence in the costumes, which were designed by Charlie Cridlan; for The Globe's outdoor stage to accommodate the change in natural light during an evening performance. The dancing has also taken on a 1930's theme with choreographer Sasha Milavic Davies using the music written by Frank Moon as inspiration for the popular styles of the day.
The comedy in this adaptation takes on a bawdy tone with Falstaff showing us his dry sense of humour and Quigley certainly gets the laughs with his down to earth delivery. The cast use the space well and with the extended stage they intermingle with the audience, knocking down the metaphorical fourth wall. Even though this is not one of Shakespeare's more accomplished plays, there seemed sometimes to be something lost in the delivery of the lines. Even though this is a comedy, Shakespeare's poetic rhythmic writing should still be distinguishable, but in the attempt to tease the comedy from the script, it sometimes lost some of its bardic charm.
It is always a joy to see a play performed in the wonderous space at The Globe, it positively invites the audience to participate. Laughter is guaranteed in watching this production, so tune in and enjoy.
To watch the play click HERE and is showing until 14th June. Please also consider donating which can be done via this link on the website.
Reviewer: Caroline Worswick
Reviewed: 1st June 2020
North West End UK Rating: ★★★★★