It's not very often that a play moves me to tears, but Tennesse Williams' play; 'A Streetcar Named Desire' did just that. The simple, yet very effective set was one of the most powerful I have seen in theatre.
This play has been performed countless times across the world on stage and screen. However, the emotion displayed by the actors was so raw that it made me feel like it I was hearing the play for the first time.
Set in New Orleans in the 1940s, 'A Streetcar Named Desire' tells the story of Blance Du Bois (Maxine Peake) who comes to stay with her sister Stella (Sharon Duncan-Brewster) and her abusive husband Stanley (Ben Batt).
Directed by Sarah Frankcorn the production is a joy to watch from beginning to end. The use of a glass panel was an excellent addition to the set as it didn't just serve to divide the stage, but also as a window into the thoughts of Blanche.
Performing in the round can create blocking problems, however not once did I feel like I missed part of the action, nor did I need to strain to see. The fight scenes were also well directed and came across as very genuine. The intimate scene between Stanley and Stella is also so well directed that the actors don't need to do much to show the audience that they are having intercourse.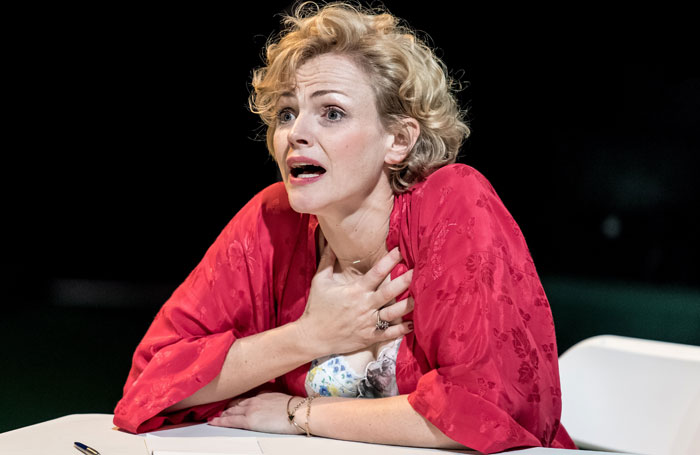 What's different about this version of 'A Streetcar Named Desire' is that Blanche is followed throughout the play by three ghosts. As these are new additions for this production, it's up to the audience to decide what each of them represent.
The sound was also excellent. During some of the scenes the actors voices echoed around the theatre space, which I'm still struggling to figure out how they did it as none of the actors were using microphones.
Peake gives one of her finest acting performances as Blanche. This is probably the most feminine role Peake has ever had to play, and I think at times she does revert to her Bolton roots, but her performance in Act Two is up there with Vivien Leigh and Gillian Anderson. Her accent did slip on certain words, however I managed to convince myself that Blanche was putting on an act, and the glamourous woman is not the real her.
The chemistry between Peake and Batt is amazing, they excellently convey how they manage to wind each other up. A special mention has to go to Batt who was fantastic in his role as Stanley; it's not as easy job to match Maxine Peake in terms of acting ability but he rose to the occasion
Duncan-Brewster also puts in a strong performance as Stanley's abused wife Stella. You really get the sense that she is genuinely torn between her sister and her husband. We also learn that Stanley's violence makes her feel more attracted to him.
The show clocks in at approximately three hours. Act One was slightly on the lengthy side, but other than that there was never a moment where my attention strayed or the action on stage diminished. 'A Streetcar Named Desire' comes highly recommended.
Reviewer: Francis McKevitt
Reviewed: 13th September 2016
North West End Rating: ★★★★★
Photo: Manuel Harlan