Hope Mill Theatre continues to be a warm, friendly and inviting venue, which has to be one of my favourite theatres in the UK. On this evening, there was an added air of excitement with a show dedicated to Bette Midler. The audience, made up of a 'Divine' mix of the young & old, gay & straight and Jew and gentile mingled together on a beautiful autumnal night to celebrate the life and career of a true icon.
There is no one quite like Bette Midler (named after the movie star Bette Davis); singer, comedienne, author, actress, producer, activist and gay icon. Her talents have taken her from Broadway to pop, and onto film stardom, with a career spanning over fifty years, earning a vast collection of awards including Golden Globes, Grammys, Emmys and a Tony Award. Midler has sold over 35 million records and will be back on Broadway in 2017, taking the lead role in a new production of 'Hello Dolly', which has officially broken the record for the best first day of sales in the history of Broadway.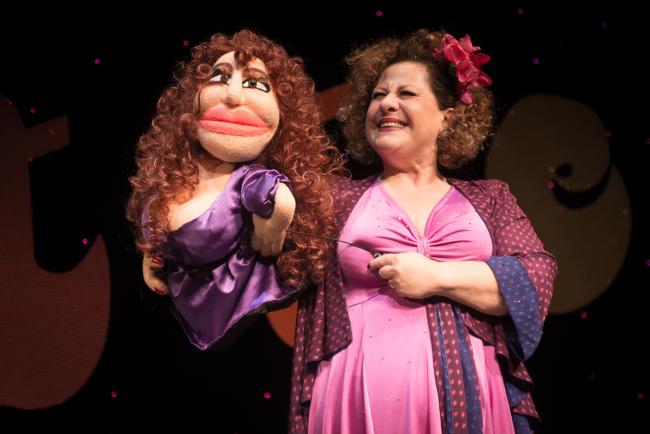 'Bette Midler and Me' is a one-woman show which stars Sue Kelvin ('Wicked', 'Les Misérables', 'Fiddler on the Roof' and 'Chicago'), in which we follow hers and Midler's life journey (even though one grew-up in Hawaii and the other from Didsbury). Taken from the vantage point of a life-long fan, rather than a tribute act, Kelvin pays homage to the 'Divine Miss M' and shares her own personal stories - weight issues, family problems and cultural difficulties; drawing us more intimately to both Kelvin and Midler.
The 'Continental Baths' saw the birth of the 'Divine Miss M'; a boardy comical character; part hooker, part drag queen and part trashy woman. This was an acknowledgement in the show where Kelvin got lyrically raunchy with 'Fat Stuff'. We are reminded that this is where Midler first started her long-term collaboration with her then pianist, Barry Manilow, who makes an 'appearance' for some gentle teasing.
Kelvin sings a mixture of Midler's greatest hits; 'The Rose', 'I Think It's Going to Rain Today' and 'Wind Beneath My Wings', the audience gets the full 'Divine' treatment, with lots of Sophie Tucker wisecracks sprinkled along the way. The five-minute, puppet version of 'Beaches' is a show in itself and deserves to be seen to be believed... Fabulous.
The evening is further elevated with wonderful accompaniments on piano by Tony and award winning Sarah Travis and Singer Joanna Lee; bringing tremendous presence and fantastic vocals, together creating some lovely harmonies, which yet again reminds us of Midler's continued passion for the 'girls groups' of yesteryear.
Kelvin is the hostess of the greatest party with a unique brand of outrageous, over-the-top comedy. She delivers a fast-paced, upbeat, funny and a thoroughly heart-warming show that had me both laughing and crying. "Balancing the light with the heavy - a few tears of human spirit in with the sequins and the fringes"
Reviewer: Mike Neary
Reviewed: 25th September 2016
North West End Rating: ★★★★