Stevie Helps from New Live Theatre Company presented his latest play, Mind's a Labyrinth at Gullivers Ballroom.
New Live Theatre Company is an independent theatre production company based in Manchester founded in 2011. Writer and Director Stevie Helps described the process of his play somewhat like the life of a butterfly. "A baby caterpillar was dragged up, which cocooned into Borderline Electra. It has now undergone a final incarnation and Mind's a Labyrinth has been born".
The play which features live music by upcoming YouTube star Lizzie Tupman, explores domestic abuse, mental health, deceit, consequences, hope, love and trauma.
The staging is basic but effective with the use of two layers, the upper stage is cold and bare where most of the difficult scenes take place and the lower staging seems warmer and more inviting hosting a sitting room, fireplace, bar stools and a picnic area.
Rachel's mother Jane (Linda Edwards) starts the play with her suicidal thoughts as she gulps a can of lager luring the audience to believe she is about to end her misery.
Rachel (Nadia Dilamy) is seen to be drunk in a pub singing at the top of her voice 'Last Christmas' this is where she meets Elliot (Graham Atkin) the two quickly become interlinked and connect on a physical level. Rachel clearly has problems with overwhelming feelings of distress anxiety, worthlessness and is full of anger but Elliot is calm and loving. Rachel does not find Elliot attractive but loves his heart and what he can offer her. Rachel's dad Stuart (David Lamont) arrives and informs her that her mother has committed suicide.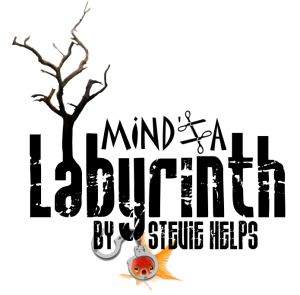 The play has some powerful scenes due to the complexes of their family relationships, dynamics, religious beliefs, self-harm, drug and alcohol abuse, sexual abuse and bereavement.
The play moves through an array of scenes of physical, sexual and emotional abuse and what it is like to live with someone with a Personality Disorder. Rachel's dad Stuart is key part to why Rachel behaves as she does as he manipulates her mind into negativity and worthlessness, describing her as 'a one women freak show', 'attention seeker', "fat", and encourages her to vomit after meals which ultimately leads to the miscarriage of her unborn baby on her wedding night.
Elliot's character is that of a rescuer as he see's good in everyone but there is an air of vulnerability with Elliot as he has also suffered loss and abuse throughout his upbringing. Elliot like Rachel's father Stuart also has manipulative and controlling behaviour that feeds into Rachel's insecurities and Personality disorder making the two men in her life very similar.
The storyline becomes a little like a crash run of several soap operas at times but the key message remains that of mental health issues, overwhelming sadness and abuse and how our parents and parentage can have the ability to make or break us as human beings.
It was extremely difficult to watch some of the scenes due to the nature and contents, so as a theatre critic I asked the 3 main leads Rachel – Nadia Dilamy, Stuart – David Lamont and Elliot – Graham Atkins "How they prepared for their roles?", "What were the challenges they faced?", "What was their best experience of their roles?" and finally "What would they want the audience to take away from their experience?".
How they prepared:
Nadia Dilamy – "Rachel has a borderline personality disorder, as an actor the only way I could fully prepare myself was to research the key signs of a personality disorder. The facts that I found out were not only interesting but truly heart-breaking, I needed to connect fully with Rachel and be put in her mind-set, it's like being on a crazy rollercoaster everything is unstable and you can act on impulse I feel like she is 3 different people in the same body".
David Lamont – "This is the second time I have played this role so a lot of groundwork was already done, however I wanted to go deeper into the mind of this very complex character as I only had 19 days to prepare last time round. I studied a lot of the great cinematic villains. My main priority was to get the audience to hate me, but love me and find me funny in places. I wanted to not just act this character, but become him. I would isolate myself for long periods and only think the thoughts that a maniac like this would think, it was hard work preparing, but I think the hard work paid off in the end, out of all the characters I have played, Stuart Maloney is by far my favourite".
Graham Atkin – "I have prepared for this role as I would any other but I found my research into Borderline Personality Disorders very useful. Particularly meeting up with men who date women with Borderline Personality Disorders and reading their blogs on line".
Challenges they faced:
Nadia Dilamy – "The biggest challenge for me as an actor has been the intimate scene between Rachel and Stuart, I felt very strongly against it at first, however the director Stevie has been extremely supportive".
David Lamont – "As I have already played the role, the greatest challenge I faced was not to repeat a carbon copy of the work I did on the character in Borderline Electra. If I was going to play the role again, it had to be more; I wanted him darker this time round, a work of pure evil, more manipulative, more cunning, more laughs".
Graham Atkin – "I have had a break from acting for a few years for several reasons so I had to remind myself how to go about preparing for a play and creating a character. I found myself going back reading my old diary's and note books form years go. It soon all came flooding back but I thought it was important when dealing with a subject like this".
Best experience:
Nadia Dilamy – "I have been free to explore and find new layers with Rachel, I don't know if I love or hate her. But I have had the opportunity to find her and working with the other actors and Director has been an amazing experience. There is so much respect and trust".
David Lamont – "There have been so many wonderful experiences playing this role, from the people who I have been working with, who are amazing, from getting to actually play a character of this nature, it's a dream role for me, it really is. It's very much like a role Jack Nicholson would play; he's my favourite actor and my total inspiration. Everything about the process of this production has been the best theatre experience of my career".
Graham Atkin – "For me it's always nice to play parts you've never played before and being taken out of your comfort zones but highlights for me when working is always working with new directs, writers and actors that get your creative justice's going and get you fired up and excited to try new things and come into the rehearsal room ready to work".
What they want the audience to take away from their experience:
Nadia Dilamy – "I would like the audience to come into a world that they wouldn't see fit. I want to take them on one hell of an emotional ride".
David Lamont – "I want the audience to go on a roller coaster of emotions throughout. I want the play to stick with them for many years to come. I would like the audience to be made more aware of not just Borderline personality disorder but other mental health issues too that people struggle with every day. I want them to be shocked, feared, laugh, cry and really come aboard with us in every scene. I don't want them to ever forget Minds a Labyrinth".
Graham Atkin – "I would like the audience to go away having been entertained and enjoying the play but also think about a subject that is hardly touched on".
A fabulous piece of work brilliantly brought together by the writer, director, producer, stage managers, musician and all the cast, well done to all involved.
What never ceases to amaze me is the hidden talents of the North West of England, the stand out performance was from Nadia Dilamy she is an absolute diamond showing great maturing as an actress. She is definitely one to watch out for in the future Nadia made the role not only believable but the roller coaster of emotions she displayed was that of a true professional.
Mind's A Labyrinth will be showing at The Lowry in Salford Quays in November 2016.
Reviewer: Katie Leicester
Reviewed: 27th September 2016
North West End Rating: ★★★