We all have our favourites; TV shows which come along and are hard to top. Only Fools and Horses is one such example of this, a fantastically successful sitcom which I have fond memories of sitting as a family to watch, an event in the TV listings and a programme you could have a laugh with your friends or your Grandad about, it was timeless; so when I got the opportunity to see one of the main characters discussing the show on stage, I jumped at the chance.
John Challis who played the dodgy car salesman 'Boycie' is currently touring the country with his live show all about Only Fools aptly named 'Only Fools and Boycie'.
Firstly, it's worth noting, this is not a stage show or conventional comedy show, it's a lot more personal and intimate than that, the show is Challis sharing memories, witty anecdotes and even life tips to the keen audience at Stockport Plaza.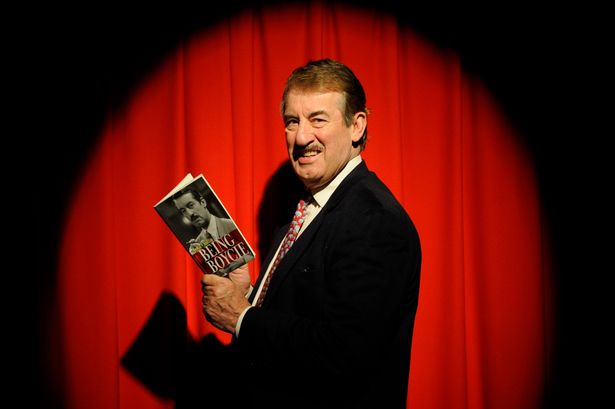 Only Fools was a juggernaut of comedy, it was huge, in its peak, 1 in 3 people in the country were watching it and it shocked me to discover the behind the scenes of the show and how BBC nearly axed the show, Challis' insights and stories explained the true history behind the show, in a humorous and informative manner, and although it's been his biggest role, it's not all about Only Fools.
There's stories from his childhood and how he got to become the most famous used car salesmen, giving tips to any up and coming actors in the process.
Throughout the evening, footage and clips are inserted into the show, from Only Fools, The successful spin off; The Green Green Grass as well as Citizen Smith, Open All Hours and even Doctor Who, the show gives you a real history of BBC television and culture. When poised with the question of why Only Fools and Horses was so popular, it's a hard question to answer, it just worked, but would it have had the same success in today's TV schedule, I think we have to be grateful BBC didn't axe it, because we would have missed a British institution, and missed on the fantastic wonderfully flawed character that is 'Boycie' and the extremely talented John Challis for bringing the character to life.
'Only Fools and Boycie' is a wonderfully informative, interesting and intimate evening and would recommend it to any Only Fools and Horses Fan.
Reviewer: Max Eden
Reviewed: 29th September 2016
North West End Rating: ★★★