LEMONS LEMONS LEMONS LEMONS LEMONS imagines a world where we are forced to say less. The average person will speak 123,205,750 words in a lifetime and in this one-hour, two-handed Orwellian rom-com, we discover what happens when the British Government introduce a draconian law which sets a daily limit of just 140 words.
Walrus' award-winning show, first seen at the Warwick Arts Centre in 2015, went on to win three awards at the National Student Drama Festival before completing a sell-out run at the Edinburgh Fringe; it has now come to HOME as part of their inaugural Orbit Festival.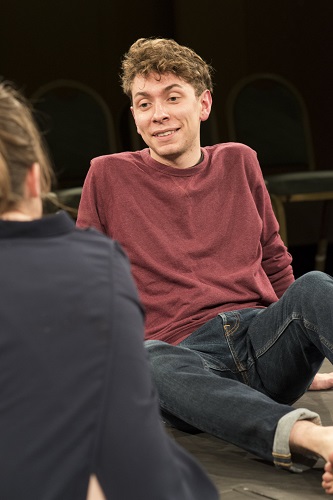 Bernadette (Beth Holmes), a Divorce Lawyer and Oliver (Euan Kitson), a Musician/Activist, first meet before the 'hush law' was introduced into society at a funeral for a cat. Their fledgling relationship sees them moving in together, where we discover Bernadette's irritation with Oliver's unseen ex–girlfriend, and his frustration of her successful corporate career. We jump backwards and forwards in time, unravelling their relationship from before and after the introduction of the new law.
Bernadette swiftly eats into her daily word count, needing to use more words because of her career. She uses up 40 of her words just to order a smoothie and talking in her sleep certainly doesn't help her daily limit situation. Whilst Oliver has far less daily need to communicate in words, it becomes very apparent that they have to think hard to ensure they always say what they mean and mean what they say. The play examines how this situation impact on their relationship and if one person hasn't as many words left as the other for the times they spend together.
Sam Steiner has produced a tight script with some beautiful, deceptively simple choreography by Ed Franklin, which allows the audience to see the ebbs and flows of their relationship. I particularly adored the actors 'orbiting' around each other barefoot as if trying to find a metaphorical foothold to anchor their taut and ever-challenging relationship. The play would have benefitted from better use of lighting as it was one-tone throughout and an opportunity was missed to add more atmosphere.
A really great and inventive play executed withconfidence, it is especially within the stillness and silences that the quality of Holmes andKitsonacting shines through and they skilfully enable the audience to 'read between the lines'.It is to their credit that both performers reach out far beyond the stage floor, ultimately allowing the audience to speculate and wonder whether we are at our most powerless or powerful when using fewer words.
Reviewer: Mike Neary
Reviewed: 04th October 2016
North West End Rating: ★★★★