Subtitled 'The Ballroom Dance Sensation', this was an evening of non-stop music and dancing. With 19 musical numbers in each act, they were back-to-backed with no through thread or even the tiniest thought of how they might work being put together this way. Yes, I know that we went to watch the dancing - that's the whole point of the show right? But, it is also live theatre and as such I would have expected there to be some through-line or idea behind the sequence of music.
Moreover it wasn't all strictly ballroom (see what I did there?). Some of the items would have been more at home at a Carnival or in Musical Theatre, but the one thing I can say is that the choreography was absolutely superb and spot on every time. Emma Rogers and Innis Robertson (with a little help from Robin Windsor) choreographed all these numbers with ingenuity, passion and creativity. Highly visually entertaining and excellently executed by the dancers.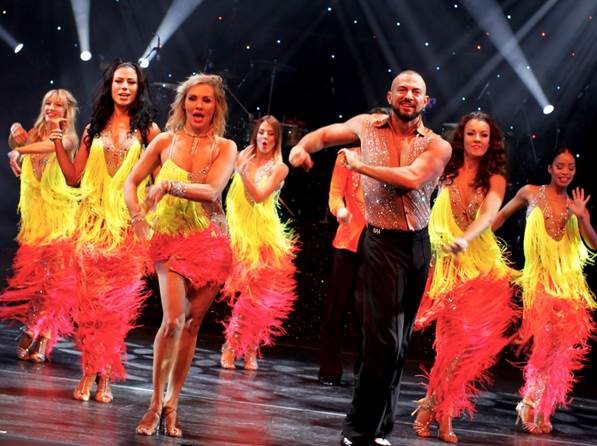 The show featured a chorus of 10 dancers altogether, and because they had so much to do and influenced the overall look and feel of the show so much - as well as being super dancers, I will credit all of them here. They were Mason Boyce, Aaron Brown, Victoria Burke, Florence Edge, Yanet Fuentes, Jordan Hinchliffe, Joshua Moore, Shane Seal, Lisa Welman and Rose Wild.
The stars of the evening were two dancers from TV's Strictly Come Dancing, Anya Garnis and Robin Windsor. Windsor was, for my money, the most enigmatic and watchable dancer on stage the whole evening. The speed of his movements which were sharp and precise was a joy to watch, and when he entered he simply, without arrogance, commanded the stage. A great presence and a stunning dancer.
Also headlining the evening was Olympic medallist and again Strictly competitor, Louis Smith. Both Smith and Garnis were extremely talented that was undeniable, but Windsor had the edge!
Some of the dances used live music, and for these there were three singers and two percussionists. Adam Warmington made an able and adequate male vocalist aided by Harriette Virginia Mullen and the most professional and capable of the three Lisa-Marie Holmes. Between them they sang various solos and trios either as backing for the dances or even a couple of times as main items whilst the dancers were backstage catching their breath! Likewise with the two musicians; Joelle Barker and Adam Green (percussion and guitar), either playing as backing for the dancing or a couple of items where they took the spotlight themselves giving both singers and dancers a well deserved break.
All of this was fine and worked well. I certainly would have preferred at least the tiniest thread of storyline or some logical order to the dances; but this didn't seem to bother anyone else who, as a near capacity audience were wolf-whistling and applauding along with every number.
The one thing that really spoilt the whole show was the lighting. If the lighting is obvious and conspicuous then it is usually wrong. The lighting, designed here by Martin Cox was absolutely awful! Nothing fit the mood properly, the lights distracted not only the audience but also the performers themselves, and combined with some ill-advised smoke in most of the numbers it was worse than the tackiest disco! I have to be honest, but in all the shows I have seen in recent years - and I have seen a lot! - this was by far the worst LX plot I have seen!
For the dancing it is worth 5 stars but sadly, I can only give 4 here because the overall show was marred by terrible lighting and effects.
Reviewer: Mark Dee
Reviewed: 4th October 2016
North West End Rating: ★★★★