Gary McNair's hour-long, one-man show is a tribute to his gambling grandfather who 'allegedly' won a fortune betting on the 1966 World Cup and, when diagnosed with terminal pancreatic cancer and only one month to live, bet his whole gambling winnings on living, against the odds, to see the year 2000.
This multi-award winning show, written and performed by Gary McNair and directed by Gareth Nicholls, premiered at The Traverse at the 2015 Edinburgh Fringe Festival before beginning its international tour at the Adelaide fringe. It has now come to HOME as part of their inaugural Orbit Festival.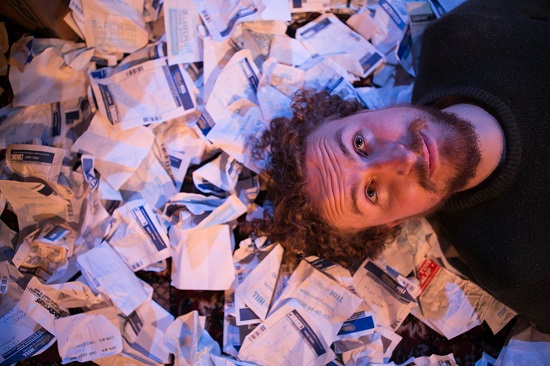 McNair's grandfather, Archie, was a lifelong lover of gambling and raconteur of colourful stories, which would become part of local folk legend - although these should be taken with large 'pinch of salt' and may be more memorable than trustful. A Gambler's Guide repeatedly returns to a revolving yarn about Archie putting a bet on England to win in the 1966 World Cup final. This subsequently invited the hatred of his fellow Scots and eventually getting him beaten up in a bar in the Gorbals.
The relentlessly optimist Scottish rascal educates his fascinated young grandson in the art of gambling and we see their special relationship grow and develop into a form of childhood hero worship.
The staging, patterned carpet and cardboard boxes, lighting and McNair's clothing all combine to create a nostalgic quality. The jazz drumming subtlety assists in propelling the story forward and even though ultimately about facing the Grim Reaper, it always manages to stay on the right-side of mawkish, delivering a warm, uplifting and life-affirming piece.
This is a delightfully warm and earthily comical performance and wonderfully demonstrates the act of storytelling. McNair's witty rollercoaster performance is strong, committed and engaging.
Reviewer: Mike Neary
Reviewed: 06th October 2016
North West End Rating: ★★★★