It's time to do the Timewarp again as The Rocky Horror Show is back in Manchester for the 2nd time this year as part of its 2016 tour. It's hard to believe the show is now in its 43rd year, and judging by the crowd's reaction its popularity is showing no signs of dying.
On a cold Monday night in October, there were countless numbers of men and women dressed in fishnet stocking and corsets. If that doesn't tell you this show has a strong fan base, nothing will.
Before the curtain was even the raised the audience were excited and in full spirits. The beginning of the show receives rapturous applause and cheering, a first for me to witness in a theatre.
The basic story of the Rocky Horror Show follows a young couple called Janet and Brad who are recently engaged and are on their way to meet their former science teacher; Dr Scott. Their car breaks down and in their search for a phone, they come across a castle and their lives are changed forever.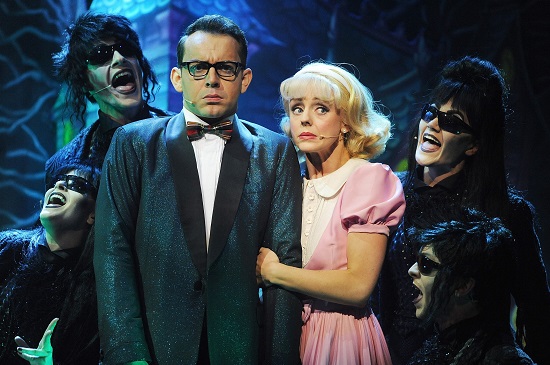 What really made this production for me was the audience heckling. There were some people in the audience who clearly knew the script as well as the actors and shouted out some foul language, but they fitted in so well that it made the show hilarious.
The set in mainly in a semicircle with a film reel going across the top, perhaps an intentional but subtle way to remind the audience that it's science-fiction. The inside of Frank's castle is as you would imagine, incredibly camp.
Each and every member of the cast played their roles superbly, however a special mention needs to go to Charlie Condou as Narrator. He really had the audience eating out of the palm of his hands and was very quick to come back to the audience's heckling. Some you can tell he was expecting, others not so much. He even manages to give a nod to his former Coronation Street cast member; Kym Marsh who just so happened to be in the audience for this show.
The Rocky Horror Show is definitely unique, however amongst all the campness and innuendos I did find the plot rather difficult to follow. Clocking in at just two hours, including an interval, perhaps the show could do with a bit longer on stage to allow the story to flow.
I was probably one of the only people in the audience who had never seen a production of the Rocky Horror Show before. However, it's a lot of fun and easy to see why it has become a timeless classic.
Reviewer: Francis McKevitt
Reviewed: 24th October 2016
North West End Rating: ★★★★