Halloween in Manchester became even scarier this year as reports were circulating of a flesh eating plant growing on the stage of the Palace Theatre. Whilst some of the sights in the City Centre tonight were quite frankly unbelievable, surely a plant with a thirst for human blood is the most farfetched of all, right?
Upon further investigation, it seemed these reports were indeed true as Little Shop of Horrors has arrived in town and Mushnik's flower shop is open for business!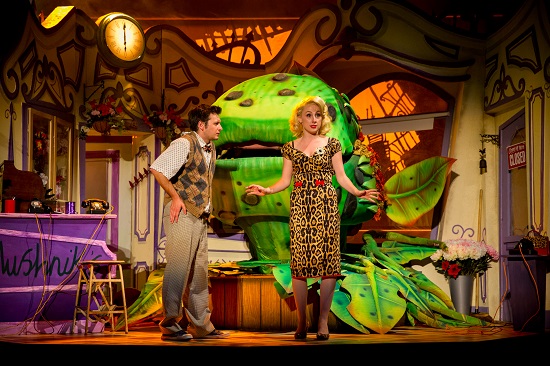 It is a long time since I have seen this show tour professionally, and of late it has been a favourite of amateur groups with many productions springing up across our region, all of which have been superb. However, this latest tour from Sell a Door Theatre Company and Damien Tracey Productions pushes the show to that next level. Director Tara Louis Wilkinson has injected new life into this story which was first seen as a black and white low budget movie filmed in 1960 which saw a young Jack Nicholson play a small cameo role.
Little Shop of Horrors is the story of a struggling flower shop owned by Mr Mushnik (Paul Kissaun) down on Skid Row. After another day of not selling a single petal he decides to close down the shop for good however, shop assistant Audrey (Stephanie Clift) pleads with her boss to feature a new plant in the window that resident botanist Seymour (Sam Lupton) has grown. The unique nature of this plant named Audrey II by Seymour immediately changes the fortunes and the lives of all connected to Mushnik's flower shop.
Clift and Lupton are wonderfully cast in their roles, Clift a quirky blonde who has a habit of finding the wrong men to share her life with plays the role with a believable innocence. Lupton, as the nerdy florist who loves "strange and interesting" plants also plays the role well, however for me with a little too much exuberance. As a double act their comedic timing is impeccable as is their duet "Suddenly Seymour" in the second act.
Possibly the most anticipated appearance of the night was that of violent, abusive and nitrous oxide-addicted dentist who just happened to be Audrey's current boyfriend Orin, played by Rhydian Roberts. Roberts for me didn't convey the violent and abusive side of the role as well as I have seen before and seemed to be a little too 'nice'. Roberts however was the busiest member of the cast all night taking on 6 (I think) different guises during the show.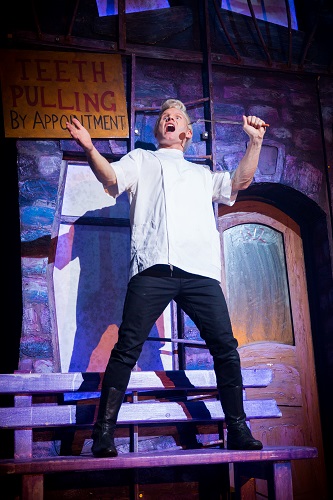 The whole performance was narrated by three wonderful vocalists, Crystal (Sasha Latoya), Chiffon (Vanessa Fisher) and Ronnette (Cassie Clare) all of which had superb individual voices, but for me could have blended better together for their three piece harmonies.
You can't have Little Shop without the plant. From the beginning of the evening until the end it just kept growing, and growing, and growing! This was probably the best version of Audrey II I have seen on stage to date and was wonderfully operated by puppeteer Josh Wilmott whilst Neil Nicholas provided the voice. Together they made Audrey II a believable character that you could connect with.
There are just two ensemble members in this cast and boy do they work hard playing numerous roles throughout and I cannot finish this review without mentioning them. Phil Adéle and Stephanie McConville, you both were superb. Also the three piece band housed in the Music Shop and led by Dustin Conrad were note perfect throughout.
I feel I need to mention a couple of negatives however which overall slightly let down this production, and indeed prevented it from getting a full 5-star rating. Firstly, the set designed by David Shields is very impressive indeed. But the shop front that kept flying in and out was both distracting and in most cases not required. I lost count of the number of times the cast walked away from it (and the shop door within it) and walked to the side of the stage to enter the shop via a second door. This totally confused the geography of the whole set for me. Secondly this show is let down slightly by its story. Once Audrey II has finished her work the whole thing just seems to grind to a dead halt. This is not the fault of this production I must add, but that of Little Shop in general.
In saying the above, I must commend the wonderful ever changing newspaper stand positioned at the side of the stage. Used to warn us all of the impending invention of the mobile phone before the show and also as a secondary form of narration during the evening I applaud whoever came up with this idea.
Little Shop of Horrors is a great night out at the theatre to see a show which rarely tours the UK these days. On the whole I defy you to leave the theatre without a smile on your face and singing along to some of the catchy songs featured. JUST DON'T FEED THE PLANT!
Reviewer: Paul Downham
Reviewed: 31st October 2016
North West End Rating: ★★★★