If you are going to see an opera at the Opera House and it is your first time - just like it was for me last night, having never seen an opera in that building before, and it was also my introduction to both La Boheme and the famous Ellen Kent Productions - then you really could not do better than this. It was a fabulous production and extremely accessible. I am certainly no opera 'buff' and there are only a handful of operas that I would profess to know and like, but if anyone wants an introduction into this quite often wrongly snubbed art-from, then seeing an Ellen Kent production is undoubtedly the way forward. With her you know that you will get: spectacle, showmanship, lavishness, hand-picked performers and orchestra, but above all, an opera that is true to the composer and faithful in it's retelling, with a little extra thrown in for good measure!
If you don't know, then La Boheme was written in the last decade of the 19th century by Italian opera composer extraordinaire, Giacomo Puccini. It is a highly 'Romantic' work, and like many Grand Operas is a tragedy. This one tells the story of 4 struggling aesthetes living in a garret in the Paris of the 1830s ( a poet, a philosopher, a painter and a musician ) and whilst the sub plot diverts your attention with the love affair of said painter with coquette and flousy Musetta; the main story revolves around the doomed love affair between the poet, Rodolfo, and a young seamstress who first appears entering the garret asking him for a light for her candle. She is pale and not well, and we learn later she has TB, and sadly, because this is Grand Opera, she dies as the curtain falls.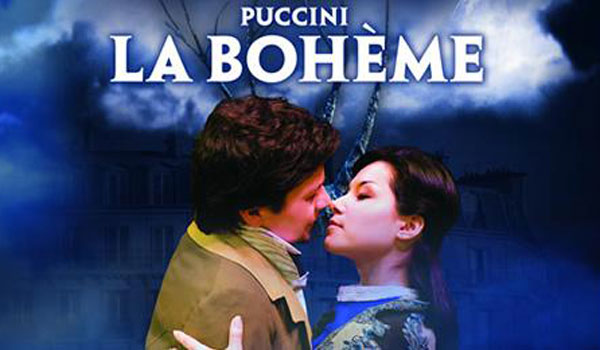 Numerous modern productions have based their story around La Boheme, so if you are thinking this sounds somewhat familiar then don't worry, maybe you have seen the Broadway phenomenon 'RENT' instead, or other lesser known stage adaptations.
As I have already intimated, the cast in this production are befitting the characters they are playing, unlike many a Grand Opera production where the stars are hired for their voices alone and are totally wrong for the role. Here the cast were young, vital and good looking, as the libretto calls for. Moreover, this cast could act too. One thing that has put me off opera, and perhaps others off too, is that too much emphasis is placed on the singing. I come from an acting background, and believe a theatrical experience should be all-encompassing. It was a delight therefore for me to watch this opera with a cast of fully-rounded professionals in whom I could relate and empathise. And with Ellen Kent directing this herself, she has created a beautiful balance between light and shade, between comedy and tragedy. The comedic moments being heightened in order to highlight the tragedy of Mimi dying was very well judged indeed.
However, this opera was not without its faults. I had the pleasure and privilege of speaking with Ellen Kent during the interval this evening, and at 67 she is still as keen as ever to make her productions the best she possibly can and her passion and vitality was evident in abundance. One thing she mentioned to me, which I would not have picked up on was that each of the acts' sets were designed with a French Impressionist painter in mind, which was a lovely idea; but all three sets featured The Eiffel Tower, which in 1830 wasn't even a dream; however Kent just laughed this off saying that it was artistic licence and that the tower is too iconic a building not to use; and yet she wanted realism in other areas of the production, and so I was left wondering why when it came to set and costume design, the realism had been left to wander. It wasn't the only thing that was out of time and place on stage. Balloons as commercial children's toys would not have been around at that time, neither would black modern umbrellas, and some of the costumes were distinctly of the incorrect period and place; including the four musicians who came on stage at the end of act 2 as a marching band wearing the clothes they were wearing in the pit, black trousers and shirts of the 21st century.
However, the biggest faux-pas for me was the wig of Benoit, the landlord. He was wearing an obvious ginger wig for his entrance - this was correct, we were supposed to know it was a wig - however underneath he should have been bald and so he was also wearing a bald wig too, which didn't fit properly and the back of this was not fitting properly which looked obvious and elicited an unwanted laugh from the audience.
However, in this truly international company of performers, there was not a single weak link. The chorus direction was wooden and unrealistic, but the singing was superb. Taking the role of Mimi the dying young girl in love, was Ecaterina Damu; her lover, the poet Rodolfo was Vitalii Liskovetskyi; his Bohemian companions were the painter, Marcello (Iurie Gisca); the musician Schaunard (Dmitro Dubrovskyi) and the philosopher Colline (Vadym Chernihovskiy) and the flirt with her dog, Musetta, played here with real gusto and fun by Olga Perrier.
All in all though I have to say that this was, faux pas' notwithstanding, a truly wonderful production full of life and colour, proving to be an excellent introduction for me to both this opera and Ellen Kent Productions whose largest fan base, I heard tell tonight, is actually Manchester; and she will be back next year with two more perennial favourites, Nabucco and Aida; and so I shall certainly be in the queue to see these now too!
I should, before finishing the review, like to make a couple of special mentions. First, a small dog was used in this production, and it came from The Manchester And Cheshire Dogs' Home, and was impeccably behaved; and second, the production also featured children from the Salford and Didsbury branches of Stagecoach Theatre Arts. Both are Ellen Kent touches. She loves spectacle and uses live animals in most of her productions (a black stallion is being used for Aida I believe), and she also loves to involve the community too, thus using a local dog and local children's academies.
Reviewer: Mark Dee
Reviewed: 12th November 2016
North West End Rating: ★★★★