These days performers are trained to be 'triple threat' but I occasionally refuse to believe that every performer should be so. Take one who wishes to pursue a career in Shakespearian theatre, should they be made to dance and sing? Their passion shines through their acting and the disciplined timing of the comedy contained within the Bard's text, surely that is enough work to undertake and focus on without mastering choreography and spending time practicing music and learning the techniques of singing. This does not however mean that I don't admire the talents of Peter McGovern's Moth, whose vocal ability and cheekiness are evident during his singing - or that of John Arthur's Sir Nathaniel, Stephen Pacey's Holofernes (a schoolmaster), Sam Alexander's King of Navarre and during the ensemble pieces, particularly that which ends the show.
As Associate Director Guy Unsworth states: "the theory that Much Ado About Nothing is another name for Shakespeare's 'missing play' Love's Labour's Won is a hypothesis that, as far as we know, has never been empirically tested before. However, in pairing it with Love's Labour's Lost, the similarities between the plays are numerous: each centres on a witty, sparring couple that include a policeman, a curate and numerous domestic servants; both are set on a large country estate - one in Sicily and the other in northern Spain - any number of mistaken identities and music is integral too - one finishes with a song, the other with a dance."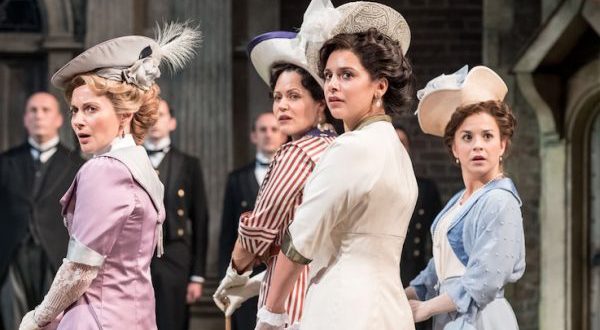 He states "there have been countless moments in rehearsal when the two plays seemed to speak to each other intimately…to road-test the theory, [we're] working with the same company of actors (playing a different part in each) setting the plays either side of a war and imagining them on the same country estate. [We] started to rehearse the two plays in separate blocks, but very soon felt that [our] knowledge of one play was informing experience of the other…Despite the similarities they are completely different people. For a start, they speak differently - mostly in verse in the first and in prose in the second."
With Love's Labour's Lost, set in Elizabethan England in 1914, the young private schooled men - who originally, in order to dedicate themselves to a life of study, take an oath to avoid the company of women for three years - depart at the end to endure a period of hardship - 12 months and a day - separated from their lovers. No sooner have they made their idealistic pledge than the Princess of France and her ladies-in-waiting arrive, presenting the men with a severe test of their high-minded resolve, concluding in a comedic rooftop scene where they, unknowingly, expected to be secretly, witness one another expressing their desire to be with the counterpart of the opposite gender.
With the stunningly designed set, of Edwardian National Trust property Charlecote Park near Stratford Upon Avon, by Simon Higlett the play is brought alive with authenticity and the ingenious and slick transitions between scenes are made so by the magic illusions of its movement, matching the music of scene changes. The music - performed by a live band (hidden and not acknowledge at the end) - is beautiful, enhancing the grandness and emotivity of some of the speech, under the composition of Nigel Hess and direction of Bob Broad.
Director Christopher Luscombe has done a sterling job directing these highly competent cast members and they should be saluted for continuing the legacy of the great man's work, in the year marking the 400th anniversary of his death.
Although the quality of performances are of equal exceptionally high standards, the stars are indeed 'the Court' and principals. Edward Bennett's Berowne and Nick Haverson's gardener Costard are miles ahead in leading the comedy value, whilst their friends and peers; Longaville (William Belchambers), Dumaine and Teddy (Tunji Kasim), Don Armado (John Hodgkinson), Princess of France (Leah Whittaker), Rosaline (Lisa Dillon), Katherine (Rebecca Collingwood); are a delight to behold, along with the Princess' Equerry Lord Boyet (Jamie Newall).
Having only ever seen one Shakespeare piece before - The Tempest starring the late Pete Postlethewaite at Royal Exchange - it was a pleasure to see the story unfold and take the form of Manchester's Opera House, through the Royal Shakespeare Company, and I am sure the patrons of the sister theatre enjoyed the offering of more recent-styles Whitney Houston songs. It is always nice to see a show presented in semi-original form without too many changes and often think it is a better way of educating people in the work of a legend (Shakespeare and Whitney).
The perceptive sequel runs on alternate nights to this until 3rd December. For details visit www.atgtickets.com/Manchester
Reviewer: Chris Oatway
Reviewed: 23rd November 2016
North West End Rating: ★★★★★
Picture: Manuel Harlan