Take the Halle Orchestra, three immensely talented vocalists and a musical programme inspired by the great Gene Kelly and you have a night packed full of stunning performances which leaves you in awe of the talent on the Bridgewater stage.
Under the baton of Larry Blank, a conductor who has in the past worked with the likes of Barbra Streisand, Michael Crawford, Lorna Luft and Elaine Paige to mention just a few, the Halle Orchestra were in superb form as over 80 members opened the show with the overture from Singin' in the Rain.
To bring lyrics to the music this concert boasts 3 vocalists who were each on top of their game tonight.  West End star Daniel Crossley, whos credits include Mary Poppins, Me and My Girl and Singin' in the Rain and Matthew Ford, who has been voted 'Best UK Male Big Band Vocalist' were joined by one of the biggest female stars of the West End, Louise Dearman. 
Crossley, Ford and Dearman all shared the stage equally throughout the night interchanging to perform both solo and duet numbers from shows Kelly appeared in including Brigadoon, An American in Paris, On the Town and Hello Dolly.
Standout performances included Fords rendition of "I Fall in Love Too Easily" from Anchors Aweigh and Crossley singing Gershwin classic "Our Love is Here to Stay".  Both of these songs were accompanied exceptionally by Andy Vinter on the piano.  Even the orchestra got in on the singing with a cleverly worked version of "I Got Rhythm" which saw Crossley and orchestra performing a unique duet.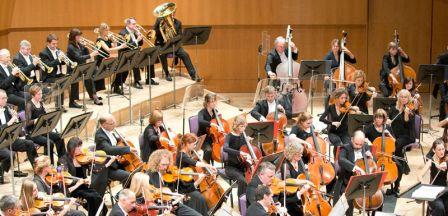 However, it was Dearman who stole the show with two stunning performances which couldn't have been more different.  Both in the second half of the show the first was a beautiful rendition of "Embraceable You" by George and Ira Gershwin, a perfectly delicate and simple performance with Vinter once again on piano; you could have heard a pin drop in the auditorium.  In complete contrast "Before the Parade Passes By" from Hello Dolly raised the roof of the auditorium with the entire orchestra displaying their immense power matched by Dearman to the point at the conclusion of the song both the audience and orchestra members applauded.
A Singin' in the Rain trilogy ended the concert with the title track from the musical rounding off the evening which was over far too soon with the audience left wanting to hear more.
Reviewed: 11th April 2015 by Paul Downham.