This is such a super Musical and I don't know why it isn't more popular. I have seen a couple of amateur presentations of it previously but tonight was the first time I had seen it professionally, and I was veritably impressed.
With such a heavyweight team behind the writing of this Musical; book by Neil Simon, music by Cy Coleman and lyrics by Dorothy Fields; it couldn't possibly be anything else but a hit surely?! Add to that list a talented cast; superb directing by Derek Bond; lovely choreography by Aletta Collins; a set that truly embodied the era and that worked in the round by James Perkins; and a spot-on lighting design by Sally Ferguson, and we are now on to a winner!
The story, in a nutshell, is about Charity, a lady in search of true love and a 'dancer' at The Fandango Ballroom (a night club in the seedy part of town). She is flirtatious, skittish, romantic, and, for her age, actually very immature. She is no Spring Chicken but yet still acts like a young teenager. We first see her with her current boyfriend, Charlie, who pushes her in the lake in Central Park and runs away with her dowry. She then finds herself embroiled with a famous Italian film star, Vittorio Vidal, and then gets trapped in an elevator with a claustrophobe with issues, Oscar. She and Oscar embark on a romance and find they have much in common, and Oscar asks her to marry him. Will he go through with it, or leave her dangling??
And even if the storyline doesn't sound so familiar, then the music most certainly must be. Favourites such as 'The Rhythm Of Life', 'Big Spender' and 'I'm A Brass Band' and amongst the songs and they simply don't disappoint. Costumes, choreography, and singing are all wonderful. I loved the 'Rich Man's Frug' dance.
In this production, Charity was played by Kaisa Hammarlund. Vocally she seemed a little weak I have to say [in fact, the sound levels were not quite perfect last night and some times I was straining to hear the lyrics above the band] but her interpretation of this skitty and ditsy character was full of fun. I think perhaps she was giving just a little too much though at times. If she had brought it down just a tad it would have been absolutely perfect, and believable.
Oscar Lindquist was played by Daniel Crossley, and his was an excellently measured and physically interesting performance. His shaking in the elevator had me in stitches, and his scene in the diner with Charity was timed to perfection. I loved his character as he became noticeably stronger with every entrance, until his final entrance when he allowed his true inner demons to take hold again. A wonderful interpretation.
I also really enjoyed the acting and especially the singing of Vittorio Vidal, played by Bob Harms. Another extremely charismatic performer who relished the role, and hiding beneath the surface was a strong and sonorous baritone voice.
Other special mentions should go to the two girls who are friends with Charity at her place of employment, Helene (Cat Simmons) and Nickie (Holly Dale Spencer). They have two important numbers to sing, and they worked well together. I do think though that Spencer just had the edge a little. Also, taking a role that was written for a baritone, and bringing a new powerful beat to her rhythm was Josie Benson as head of The Rhythm Of Life Church, Daddy Brubeck.
It was a strong ensemble cast, and most of the performers took on more than one role, playing ensemble when not a cameo. It worked - but only just - it would certainly have benefited from a couple more cast members. That notwithstanding it was still a high energy Musical which had me toe-tapping all the way through and was truthful and faithful to the era and the composers; and the music, under the direction of Mark Aspinall was utter magic. He obviously absolutely understood exactly what sounds were needed to recreate that mid-sixties feel, and he got it right every time.
Forget pantomime, walk away from the Christmas Markets, leave the sleigh bells to jingle on their own, there is something better than this, so go and get some rhythm in your life. Don't ask, where am I going, just dream your dream, and see Sweet Charity!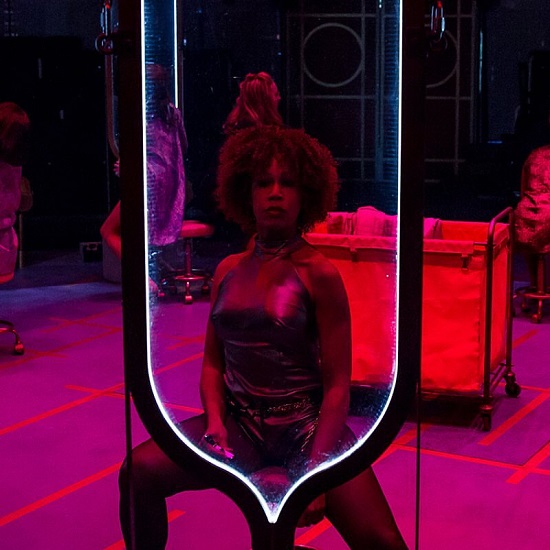 Reviewer: Mark Dee
Reviewed: 8th December 2016
North West End Rating: ★★★★