Daniel Bye's witty and absorbing 'One Man Show' (Winner of the Scotsman Fringe First Award 2015), is an interactive melting pot of storytelling and performance lecture about the science behind infection; imagine the 'Royal Institution Christmas Lectures', with more comedy.
Written and performed by Bye, he describes a world where a new virus sweeps the globe; a plague of infectious weeping which spreads, initially starting within a plane full of passengers, eventually developing into a form of mass hysteria (or so the government will have you believe).
Why is not one person weeping? Could they be the 'super carrier' of the virus? These are some of the questions Bye tries to convey to his audience over the course of this episodic 70 minute performance. He shows how our interconnected society reacts, engages and changes when presented with a viral outbreak; questioning, amongst other things, whether hysteria could be an airborne virus?
With only a bagful of Liquorice Allsorts, an onion, Chilli and pair of tweezers Bye opens up our imaginations and allow us to conjure-up places and characters, whilst explaining some of the science of infection. He chomps down on the chilli and cuts the onion; talking of how tears can be either an emotional expression or a response to pain. Bye's audience interaction and interactive delivery feel natural, conversational and almost, dare I say, infectious.
Viruses such as Ebola have made headline news over the last few years with Social Media (Where 'Going Viral' refers to the sharing of something, often a video, which can be seen as another type of positive or negative virus?) which can often drive rumour and speculation. Interestingly, Measles is an airborne virus, of which to some extent is more contagious but not normally not as deadly.
There may always be a new virus lurking around the corner - maybe the one that Global expects call 'TNBO' (The Next Big One) - and I wonder, how powerless might we be, if a new major global pandemic occurs.
The show is nicely directed by Dick Bonham who uses some effective staging allowing the audience to feel full engage with Byes performance, this is further enhance by Katherine Williams test-tube lighting design.
A playful, witty and engaging show; I would urge you to see this unique award winning piece.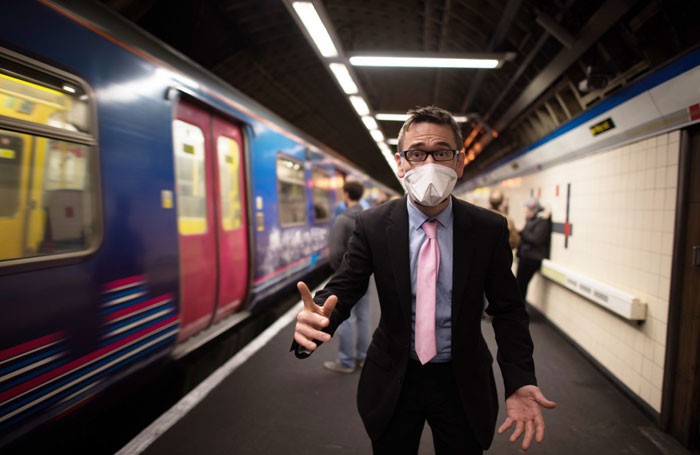 Reviewer: Mike Neary
Reviewed: 06th January 2017
North West End Rating: ★★★★