A van breaks down in the middle of the dark, cold woods. The engine is busted, leaving two foul mouthed but foolish criminals in the worst case scenario, especially when you have a kidnapped woman tied in back. Performing within the large domain of the established Hope Mill Theatre space, William J. Holstead's A Kidnapping, a dark but sharply written black comedy makes its presence known and introduces its audience into this chaotic situation with both laughter and surprise.
Swaggering Crow's absurd debut follows idiotic kidnappers, the paranoid Rob and his aggressive partner in crime Aaron, played hilariously by the company's co-founders, Paddy Young and William j. Holstead, as they try to figure out on how to handle this situation, only for it to go from simple observations leading into furious outbursts that would make Rik Mayall proud. Tensions and arguments continue to increase throughout the play as characters begin to reveal their true colours and flaws from Deeivya Meir's worried hostage hiding her own shady agenda, the animalistic entry of Lucy Hilton Jones rhyming Crow to the introduction of Ethan Holmes's aggressive white supremacist Dean who makes his presence known like a 'great white shark' as he puts it.
Holstead's script gives its performers the chance to show their strong comedy characteristics and interactions whilst giving the audience time to adapt to these obscure characters and to understand them more which helps build the comedy's tension.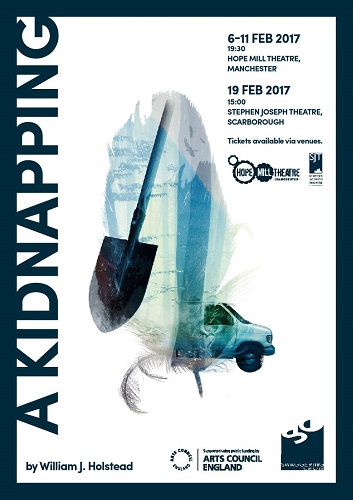 Daniel Bradford's direction helps the performance maintain its fast pace delivery throughout as well making good use of David Haworth's isolating woodland set and staging of the white van. You can tell that a lot of time and effort was put into the planning of the plays continuous run and staging, especially in one key scene where blood is shed by a horrific act of violence.
The play does challenge its audience with its dark tone, outspoken characters and humour, similar in vein to Coen's Brother's classic Fargo in which one character's actions can lead to a destructive and gruesome outcome, changing the scenario all together. But The Kidnapping uses this to great effect and the reactions and revelations lead towards a satisfying ending. Holstead's constructive storytelling is a work of passion and energy that is brought to life by its distinctive and sometimes macabre writing as well as the strong performances and direction which makes Staggering Crow's debut an engaging introduction to the Manchester Theatre scene.
Reviewer: Luke Richards
Reviewed: 7th February 2017
North West End Rating: ★★★★