Set in a youth club in Essex at the beginning of the sixties, Dreamboats and Petticoats is a show packed full of over 40 songs on a Wurlitzer with all the bells and whistles. But this isn't a karaoke sing-a-long; although you will end up doing just that. This is a show full of young, and a few older, talented singers and musicians.
The band: Henry Alexander (Bass guitar), Lauren Chinery (Saxophone), Chloe Edwards-Woods (Saxophone), Rob Gathercole (Trumpet/Keyboard), Alan Howell (Acoustic Guitar), Mike Lloyd (Trombone), Sheridan Lloyd (Keyboard), Jay Osbourne (Lead Guitar) and Billy Stokes (Drums); play and sing live - they can really rock and swing too. Swinging along with them were Josh Tye and Stephanie Hackett. Some would call them the supporting cast, but with song and dance being central to this show I would call them essential parts.
Into this jukebox of the familiar, and for a lot of the audience, nostalgia, we meet Bobby (Alistair Higgins) who longs to be in a band but is thwarted in his dreams, both musical and romantic, by Norman (Alastair Hill). Bobby is a hormonal seventeen-year-old, hanging out with his best mate Ray (Duke Luke) and infatuated by Sue (Laura Darton). Ray has a blossoming romance with Donna (Gracie Johnson) while his sister, Laura (Elizabeth Carter), holds an unrequited love for Bobby. What a tangled web of teenage first love and hormones in a church youth club!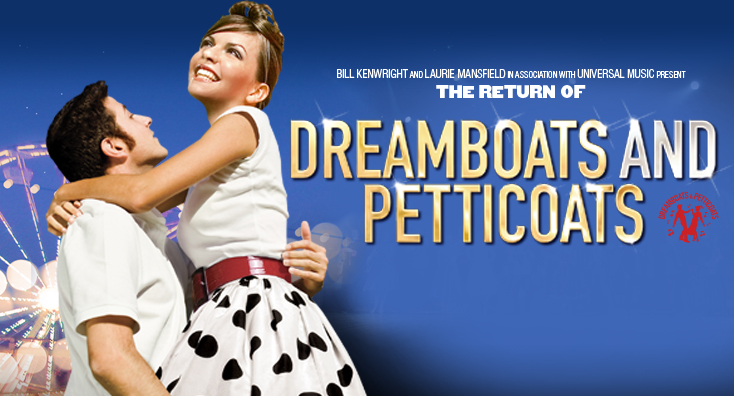 The storyline is threaded between the songs from the 50s and early 60s, and like the songs, it has a familiar narrative with a fairly predictable resolution, having said that, it was immensely enjoyable. Some of the songs are performance pieces, others express the thoughts and feelings of the lead characters, still others are woven into the narrative. My particular favourite was the blending of Runaway and Who's Sorry Now, sung by Bobby and Laura as they stand on the end of Southend Pier. I liked it because it was an unexpected arrangement and the young actors carried real heartfelt emotion in their crystal clear voices. Another highlight were the two songs sung acapella, demonstrating the vocal talent in this very impressive cast, without musical accompaniment.
On the most part this is a young and spritely ensemble but special mention should be made of Jimmy Johnston and Mike Lloyd, the more mature, but equally spritely, members.
Jimmy plays 'Older Bobby' reminiscing about his youth with his granddaughter, as well as playing Bobby's dad, Phil. He has a real warmth, a great twinkle and a voice that has a genuine depth and experience, this for me, stood out among this very talented cast.
Mike, as well as playing the trombone, plays Frank the caretaker, Slugger the end-of-the-pier boxer and the Compère of the songwriting contest. These characters, although caricatures, were increasingly entertaining and very funny, demonstrating Mike's experience and talent, as well as his beautiful bass tones.
I had a thoroughly good night and couldn't help but clap and sing along in the end. By this time many of the audience members were on their feet and some were literally dancing in the aisles. Dreamboats and Petticoats continues until the 4th March, I guarantee, you'll leave with a smile on your face!
Reviewer: Alan Harbottle
Reviewed: 27th February 2017
North West End Rating: ★★★★