Grease the Musical is back in UK theatres after what seems like an eternity. Paul Nicholas and David Ian have revived the ever popular musical taking the original 1994 London production back on the road. Virtually every element of the show remains with the set virtually identical, and it benefits from the 21st lighting technology now available. Sadly one thing that is not the same is the 'Greased Lightnin' car transformation which now lacks the spectacle once given to it by an array of lasers.
The show opens with a superb overture performed by an excellent 7 piece band under the expert direction of Griff Johnson. Those opening bars of this well known score can strike joy into any heart!
I must state that this show is in its first week of performance with Manchester being the first leg of an extensive UK tour, and in places this shows. Some scenes are not as tight as they could be, and some sound cues were missed this evening. Putting this aside however, Danielle Hope as Sandy shines brighter than the halogen filled 'Grease' logo that helps begin the show. Hope is simply flawless in her portrayal of Sandy and her rendition of 'Hopelessly Devoted to You' is utterly sublime.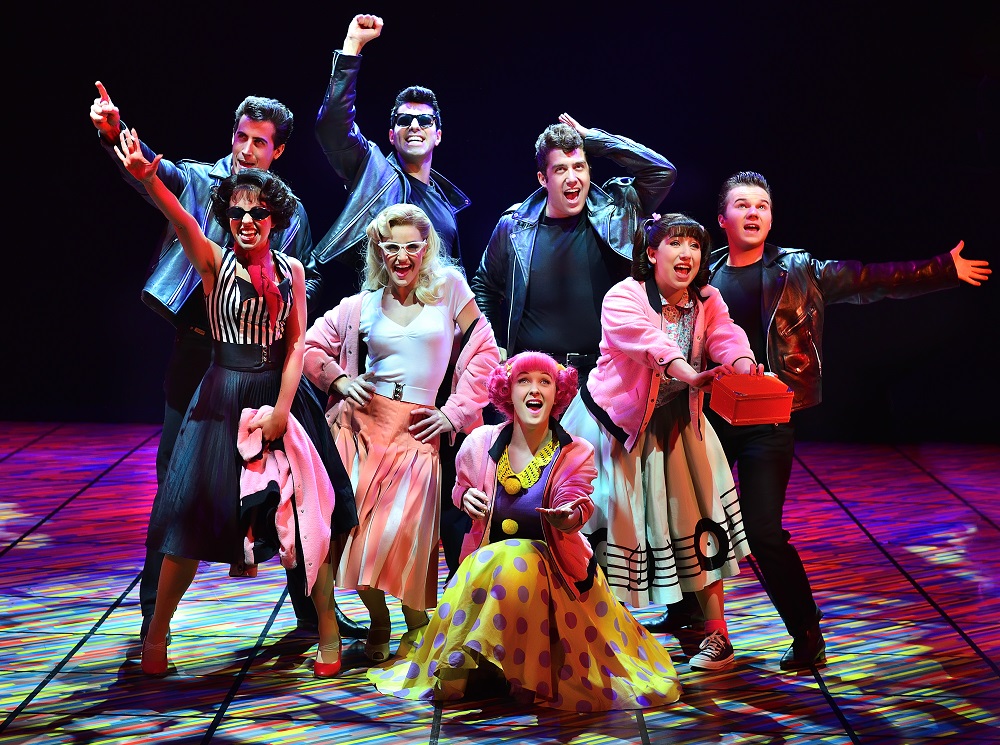 There are other strong performances from Michael Cortez as Sonny, Lauren Atkins as Marty, Gabriella Williams as Patty and Callum Evans as Eugene. A strong ensemble knits the cast together and the dance sequences choreographed by Arlene Phillips are a joy to watch.
Darren Day, bizarrely billed as 'Star of Celebrity Big Brother' on the poster despite his extensive musical theatre background plays both Vince Fontaine and Teen Angel well, although there were a few vocal slips tonight during 'Beauty School Dropout'.
Where this show falls down for me is the use of "stunt" casting! Yes, a lot of shows are doing it to bring in the audiences, with the most recent case probably being Sarah Harding's disastrous tenure as Molly Jensen in the current UK tour of Ghost. Producers, if you are going to do it PLEASE make sure the person or persons cast can fulfil the role. Sadly tonight Louisa Lytton as Rizzo and Tom Parker as Danny simply looked well out of their depth on stage. Whilst Lytton's acting and dancing were solid she struggled with her vocals throughout and didn't have the power and domination in her performance that you have come to expect from Rizzo.
Parker as Danny, well where do I start? His vocals were OK at best, his dancing, average, but sadly he lets himself down massively with his acting ability. For me he just wasn't Danny. He wasn't strong and confident enough to lead the T-Birds, and please make that silly laugh more believable.
I can only hope the things that let the show down tonight are a result of being new to musical theatre and with time will improve as they build up the required stamina to perform 8 shows a week. When put next to Hope and the rest of the cast, they stand out like sore thumbs.
Grease is one of the ultimate feel good shows, and you can't help but sing along to most of the musical numbers under your breath and let your foot tap along to the memorable soundtrack. This production is by no means a failure and I would welcome the chance to return in a few months time to see improvements throughout.
Reviewer: Paul Downham
Reviewed: 13th March 2017
North West End Rating: ★★★
Picture: Paul Coltas