The Commitments is currently playing at the Palace Theatre in Manchester until the 8th April. The show follows the rise and fall of a band coming together to bring soul music back to the mainstream.
The production begins with Jimmy (Andrew Linnie) auditioning many members to be part of his new ensemble to create 'the hardest working band in the world' Many characters enter the stage playing a range of instruments and singing sections of comical and fitting songs. The fast paced and hilarious choreography sets the scene for the rest of the show. The audience are immediately immersed into this wonderful musical world of wanna be singers and musicians.
The band is quickly formed and we witness all the highs and lows that come with any new large group. From rehearsals to relationships, booking gigs to drunken fall outs. The entire show is very well choreographed with a buzzing energy that doesn't once drop throughout.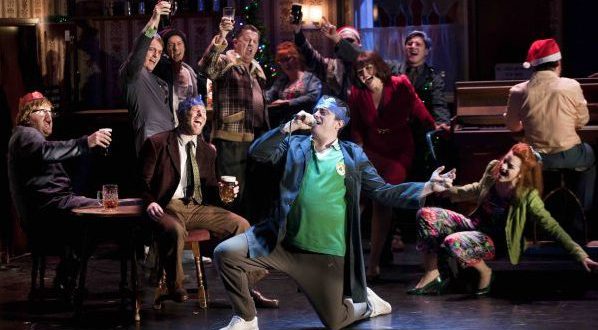 The live music is performed by the cast and is absolutely incredible. However, the stand out performances from this production come from Brian Gillian as Deco and Leah Penston as Imelda. Both are simply mesmerising to watch with their perfect comic timing and brilliant physical movements. Along with their obvious raw talent of singing and entertaining an audience.
The set, music and lighting for the production are a joy to watch. The stage is effortless transformed into a bar, Jimmy's house, a live gig and a rehearsal room. The brilliant use of lighting and music take the audience on a journey from one scene to another without any breaks or clumsy set changes required.
The first act is very much plot driven and sets up the story. Whereas the second act is more like a live gig as the band hit the big time. Jimmy interacts with the audience and quickly gets everyone on their feet clapping along and cheering. They play many famous classic songs such as Mustang Sally, Heard it Through the Grapevine and In the Midnight Hour. Along with many, many more meaning there is defiantly something for everybody to enjoy and sing along to.
The entire audience were on their feet for the second act cheering and clapping throughout. The show is a definite crowd pleaser and a guaranteed feel good night out. It is highly recommended and not to be missed.
Reviewer: Ellie Close
Reviewed: 28th March 2017
North West End Rating: ★★★★
Picture: Johan Persson