"This Musical is a crowd pleaser of a show, which had every single member of the audience on their feet for a spectacular finale".
The Palace Theatre Manchester hosted the Broadway and West End smash hit musical 'Million Dollar Quartet', starring Jason Donovan as Sam Phillips unusually for this Australian actor he didn't actually sing himself - Instead Donovan played Phillips both in character in the story and as narrator, showing his acting skills at its finest.
Donovan was magnificent in this key role, superbly portraying the undoubted abilities of the man who discovered the stars and is credited with creating rock 'n' roll. A convincing accent, too as he played the so-called father of rock'n'roll, Sam Phillips, whose record label Sun Records produced some of the most famous sounds of the genre.
The Million Dollar Quartet were the four stars of rock'n'roll – Johnny Cash played by Robbie Durham, Jerry Lee Lewis played by the extremely talented Martin Kaye, Carl Perkins played by Matthew Wycliffe and Elvis Presley played by Ross William Wild – thrown together on the evening of the 4th December in 1956 at the studios of Sun Records in Memphis, Tennessee for possibly the greatest jam session in history.
This show was not about doing impersonations of the big four but to bring them to life and allow fans to enjoy their work once more as well as introducing their talents to a younger audience.
Carl Perkins, Johnny Cash, Jerry Lee Lewis and Elvis Presley were then in their early twenties and all of them were on their way to stardom and connected by the owner of Sun Records Sam Phillips. 'Million Dollar Quartet' recreates this unique event, and incorporates some of the great songs from the early 1950s such as 'Blue Suede Shoes', 'Fever', 'Memories Are Made of This', 'Down by the Riverside' and many others. The numbers were perfectly executed and played as if they are being created right at that very moment.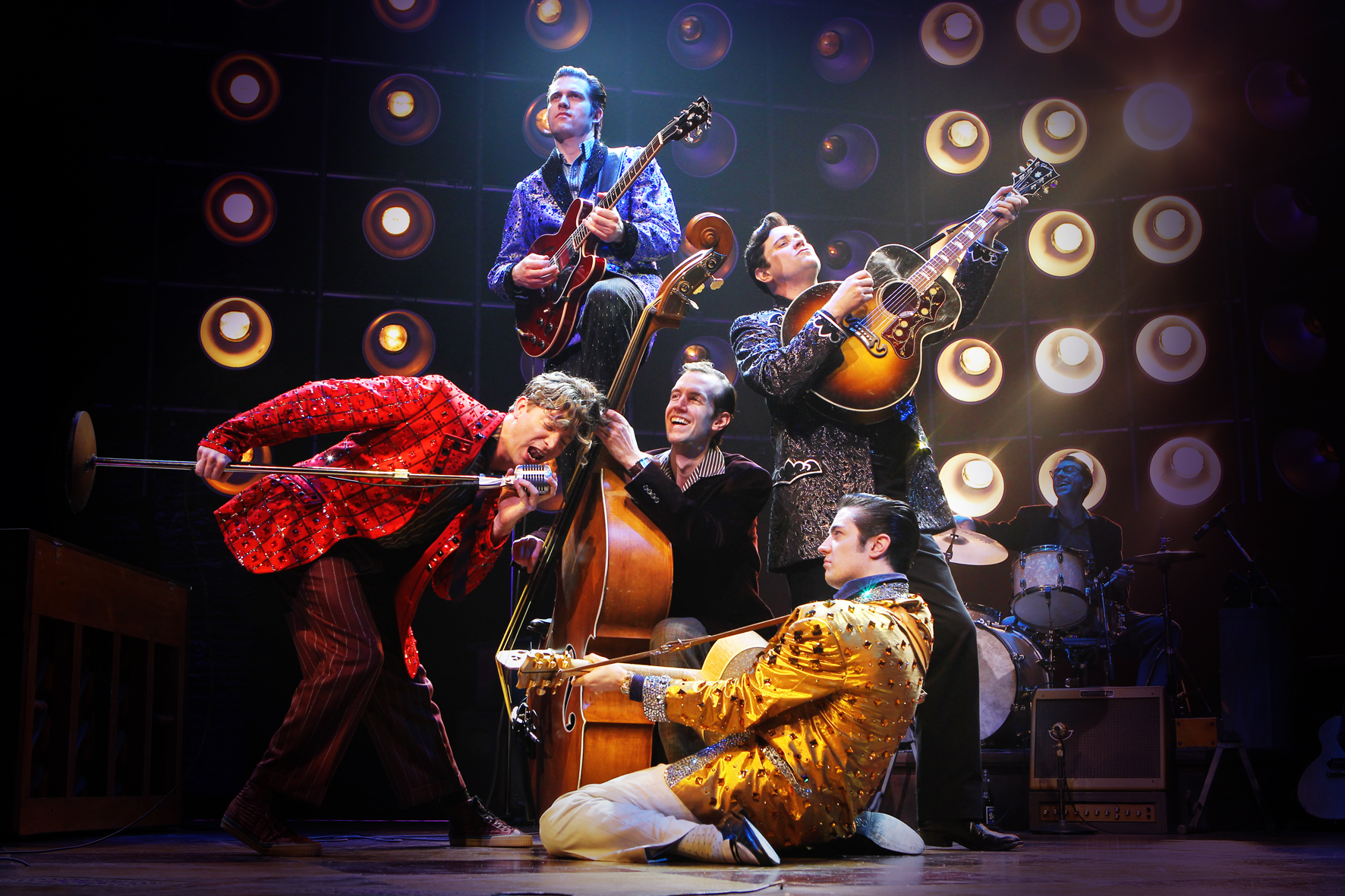 Jerry Lee Lewis was famed for playing the piano with more than just his hands and Martin Kaye was true to form as he equally used his feet as well as his fingers throughout. But it was the speed and dexterity of his hands across the keyboard which was a marvel, not least as his feet danced and tapped all the while he played. It was a truly enchanting performance by Martin Kaye who was quite astonishing as Jerry Lee Lewis, delivering the best lines and giving a high energy performance - leaping into the air at any given opportunity.
Robbie Durham made the perfect Johnny Cash while Matthew Wycliffe and Ross William Wild were compelling as Carl Perkins and Elvis Presley. Katie Ray, as Presley's girlfriend Dyanne, added a stunning female vocal to the mix, particularly during the show-stopper 'Fever'.
But there's more than just music on offer in this musical because we learn something about the common experiences and roots of these famous four. The details about the performers' backgrounds are delivered enchantingly by Donovan as he played Sam Phillips. All the musicians throughout respectfully call Sam 'Mr Phillips' making clear just who was in charge. Sam Phillips came across as a kind of surrogate father to the stars and autocratic entrepreneur but who stays true to his roots and won't be bought by RCA. The story hints at friction between Perkins and Presley over the ownership of Blue Suede Shoes and the wild future Jerry Lee Lewis could expect, but it's really all about that one incredible get-together.
Like other musical plays, the party really starts to come to life with the encores where the musicians/actors encourage the audience get out of their seats, sing along and participation to the final hits, it's here that the audience really engage with the music and the performers most of them reliving their youth and genre.' Million Dollar Quartet' did not disappoint the hungry audience of individuals mainly from the 50's and 60's era - a little older and slightly greyer however did not stop them getting up on their feet and enjoying every moment of the final numbers as they swayed, clapped and danced.
If rock and roll is your thing or you're into the history of popular music, then this production will make a great night out. This Musical is a crowd pleaser of a show, which had every single member of the audience on their feet for a spectacular finale.
Reviewer: Katie Leicester
Reviewed: 15th May 2017
North West End Rating: ★★★★