It's becoming extremely rare that you get the chance to see a brand-new musical; and not something which is based on a film or a rehash of something before it.
The Band; is a brand-new musical featuring the music of Take That and it ticks all the boxes for something genuinely different for theatregoers to go out and enjoy.
The Band is not a jukebox musical and it's not something that only 'thatters' will enjoy; it's a beautifully crafted piece of musical theatre with stunning visuals, emotional writing and a stand out cast.
It opens with a middle-aged Rachel played by the talented Rachel Lumbergintroducing her former teenage self along with her friends; Debbie, Heather, Zoe and Claire taking you on a whirlwind journey through life right back to those teenage days which is narrated in part by The Band and Take That's music.
Both the teenage girls and the middle-aged version actors are absolutely outstanding, special praise has to go to the young Rachel played by Faye Christal who delivers a perfect performance throughout, it's so hard to single out any characters in this production as they are all so talented, all so worthy to be on that stage.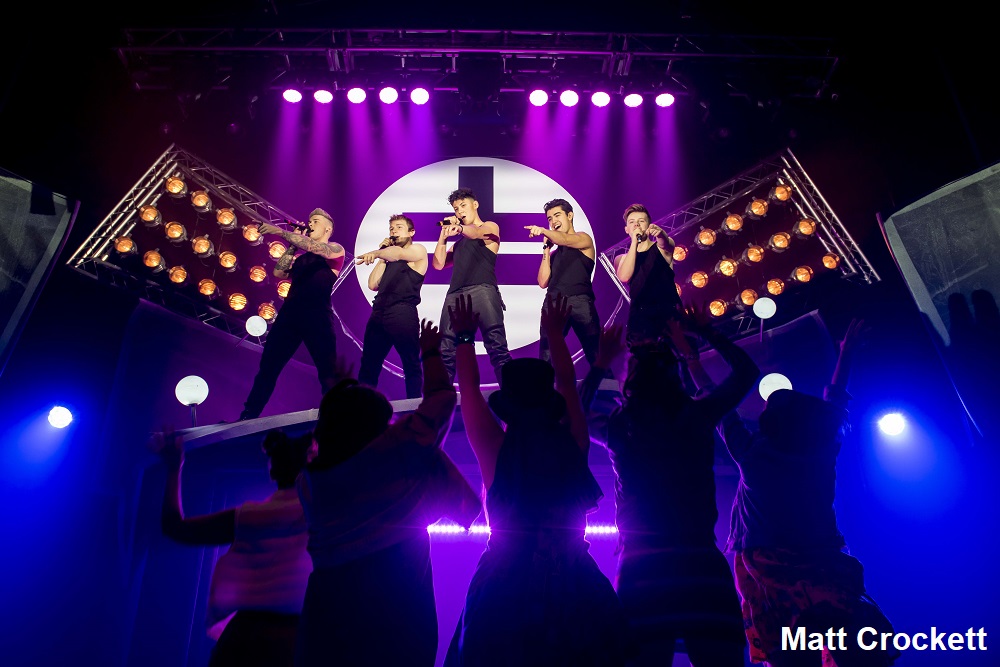 Five to Five take the role of 'the band', with most of the audience being familiar with the boys already from winning the BBC's Let it Shine to earn their place on the boards, I was previously sceptical of a talent show sourcing the roles for a musical like this but my doubts were soon squashed when I witnessed how incredibly hard they worked on stage, showing great chemistry and a stage presence that can only have been instilled into them by a mega group like Take That.
To create a musical like this which features the back catalogue of Take That hits yet is not a musical directly about Take That is a genius move as this show could in fact relate to anybody that's ever been a fan of a musician and the excitement that consumes you, and to be honest; name me one person who hasn't had fan hysteria once in their life and the belonging to something together.
The stage would not look out of place on one of Take That's big budget arena tours featuring a two-tier stage with moving stairs, screens and enough moving lights to light up the sky.
This is a story that really tugs on your heart strings while also proving to be a fun upbeat musical, for example; I don't think I saw a dry eye in the auditorium during an emotional rendition of 'Rule the World' so bring a hankie, but then in another moment, I'm dancing in my chair full of glee at an exhilarating version of 'Shine' which features a moving water feature and full-blown airplane!
The script is solid and full of wonderful nuisances and humorous moments, Tim Firth has written a piece of theatre which will strike a chord with everyone and make you look back at your own life and your own memories.
It's a rollercoaster of emotions, and proves they have the perfect formula for a hit musical.
Verdict: Pure perfection! I cried, I laughed, I loved it!
Reviewer: Max Eden
Reviewed: 26th September 2017
North West End Rating: ★★★★★