Up n' Under is currently playing at the Oldham Coliseum until the 21st October. It follows the story of Arthur Hoyle and his quest to improve the failing amateur rugby league club 'The Wheatsheaf Arms'. Written by the much loved John Godber the play won the 1984 Best Comedy Olivier Award. A wonderful, light hearted story that left the audience in stitches of laughter.
We are quickly introduced to the characters that make up the team; Phil, Steve, Frank, and Tony. A bunch of local misfits who have lost their passion for the game. Arthur has to quickly find a way to reignite their passion and convince them to work as a team to play in a match they are bound to lose.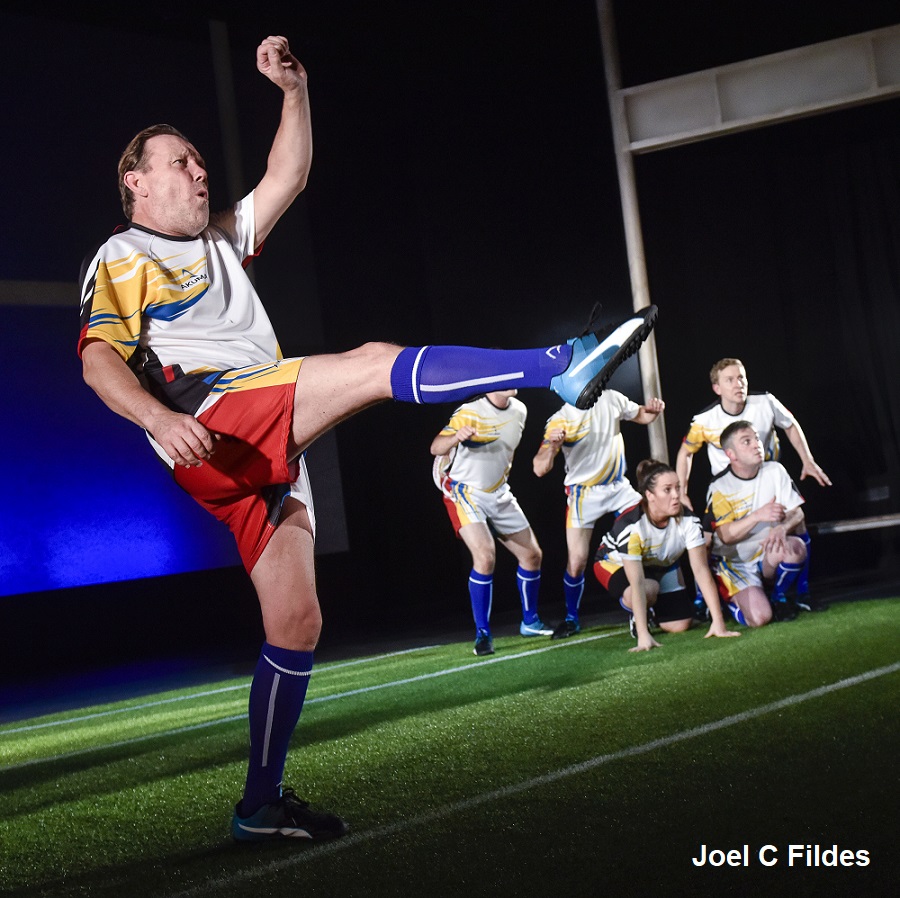 The stakes change when they are introduced to Hazel, a gym fanatic and personal trainer who quickly whips them into gear. Accepting help from a woman who is fitter than the whole team put together brings a wealth of humour to the story. She also provides the team with much needed encouragement and support on their ultimately doomed journey.
The second act has a wonderful fast pace and uses inventive, impressive techniques to bring the audience straight into the action. The fantastic actors swiftly played multiple characters and brought to life the tense match with ease. The use of music, slow motion and impressive acting made the audience laugh out loud as they routed for the characters to score.
The wonderful cast had a fantastic high energy that never faltered and kept the audience entertained from start to finish. The stand out performance came from Jeffrey Harmer who played the brilliant coach Arthur. His comic timing was superb and facial his expressions throughout the second act were simply hilarious. Another firm favourite being the character of Tony who is only wishing to train at rugby so he can become a better dancer. There is a wonderful scene where he shows off his stripping skills - much to the audience's delight. He is played by Reece Richardson who has also appeared in the recent staging of 'Oh What a Lovely War' also at the Coliseum.
The entire production was a joy to watch and clearly an audience favourite as people left crying with laughter. The show is directed by Chris Lawson who's use of music, lighting and set design was simply superb and enhanced what is already a wonderful story written by Godber.
Reviewer: Ellie Close
Reviewed: 6th October 2017
North West End Rating: ★★★★