A Judgement in Stone is considered by many to be one of Ruth Rendell's best works, and this stage play is set in 1978 - keeping in time period with the book from 1977, and like all great murder stories there is a simple story at its core.
I have to admit that I have not read the original book but it's quite obvious early on that this is a not so much a whodunnit but more a why did they do it, and how did it come about.
You learn very quickly who has been murdered and there are very few suspects but the story seeks to get under the skin of those involved and find out why there was such a catastrophic end to a family birthday.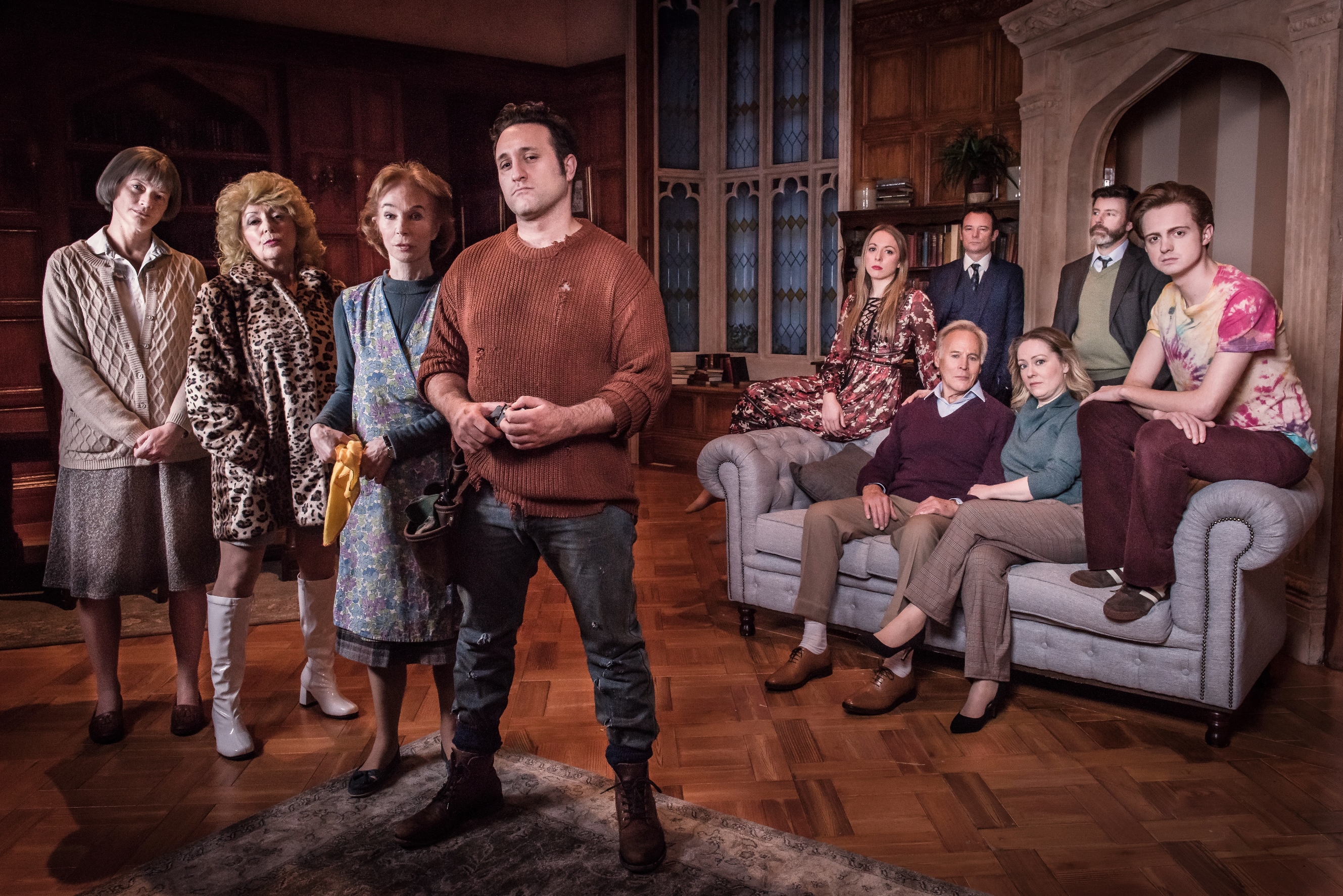 The play alternates between present day and the months leading up to the ill-fated event of the murder of the Coverdale family of four. The story is set at Lowfield Hall, the home of the Coverdale's in 1978. The curtain rises on a solitary figure who turns out to be the family housekeeper Eunice Parchman played by Sophie Ward, her quiet cup of tea is disturbed by the arrival of two police officers Detective Superintendent Vetch played by Chris Ellison flown in from London to investigate and solve the murders of the family of four alongside the local force headed up by Detective Sergeant Challoner played by Ben Nealon. As they review the evidence the story of the past nine months is acted out and the audience is introduced to all the main characters. There is the occasional red herring as you would expect in a murder mystery but generally the play is an analysis of people and their motives.
Eunice Parchman is the socially awkward housekeeper who has continued to live in the house since the Coverdale's ill-fated demise; her humble background is a world apart from the affluence of her employers. Sophie Ward portrays Parchmans' oddball character extremely well that has been hired by the wealthy couple – Jacqueline Coverdale played by Rosie Thomson and George Coverdale played by Robert Duncan who appear to be kind and considerate employers.
It is beautifully set, in an oak panelled room with large leaded windows looking out onto a garden, so major credit to designer Julie Godfrey for making the whole thing look so realistic and to Malcolm Rippeth's for his amazing atmospheric lighting which was warm and homely for when the family is still alive, and cold and stark for the time after the murders when the police are investigating the crime and questioning various suspects. Roy Marsden's skilled direction has made this production slick and seamless by creating the changes from past and present perfect.
Solid performances from Chris Ellison - DC Vetch, Ben Nealon - DS Challoner, Shirley Anne Field - Eva Baalham and Deborah Grant played Joan Smith, Parchman's only friend the village postmistress a brash ex-prostitute in all her Bet Lynch leopard print and heels, who has discovered God. I loved Grant's performance with her bleached blonde hair, mini-skirted and way over the top character which was hilarious the funniest scene is when she dances on the Coverdale's table throwing chocolates around as she beats the empty tin as a musical instrument.
Shirley Anne Field as cleaner Eva was a pleasure to watch but too brief to make the best use of her huge talents as an actress and strong performances from Joshua Price and Pamela Dwyer who played the Coverdale's children.
The play overall was a little old-fashioned in its style but fitting for the period offering an evening of complete escapism, I would recommend you go and see this stage adaptation of what is considered to be one of Ruth Rendell's finest works.
Reviewer: Katie Leicester
Reviewed: 13th November 2017
North West End Rating: ★★★