Over 80 years ago George and Ira Gershwin penned a light-hearted musical 'Girl Crazy', introducing the recently discovered Ethel Merman and Ginger Rogers and with Glenn Miller, Benny Goodman and Jack Teagarden in the orchestra the show was an instant hit with its audiences. Bringing the musical up to date in the 1990's, Ken Ludwig and director Mike Ockford renamed it 'Crazy For You' and the original score was rearranged and once again was a smash hit achieving Olivier awards for Best Musical and Choreography.
With such a history behind it will this touring production from The Watermill Theatre be able to captivate an audience? The answer is yes..... especially if you like a simple storyline, old fashioned razzmatazz and a good dollop of corny one-liners all wrapped up with a fabulous leading man and leading lady, with a multitalented ensemble who not only sing, act and dance but perform with their varied musical instruments! I'm not usually a fan of on stage actor/musicians and often it can appear crowded and distracting and something has to give, in this case the choreography was lacking tap dances which I had expected to see more of as associated to the original Girl Crazy, fortunately the Opera House stage is large enough to accommodate everyone.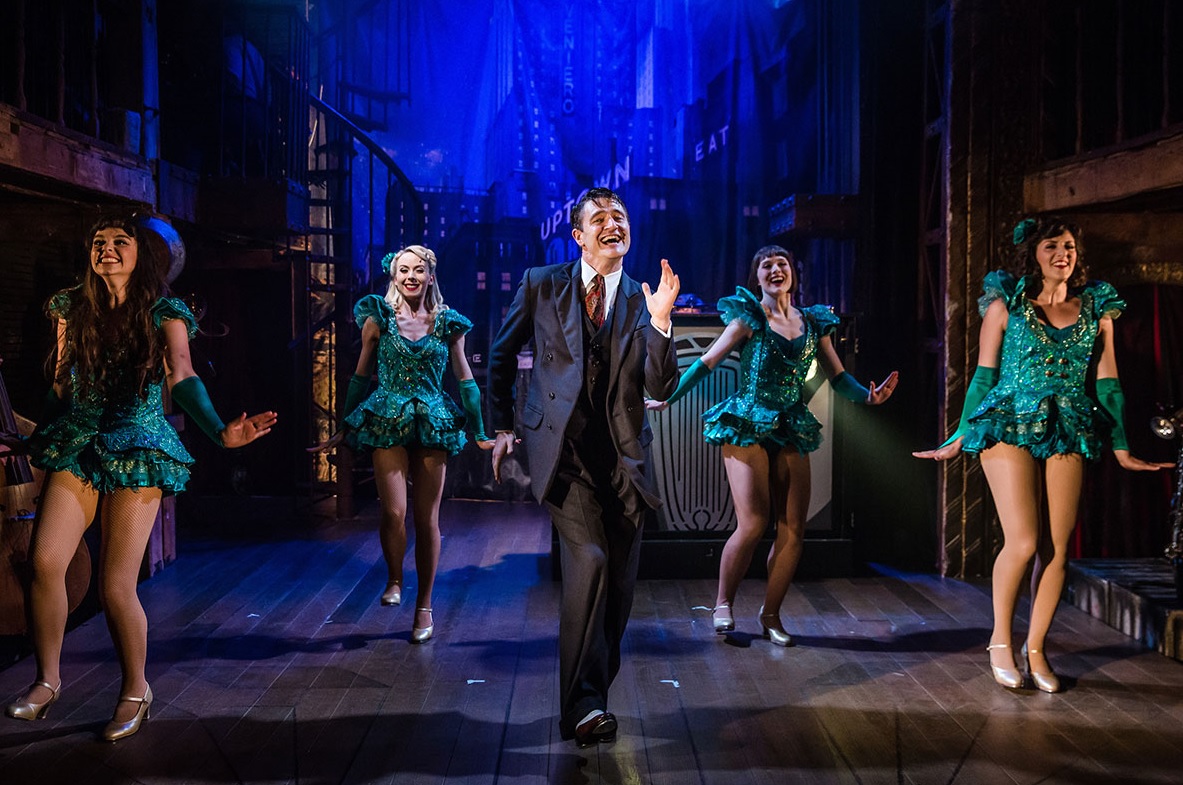 Bobby Childs (Tom Chambers) dreams of performing on stage but faces rejection time after time from New York theatre owner Bela Zangler (Neil Ditt). After another rejection he is pressured by his overbearing mother Lottie (Kate Milner-Evans) into joining the family banking business or marrying his persistent fiancée Irene (Hollie Cassar) who is keen to wed. Opting for the family business he is sent to Deadrock, Nevada to foreclose on an old family theatre owned by Everett Baker (Mark Sangster) and his feisty daughter Polly (Charlotte Wakefield) after they have fallen into arrears with the bank. Finding himself unable to bring this wonderful old theatre to an end, Bobby sets out to convince the owners and locals it can be resurrected and also achieve his dream of performing on stage. There follows a classic boy loves girl, girl loves someone else... or does she? Throw in a couple of not entirely unexpected twists and a whole list of classic Gershwin songs and there you have it!
Chambers is so at ease in his role you could imagine it was written purely for him. Charisma exudes from him as he sashays around the stage bringing a touch of the Gene Kelly/Fred Astaire magic. Displaying a natural flair for comedic timing, plus the man can sing too, you can't help but be warmed to both him and his character. A strong leading lady is found in the wonderful Charlotte Wakefield who perfectly complements Chambers and gives wonderful vocal performances particularly in 'Someone To Watch Over Me'.
There is a highly entertaining comedy scene between Bela Zangler and Bobby as they drown their sorrows. Irene performs just one song 'Naughty Baby' and it's a shame that Cassar has so little opportunity to give full justice to the character.
During the second half the curtain came down for almost twenty minutes as a member of the audience became unwell, thankfully everything was ok. Upon the curtain rising there was a quick couple of minutes recap of the last moments prior to this episode....the very apt scene with the vote as to "Should the show go on?" which brought cheers from the audience.
Crazy For You is a light hearted musical of the old fashioned kind with a fantastic cast who work superbly together bringing an uplifting enjoyable production.
Reviewer: Lorna Weekes
Reviewed: 28th November 2017
North West End Rating: ★★★