As with most children one of my first brushes with theatre was when I took part in my school Nativity play. In the subsequent years I've had the pleasure of watching my own kids take part in the same playing tree number 3, shepherd 2 and the pinnacle of every young boys dream, Joseph. Tonight at the Palace in Manchester I was therefore interested to watch a Nativity without nerves and apprehension.
The triple threat that is Debbie Isitt has written, directed and co-composed Nativity! The Musical and in doing so brought, in my view the best touring show of the year to Manchester which is currently bustling with its world famous Christmas markets.
The show follows Mr Maddens (Daniel Boys) as he returns to the director's chair to produce St Bernadette's annual Nativity show, and this year it is a musical! For years a theatre reviewer has been covering St Bernadette's production as well as exclusive Oakland's Preparatory School. The well to do school were always awarded 5 stars and less well-off St Bernadette's minus 2 at best. (Sounds like the Daily Mail). Enter Mr Poppy (Simon Lipkin) a classroom assistant who is more of a kid than the kids he's looking after.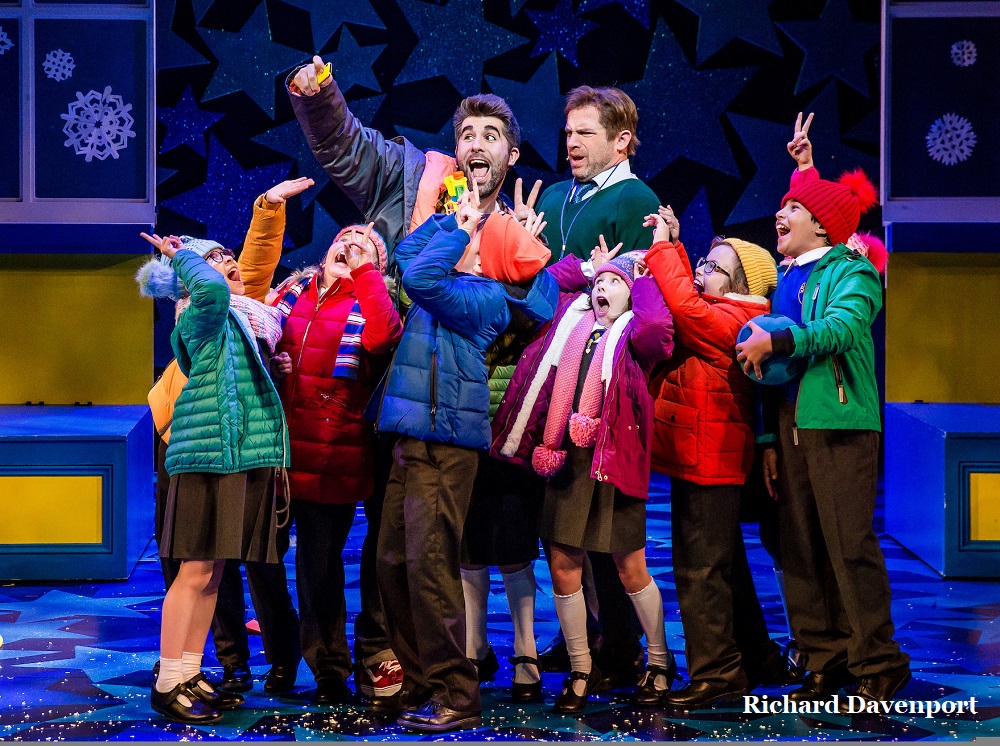 When Poppy is over heard telling a white lie that Maddens ex-girlfriend Jennifer Lore (Sarah Earnshaw) who is thought to be a high flying American executive is coming to see St Bernadette's production this year things spiral out of control and the children believe Hollywood is coming!
There is little more to say about this whole production except it is very good, very, very good. The pace is good, but not too fast you can't keep up. The staging is slick and clever, a testament to the design of David Woodhead and the band under the direction of Michael Riley are superb throughout.
Whilst Boys as Maddens and Andy Brady as Mr Shakespeare put in superb performances the stage really does belong to Lipkin (in the best role I've seen him play on stage) and the children of the Blue and Red team (who can be found here). They all gel like classmates in the playground and there is not a weak link amongst them. If these are the future performers of musical theatre, we're going to be just fine!
There are many references to the great musicals of the West End and Broadway littered throughout the evening beginning with the curtain teasing up 42nd Street style. See how many you can spot?
The only downside for me this evening was the woeful under use of Sarah Earnshaw, I would have loved to see her take a more prominent role but when she was on stage her voice was as good as ever.
Nativity! The Musical continues on tour until the end of the year before resuming in 2018. The best touring show to hit Manchester this year, I only hope it returns in 12 months. The perfect prelude to Christmas.
Reviewer: Paul Downham
Reviewed: 29th November 2017
North West End Rating: ★★★★★