'Guys and Dolls' is a much loved story of gambling, gangsters and 'guy meets doll', famously brought to the silver screen in 1955 and starring Frank Sinatra and Marlon Brando. I thought the casting couldn't get much better than that but after seeing tonight's performance, I have had to think again.
This is a co-production of the Royal Exchange Theatre and the Talawa Theatre Company and it brings a freshness and vitality to this timeless classic. From the overture to the final bow, every second is sheer dazzling entertainment which leaves you feeling exhilarated and wanting more.
All the cast are amazing in their own right but the casting of the four lead roles of Nathan Detroit (Ray Fearon), Sky Masterson (Ashley Zhangazha), Sarah Brown (Abiona Omonua) and Miss Adelaide (Lucy Vandi) is theatre gold. Both couples have great chemistry and each character provides much humour throughout the show. They all excel in their roles which could have been written especially for them. The interaction between them is compelling and so watchable. I just didn't want the evening to end.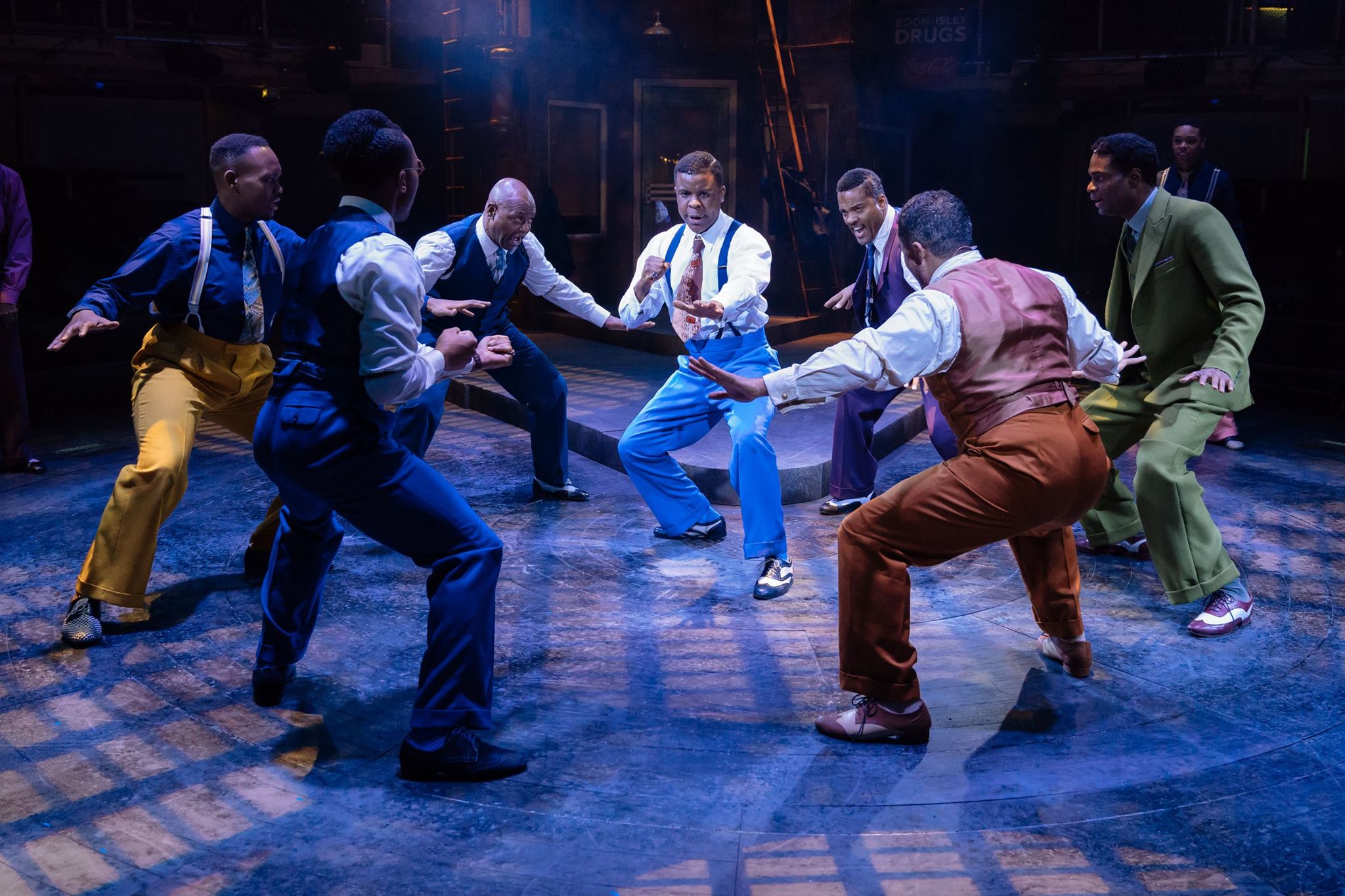 Ray Fearon's Nathan Detroit is a lovable rogue who is cool, slick and able to talk himself out of (almost) any situation with a flash of his charming smile. Ray Fearon brings an energy to the character which I haven't seen before and it was very refreshing. He has perfect comedy timing and knows just how to get the most out of every moment that he's on stage.
The character of Sky Masterson is much more spirited than I've seen in previous productions. Ashley Zhangazha brings a wonderful charisma to the role and great presence and his interaction with Nathan Detroit is easy and natural.
Abiona Omonua is a wonderfully starchy Sarah Brown with great expression. Her transformation from strait-laced Salvation Army Sergeant to alcohol swilling lush (albeit unknowingly) is hilarious and plays out beautifully. There is instant chemistry between her and Sky Masterson and they really spark off each other.
Miss Adelaide is usually portrayed as a ditzy New York 'broad' but Lucy Vandi's character didn't reflect this which again, was a refreshing change. She is classy and sassy and provides a lot of the comedy with her long-suffering endurance of Nathan's refusal to settle down and the chemistry between them is marvellous.
Every single cast member is outstanding and the singing and choreography, particularly in 'Luck Be A Lady' and 'Sit Down You're Rocking The Boat' is flawlessly executed, the latter always being a much awaited high point and this version is no exception. It is done imaginatively and is absolutely joyous!
The set is relatively simple but effective and extravagant props aren't necessary as the performers are everything that we need. There is never a dull moment on stage and the space is used extremely effectively.
The band should be congratulated on their rendition of the fantastic score: some of the songs were a little jazzier and 'loungey' than usual and this worked very well. 'A Bushel and a Peck' is absent but this didn't detract.
This glorious show is fun, exciting and above all, bursting at the seams with talent. I really loved the way the characters were all more dynamic and vibrant than I've seen them played previously. The show lends itself marvellously to being performed in the round and it's always thrilling to be as near to the stage and the performers as you are in the Royal Exchange Theatre.
'Guys and Dolls' will be rocking the boat in Manchester until 27th January. If you only go to the theatre once during this festive season, then forget the pantomimes, you HAVE to see this! (oh yes you do!) https://www.royalexchange.co.uk/whats-on-and-tickets/guys-and-dolls
Reviewer: Nicky Lambert
Reviewed: 6th December 2017
North West End Star Rating: ★★★★★