Waterside in Sale was the venue for The Bear based on the book by Raymond Briggs, which has been beautifully adapted for the stage by Pins & Needles. This production is a child targeted show. If you have seen and been amazed by War Horse then this is a must for your children to experience similar puppetry to that of War Horse. From the moment you arrive in the auditorium you are transported to the home of Tilly and her parents.
There is a beautifully simple colourful but effective set (designed by Zoe Squire). Tilly mingles with the audience early as everyone takes their seat and then she breaks into song with her very own band, accompanied by Teddy. It's soon time for Tilly (brilliantly played by Leigh Quinn) to go to bed.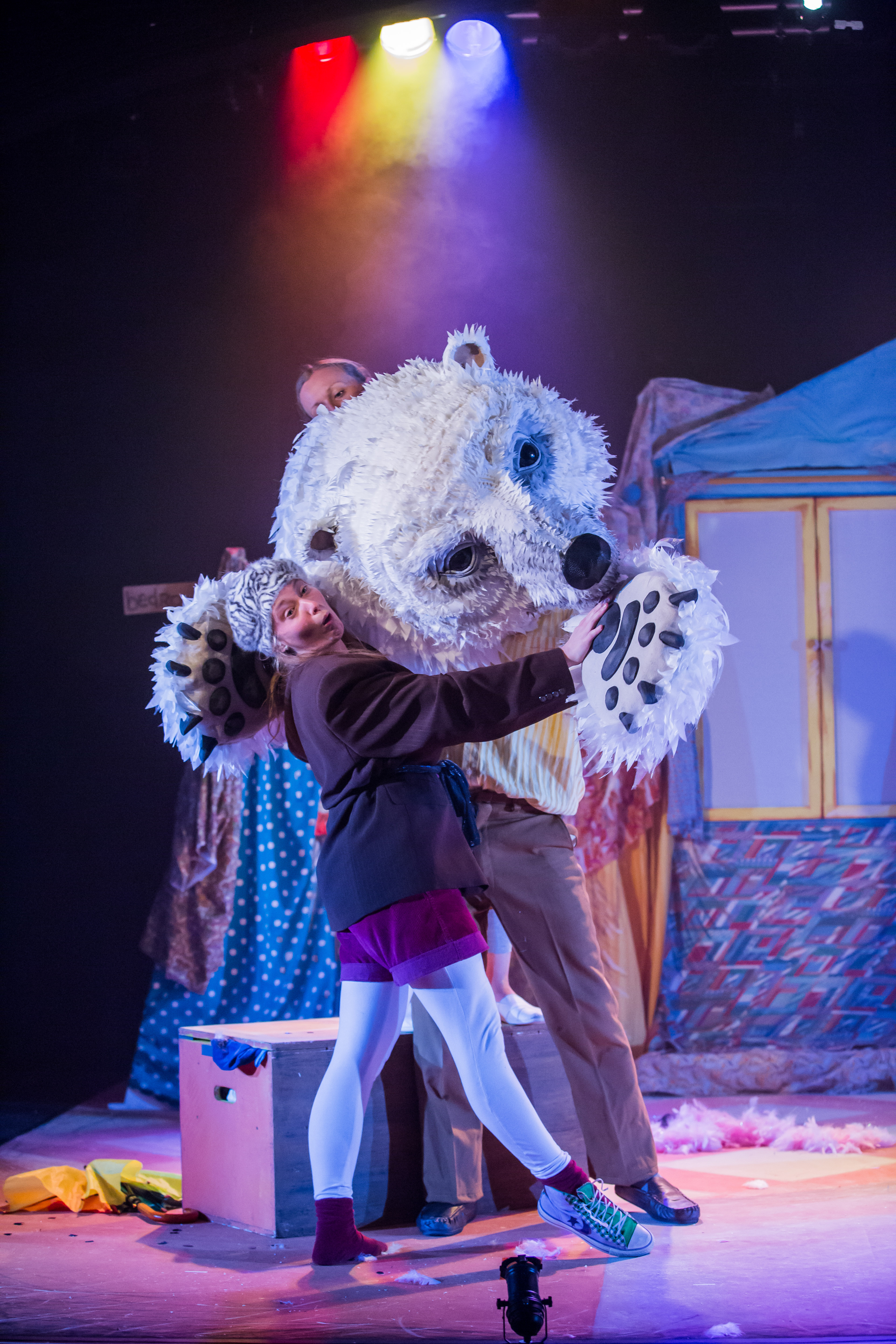 As she sleeps with a storm flashing in the bedroom (with brilliant lighting effects and silhouettes by Tom White) we get introduced to Bear. Bear is a wonderfully created Polar Bear controlled and voiced by Max Tyler and Lori Hopkins (who also play Till's Mum and Dad). A beautiful friendship starts to develop between Tilly and Bear as they snuggle down to sleep on the floor following Bear's reluctance to get into Tilly's bed.
Tilly's alarm sounds and there is no sign of Bear. Where has he gone? Following breakfast Tilly's parents head off to work and Tilly goes hunting for Bear. They have fun in the bathroom (beware you may get wet!) before moving on to Tilly's parents room for dressing up fun. Next Bear gets hungry and trashes the Kitchen leaving Tilly upset and telling him off.
We finally see Bear leave Tilly to return to his home and a surprise is in store for the audience at this point as Tilly rides on the back of Bear. This is a surprise the kids will love!
The whole production is supported by a moving musical score with switches being made smoothly by the cast between scenes. The show is wonderfully co-directed by Emma Earle and Hal Chambers, assisted by Caroline Lang. Puppetry is directed by Finn Caldwell and the whole show is produced by Lee Rayner and stage managed by Philip Hussey.
All in all this is an amazing entertaining introduction to the theatre for younger children and an introduction to the technicalities for the older children. It is advertised as being recommended for children aged 3 – 11 and I would fully support this recommendation. My 11 year old commented that this was the best production he has seen on a small scale budget. I would say it is a must see for anyone with young children who have not yet experienced the thrill of the theatre. You can even treat them to a slumber bag that contains a large cookie and a small bottle of milk.
Reviewer: Cory Coxon
Reviewed: 7th December 2017
North West End Rating: ★★★★★