Carole King continues to inspire and empower her listeners, perhaps especially (but certainly not limited to) women, in this magnificent musical biography, which last night took yet another audience through over fifty years of sensational hits known all over the world.
How could this show not be a thunderous success?
Doing its best to immortalise, yet again, the legendary singer-songwriter, Beautiful: The Carole King Musical features no less than fourteen of King's songs, including ten historical chart toppers, alongside other well-known and well-loved numbers by her husband between 1959 and '68 Gerry Goffin (Who Put the Bomp, 1961, with Barry Mann), as well as Bobby Darin (Splish Splash, 1958, with Jean Murray), Neil Sedaka and Howard Greenfield (I Go Ape, Oh Carol, Stupid Cupid, all 1959) , Tex Davis and Gene Vincent (Be-bop-a-lula, 1956) and of course Barry Mann and Cynthia Weil (On Broadway, 1963, You've Lost that Lovin' Feeling, 1964, amongst several others). But there's only so much you can fit in two and a half hours, and this Broadway and West End spectacular is tasked with walking the tightrope between concert tribute and biography.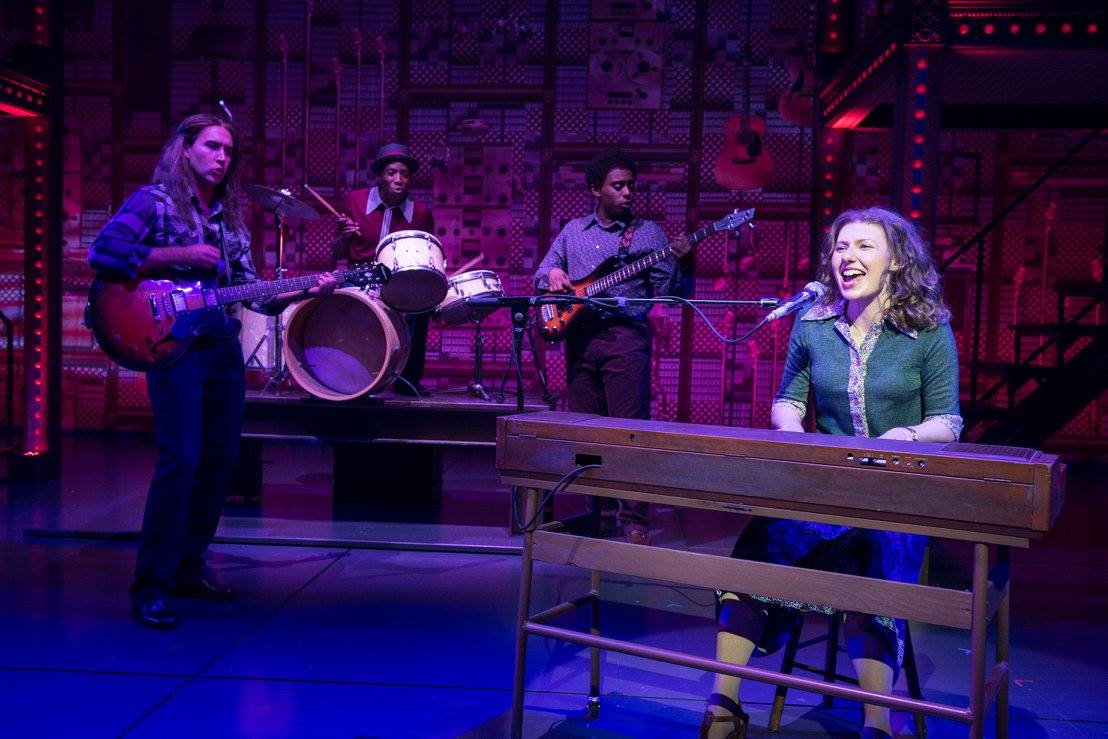 The thing about biographies is, we all know how the story is going to end; and indeed, this one continues still... The writers and (a slew of) producers are well aware of this as they happily begin twenty years after King's humble start. Here we are at the Palace Theatre, Manchester, spectators to this legendary life, greeted with King, vintage circa 1970, seated at a shining grand piano, humming with promise under a dream-like blue spotlight. Bronté Barbé glides on stage and is ethereal as King, in a flowing blue gown and characterising swathes of blonde hair, before commencing a rousing rendition of the titular single Beautiful.
King is played as a determined and supremely talented though naive artist, with dreams that simultaneously (and, this reviewer thinks, refreshingly) include a glistening career as a songwriter as well as a traditional, loving family life that sees her as a wife and mother. Barbés comedic timing is spot on, with terrific characterisation of the eager teenager at school, bouncing into the smooth irony of fantasies of moving to "the most beautiful place on earth—the suburbs," upon achieving that wondrous goal: Marriage— "when the fun part of life begins." The collective chuckle that skipped through the audience on hearing this was not without a sense of knowing: King married her high school sweetheart Goffin at seventeen, he aged nineteen, and the pair had two daughters in their nine-year marriage, as Goffin also had numerous affairs and an eventual breakdown. The couple divorced in 1968, something not taken lightly, or even virtually unheard of at the time, and King would marry three more times in the following twenty years. This includes a brief marital union with songwriter Rick Evers, who tragically died from a cocaine overdose a mere seven months into the marriage. Although grief is certainly present in Barbés performance of these tumults in King's relationship with Goffin (her later relationships are not included in the narrative), the focus is on her positive uprising afterwards, and in this, moves us all to look forward brightly.
The story unfolds naturally on stage, with trusting relationships demonstrated between the central foursome, who alongside Barbé, are Kane Oliver Parry as Gerry Goffin, Amy Allen Richardson as Cynthia Weil, and Matthew Gonsalves as Barry Mann, however it is obviously difficult to fit half a century into two and a half hours. For this reason, the jumps in time demand attention from the audience, and are demonstrated in the production by the aesthetic evolution of décor, fashion and fantastic wigs, which also neatly demonstrate King's growth and maturity into her full self.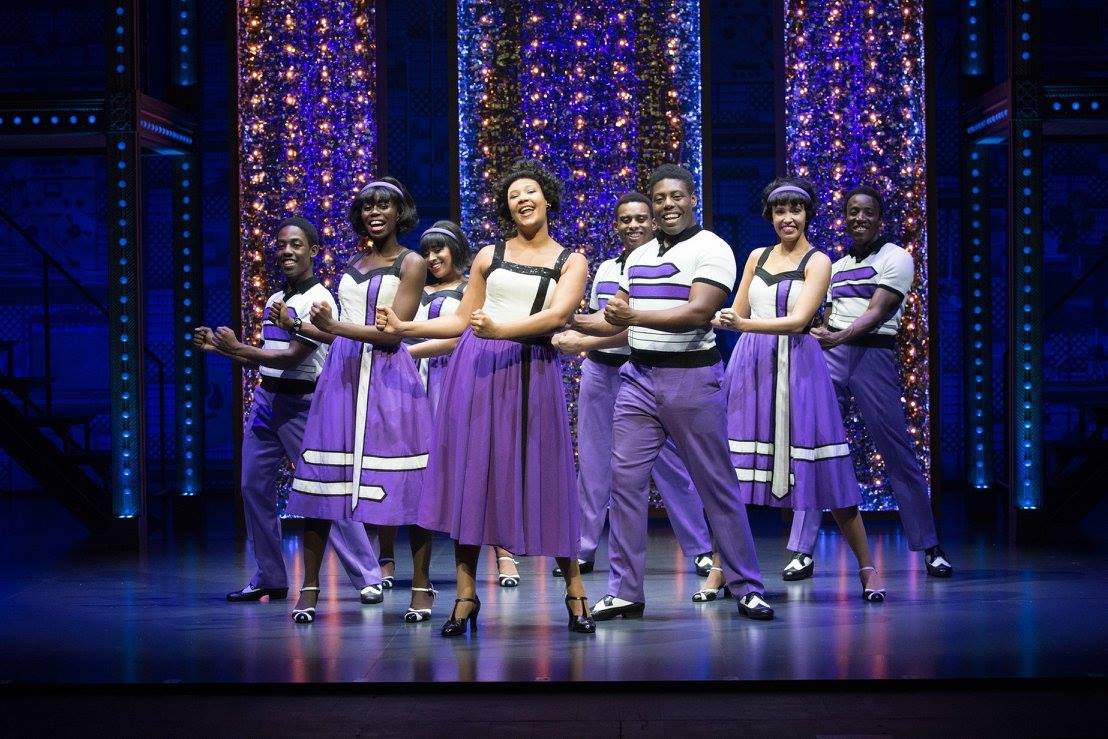 This moment culminates with Barbés fabulous performance of Beautiful, but for me, the moment which first defines this is her shiver-worthy rendition of (You Make Me Feel Like a) Natural Woman, of course immortalised by Aretha Franklin, but which should rightly be regarded as King's, and Barbés, real performance moment; perfection.
Amy Allen Richardson delivers a wonderfully charismatic portrayal of Weil, as the thoroughly modern, marriage-avoiding, independent career woman, and Matthew Gonsalves provides the comedic light, in his audience-adoring portrayal of Mann, to Parry's romantic but intensely moody and quite dark, artistic Goffin. The immensely talented musical ensemble and swing groups who make up such a big and extremely valued part of this production are also unforgettable, many of whom make their professional debut with this tour. Notable performances include those of Esme Laudat, Paige Miller, Merryl Ansah, Khalid Daley and Simeon Montague. The dynamic, surprising and excellently executed scenic design cultivates the style and language of the music industry in the 60s and 70s, and makes the show even more of a joy to see, as well as to hear.
What the audience takes away from this glowing production is a feeling of joy, warmth and inspiration at the story of a woman who throughout her life has endeavoured to instil exactly this into all she touched. Even at the tender age of sixteen, Kings first sweet-natured love-songs, with undercurrents of sass and determination (she famously replied to former boyfriend Neil Sedaka's Oh! Carol with witty Oh! Neil in a bid to prove that she too, even as a young woman in mid-century America, could be just as capable as a man in the music industry of the time) appeal to the optimists in us (The Locomotion, 1962) and lay bare our insecurities (Will You Love Me Tomorrow? 1960) in ways that command relatability. King is flatteringly but authentically portrayed, as someone who had goals, worked extremely hard, won many battles and also lost a few, and who continues to succeed through the sustained practice and teaching of kindness. A lesson is to be learned from this narrative: spread love, and importantly, when it seems to give up on you, don't give up on loving yourself.
Reviewer: Natalie Josie Romero
Reviewed: 13th December 2017
North West End Rating: ★★★★