Fuelled by the desire to improve integration and encourage more people from the BAME community to access 'art', Adefesysian's Truth Be Told group is an eclectic mix of people and talents.
Their current production, True Stories, is an amalgamation of spoken word, music, dance and theatrics, touching upon significant losses and realities from modern slavery to suicide through people affected by these very things.
With a modest yet purposeful stage design and generally slick execution, this performance was engaging and refreshing, although a little inconsistent.
The blending of Remi Adefesysian's spoken word with Sarah Yaseen's musical accompaniment was a strong moment, as was Wayne Pilgrim's physical performance. Framed as a meditation on the pain of a friend's suicide, Wayne's dance was masterfully expressive, reaching depths of feeling that spoke as loudly as Remi's poetry.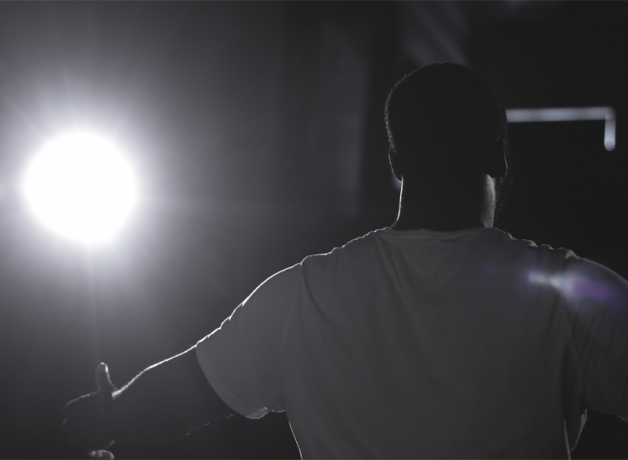 In principle, the creative fusion that comes from combining genres and art forms can produce something very original, but transforming individual parts into a coherent whole takes a lot of work and experience.
While True Stories is admirable and exciting as a concept, as a standalone performance it needs a little more thought. Despite these stories all being (very overtly) true, some elements of performability distracted from and slightly diminished the genuine expression.
For instance, although the audience in general responded well to Ilona Krieva's theatrical segment, it didn't sit well for me within the collection. Her flamboyant personality and acting style seems out of balance with the other more natural performances – especially when she returns during Sarah's beautifully poignant reflection on her own arranged marriage.
Admittedly, Ilona does provide variety and some welcome humour into a predominantly serious production and is perhaps the most creative in her method of storytelling to reveal how her past has shaped her present.
Elements of this performance are therefore stronger than others – some blend seamlessly while others seem forced and lacking in subtlety. With art that poses as truly authentic, there is no place for acting, just expression. Yet the concept and truth give this project a strong core; with some refinement this could be quite profound.
Imperfect though it may be, there's no doubt we need to see more of Truth Be Told; it's time there are more platforms for performers like these in True Stories.
https://homemcr.org/production/true-stories
Reviewer: Eve Ryan
Reviewed: 18th January 2018
North West End Rating: ★★★★