The stunning and versatile Hope Mill Theatre along with Aria Entertainment hosted the world premiere new musical Toy Boy Diaries based on the bestseller by Wendy Salisbury's real life experience where on a skiing trip in the Swiss Alps high on alcohol she inadvertently found herself writhing naked underneath a nineteen-year-old and as a mature lady found a future desire to date toy boys.
Directed by Tania Azevedo a theatre maker and graduate from Mountview Academy of Theatre Arts and the King's Head Theatre I was intrigued to see if this talented lady could pull it out of the bag and make this musical a smash hit like many previous premiere that have graced Hope Mill Theatre.
Set and costume designer Jason Denvir has a string of musical and play credits under his belt including two award nominations for the Broadway World Awards created an apartment with a kind of retro feel to it that was versatile enough to use throughout the production, the only difficulty with this set was that there were blind spots in the space used so it was difficult to see some scenes but it did not distract you from this great staging. Credit must also go to lighting designer Ben Rogers for his subtle and clever use of light and shade throughout the production.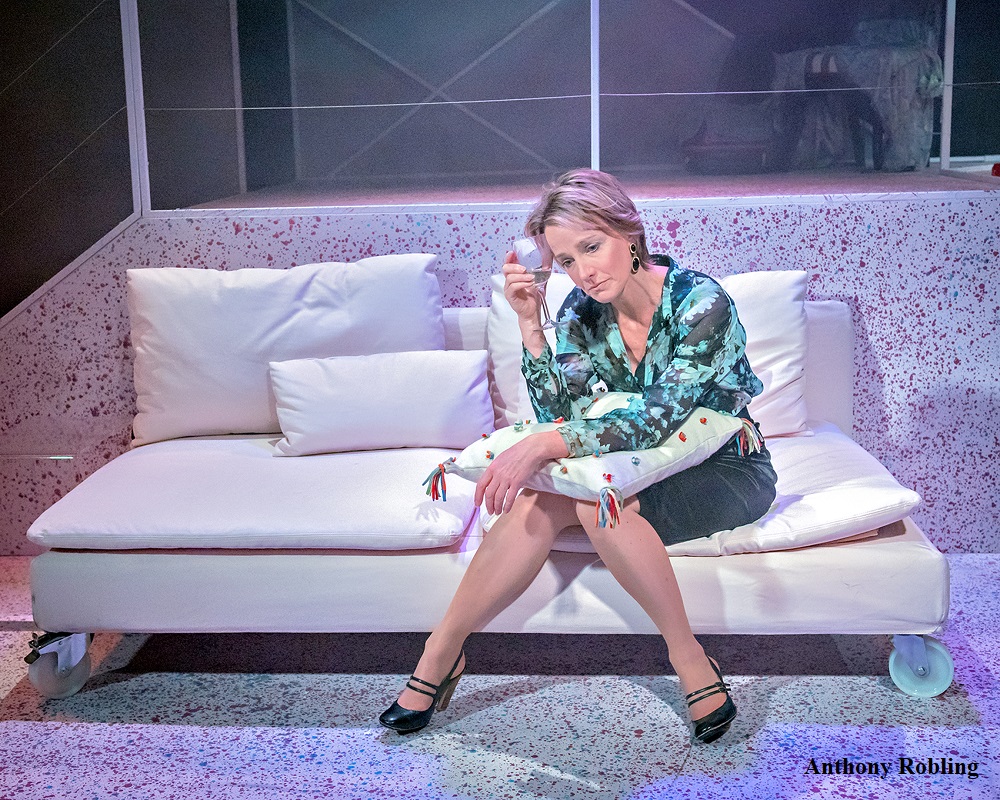 The show starts with Lily (Johanne Murdock) a 43 year old attractive wealthy lady returning to her flat after a skiing trip with one of her daughters, a divorcee twice over Lily is single and lives alone in her flat with but is often visited by her attentive, considerate, loyal, and optimistic friend Penny (Nicola Blackman) who has a huge interest in Lily's love life throughout.
Lily who says yes to everything after 43 in case she isn't asked again finds herself on a journey of love and lust with several younger men. Initially we see Lily falling in love and living with Tom (Matt Beveridge) a gorgeous young estate agent but after 7 years aged 50 the honeymoon period is over and Tom departs leaving her alone and single, after a mugging she meets Paul (Alistair Higgins) a CID officer who she is instantly attracted to but sadly doesn't take her bait whilst her case is active but does at the latter end of the show.
Lily's acclamation of 'I've done my procreation and now it's time for recreation' finds herself on several dates with younger and some older guys until she finally decides with encouragement from her trustworthy friend Penny to place an advertisement in the newspaper for a date with a 'hot young man'.
I found some of the scenes a little cringe worthy and seemed unnecessary especially the lessons where we saw three separate lessons with the three boys (Matt Beveridge, Sharif Afifi and Alistair Higgins) dancing around in aprons with penises on as they erotically handled phallic like vegetables, a lesson on 'the arrogance of the penis' with dildo's (the rabbit) and songs on self-pleasure. If Lily was a teacher then this maybe would fit in, but whilst she stood teaching in a graduation gown it seemed a little disjointed and irrelevant.
Some great lines in the script rescued this production for me like 'never a nurse or a purse', 'marvel with my last marble', 'dress like a stripper feel like a queen' and 'everything gets older but your feelings'
The Musical Numbers were a little wordy and the lyrics didn't seem to match the music at times making it sound a little off key and out of tune, but the cast did a fabulous job of acting, singing and dancing but sadly I personally wasn't blown away but I can see that this production has huge potential in the future if fine-tuned and adjusted just slightly.
Well done to all involved.
Reviewer: Katie Leicester
Reviewed: 24th January 2018
North West End Rating: ★★★