My second show of the day is to watch Stumble Trip Theatre Company's presenting their show Heather and Harry. It's a marked contrast stylistically to the show I saw previously the day but I notice a continuation of a wigs theme…
Stumble Trip are a southern based theatre group comprising of Grace Church, Chloe Young and Musical Director Claire Parry. Church and Young began their collaboration whilst in training at Jaques LeCoq School in Paris and have teamed up with Parry to create their current production Heather and Harry, which they brought to Manchester and staged in the Pod at 53Two for one night before taking it onto the Brighton Fringe in May.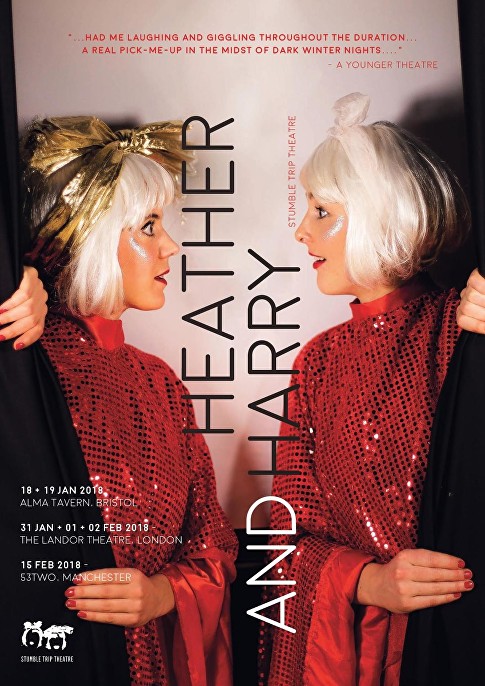 The tale of Heather and Harry begins with the immortal Heather being cast out of Heaven by Zeus to experience the life of the mortal realm. She's forbidden from touching any mortal on pain of becoming mortal herself. As you may expect from these sort of stories she falls in love with a friendly tramp and faces the choice of giving up her immortality to explore the experience of love in the mortal realm of London. Its typical Greek tragedy for modern times, told with a solid dose of humour, music and play.
The result is a show which employs storytelling techniques infused with movement and music rather than a straight naturalistic dialogue or any kind of intense intellectual homage to Greek Tragedy. It's refreshing and gives an amusingly chaotic style to the performance as the performers celebrate the low budget nature of the performance rather than fighting it. This all becomes their strength as they flirt with parody, but one senses they have a deeper knowledge of their subject than they care to reveal.
From gangster rap to opera, this show explores a vast range of musical interests and is performed in varying shades of seriousness, displaying occasional touches of top quality vocal skills before a smooth transition to tongue in cheek ditty's integrating the musical director into the storytelling, with humour once again.
It's easy to compare this theatre group with Rash Dash or it would be if you've seen both these companies at work, which I suggest you do. The composition of a musician plus two principle actors working in a similar physical style is as clear a similarity as it's possible to see. Though not packing the intellectual punch of Rash Dash, in Heather and Harry we see a group who are enjoying their work enormously and this is carried across to create a highly watchable hour of storytelling. It's never edgy, it pushes few boundaries but none of that ever matters because what it does do is entertain the entire way through and that is what matters to me.
If you're in Brighton for their Fringe Festival then you can catch them at the Spiegeltent on 27th and 28th May.
Reviewer: Karl Barnsley
Reviewed: 15th February 2018
North West End Rating: ★★★★