Even if you don't class yourself as a Michael Jackson fan, his songs are undeniably memorable and unique. Who can stop themselves from dancing when you hear the opening beat of 'Billie Jean' and as for 'Thriller' - I'm sure I'm not the only one who stayed up on a school night to watch the video when it was first aired!
'Thriller Live' bills itself as "an electrifying visual and audio journey through the magic of Michael's 45 year musical history..." This it undeniably is but I found the format rather odd: it's a strange mix of tribute and cabaret.
There are four male vocalists and two female vocalists – sometimes all of them sing together; sometimes the female vocalists take the lead – which just seemed rather strange in a show dedicated to Michael Jackson. Whilst the ladies are very talented, I felt that a female vocalist taking the lead diluted the experience somehow. I am sure most people probably assume they are going to see a tribute show and that isn't really what it is.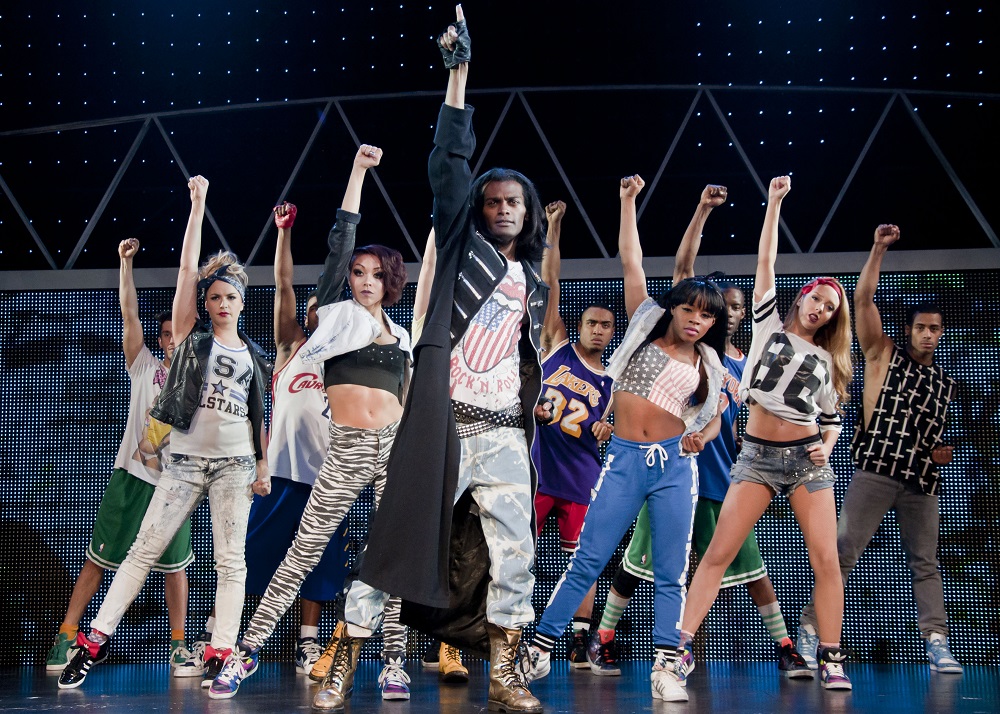 I enjoyed "Shake Your Body" which flung disco at us from every angle and "This Place Hotel" really caught my attention as most of the choreography was performed by the male dancers who are absolutely outstanding, particularly when dancing in formation. I'm sorry to say that I didn't feel the female dancers added a great deal to this number and actually detracted from the amazing dancing of the male troupe.
"Dangerous" followed, danced by Eddy Lima (who is the nearest thing to Michael Jackson I think I will ever see) and the male dancers – this was another exciting and very visual performance. Eddy captures all the iconic stances and moves of MJ himself and all of a sudden, I didn't feel that I was watching a cabaret show any more.
The first half ended with "Can You Feel It" which is a real crowd pleaser and I enjoyed it.
The second half I found much more engaging and it had several show stopping numbers, including "Beat It" - all the cast performed in this one and the choreography was very well executed. I loved the dancing by the male dancers in "The Way You Make Me Feel" which was sung by Adriana Louise, who is an extremely talented vocalist but it just doesn't seem right to have it sung by a woman!
During "Smooth Criminal", all the vocalists were on stage while Eddy performed the choreography – I believe that in this case, less is more and there was no need to have so many people on the stage; again it made it a strange mish mash of part tribute, part cabaret and it needs to be either one or the other.
"Earth Song" and "They Don't Really Care About Us" were brilliantly done and I felt the show was now becoming what I had expected it to be. Eddy came back on stage to perform Billie Jean and this was the kind of performance I'd waited all night for. He danced on his own and it was like watching Michael Jackson.
"Thriller" was very much worth the wait, with extremely scary zombies and fabulous dancing. By this time, the audience excitement was at fever pitch. With "Bad", "Black or White" and a "Smooth Criminal/Thriller" reprise to finish, I felt the show had redeemed itself and I totally loved most of the second half.
With fabulous Jackson-inspired costumes and a wonderful band, there were some amazing high points but at times, too much clutter and lack of clarity as to what the show actually is. That said, the performers work very hard to engage the audience and keep the party vibe going and there is some phenomenal talent on stage.
Thriller Lve continues at the Palace Theatre until the 24th February before continuing on its UK tour http://www.atgtickets.com/shows/thriller-live/palace-theatre-manchester/
Reviewer: Nicky Lambert
Reviewed: 19th February 2018
North West End Rating: ★★★★