A grey-suited body writhes in the middle of a circle of sand on a sparse set. Waves are projected around the circle and five ethereal strips of material hang like ghostly drapes from the ceiling to the floor. I've just entered the studio theatre and it becomes clear very quickly that I'm in a room full of theatre students, all ready to pounce on what, apparently, they could have done better themselves.
With just one act and two actors, On the Outskirts of a Large Event is a mysterious, minimalist production that interrogates memory and blame, anger and apathy. The setting is a tropical island, threatened by a fast-approaching iceberg, and the grey-suited body is Lucian, a politician sporting an ugly head wound that's causing acute amnesia.
Nicola Blackwell performs this traumatised and egotistical man very convincingly at first, maintaining an amusing dynamic with Rose Gray, his well-informed grey pyjama-clad new companion. The friction, outbursts and power struggle between Blackwell and Gray maintain interest in the first half. Their combination of childish retorts, impatience and frustrations creates intrigue, a sense of impending doom but also moments of light relief.
Gesturing towards issues of climate change, displacement, persecution and accountability, this is an ambitious production. Mildly funny as it might be, there is no ounce of hope in this play. It presents a grim present and certainly a grim future, making the grey colour scheme very apt.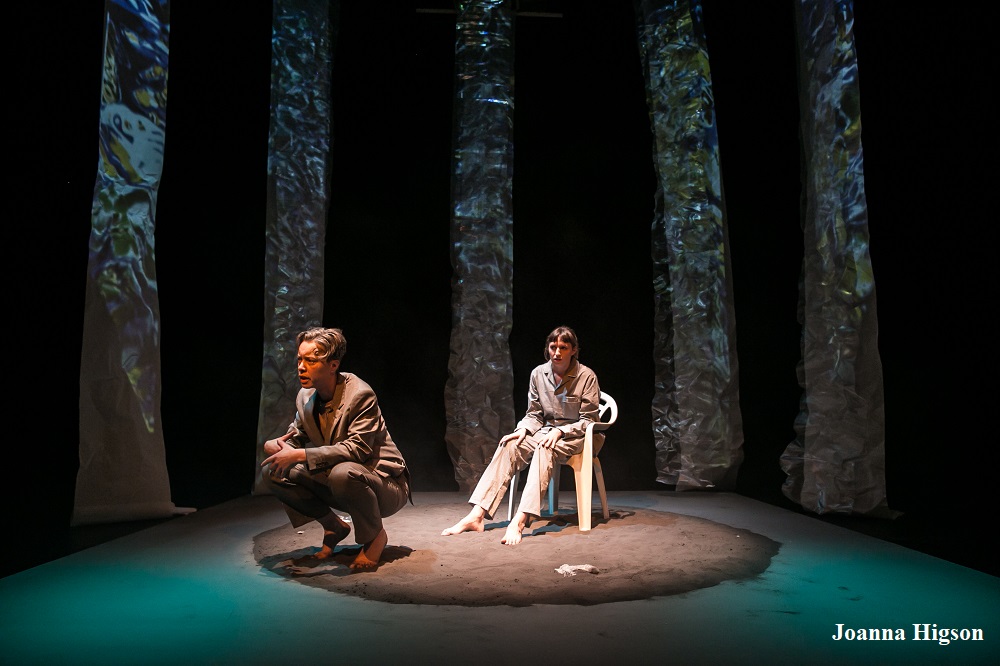 In such a visually minimalist production, dialogue and storytelling techniques are central to its success. While the short mocking sections of news break up the flow and get many laughs, the self-described fable-like narrative becomes tiresome as it develops.
Only near the end is the location of the tropical island revealed… and guess what? It's the United Kingdom. A land that believes it needs to rid itself of people to make itself great again, a land threatened by so-called intruders and a stonking great iceberg, a land where apathetic inhabitants sleepwalk into a Large Event, walking around with their eyes closed to reality.
Despite this unnecessary explicitness, there are subtle elements in this creation that may be easily overlooked. The debatable existence of the pyjama-clad speaker is an interesting avenue, since at the 'climax' she disappears offstage, vanishing as memory and understanding returns to Lucian.
On the Outskirts is not simply saying that we are individually each to blame for this looming catastrophic event because we never committed to veganism, or politicians are to blame because they widen rifts between communities, or the press is to blame because it flames public outcry with "profitably fictions" – it is either all or none of these things.
At the end I hear a dismissive complaint from the audience, "well they're preaching to the converted, it's the same old story…" and I thought to myself, either he's right or he's missed the point. This student interpreted the play as a classic example of lefty self-affirmation. I agree in principle, as if I'm watching supposedly experimental theatre I'd like my thoughts to be provoked not massaged.
But the main, and possibly the only, radical argument in On the Outskirts is that those who write and perform the 'lefty' theatre are part of the sleepwalking masses. Bored as I am generally by token meta moments, this suggestion is quite refreshing.
On the whole, I see what playwright Joe W and director Malaika Cunningham were trying to achieve with this atmospheric and foreboding production, but a bold idea and a bold design isn't quite enough to make this a polished success.
Despite The Bare Project's intentions, the experience was not as bizarre as I'd hoped. In 2018 can this really be classed as experimental theatre? On the Outskirts is mysterious and interesting, yes, but radical and original… not quite.
Reviewer: Eve Ryan
Reviewed: 21st February 2018
North West End Rating: ★★★