Written by Hugo Lewkowicz, 21 Minutes is a fine comedy performance from Maverick Charles Productions that plays out the last 21 minutes before the end of the world no less than five times.
Lewkowicz also shines as an actor, playing the pompous know-it-all Mr Autumn; with his perfect tone and delivery he saves the otherwise shaky first scene. From the second scene, however, it's clear we're in safe hands as performances become more assured and punch lines more frequent.
Cult leaders of 'alternative religions' prove as fickle as cats in their last moments during this second scene, squabbling over a farcical murder mystery and fighting for followers. Audience participation works brilliantly here—which is impressive, considering this is no primary school audience—and simply adds to the comedy, giving it the feel of stand-up spontaneity.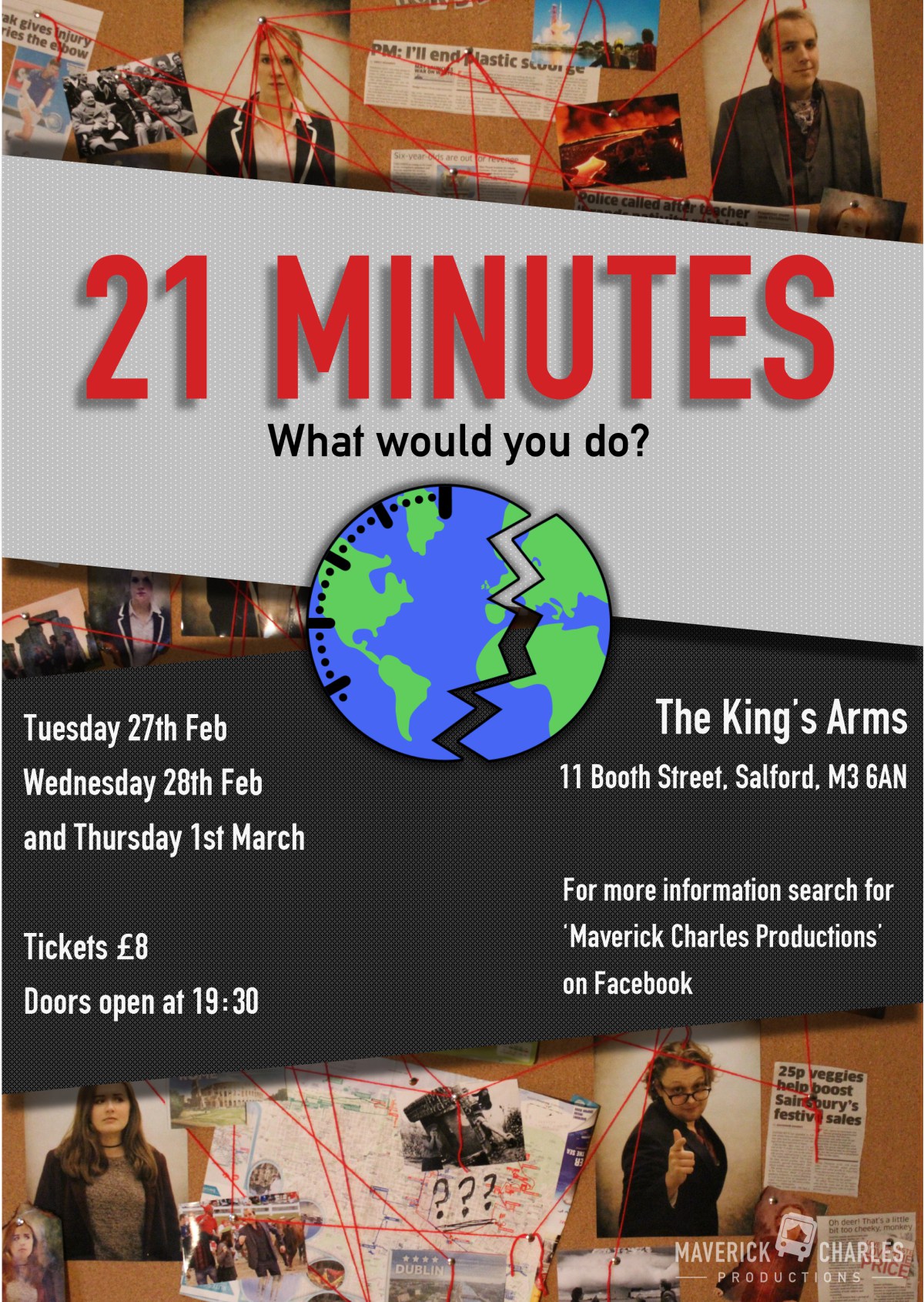 With 17 performers and five contrasting scenes there's plenty to enjoy, with fun, witty and confident performances throughout. This large cast is generally suited to comedy but, admittedly, the talent is inconsistent as the writing at times outshines the acting. The alien scene performances are unfortunately weaker, although the creative script still provides the occasional gem.
Set in a TV studio, the third scene is undoubtedly the strongest, featuring the meltdown of a pair of second-rate TV presenters and their weatherman, all experiencing their last 21 minutes live on air. A standout performance from Ellie Stewart-Dodd as glam presenter Francine receives many well-deserved laughs, from her superficial veneer at the start to her dramatic breakdown. Using her final minutes to release all her pent-up frustrations, Francine's hilarious post-watershed release epitomises what everyone secretly wishes to say at work.
21 Minutes does still feel like a student production, showered with very 'millennial' jokes and references. But—shock horror—this isn't necessarily a criticism. A creation of its time and likely best enjoyed by those in their 20s, its tongue-in-cheek self-awareness is full of charm and wit. Classic nostalgia for children's TV shows such as Round the Twist and Arthur surfaced as Gabriel (played by a very convincing Emily Fitzpatrick) regularly breaks into theme tune lyrics.
A satisfying comic plot that borders on the absurd, 21 Minutes is well-structured and full of variety. The set and sound design are both simple but effective, turning this into a cohesive performance. The five story threads are cleverly interwoven and make for an amusing finale. On the whole, this is a genuinely funny creation; the witty script and a handful of strong performances make 21 Minutes a promising example of student fringe theatre.
Reviewer: Eve Ryan
Reviewed: 27th February 2018
North West End Rating: ★★★★