Manchester audiences are well and truly spoiled this week with not just one, but two amazing ballets from the incredible Moscow City Ballet.
With Sleeping Beauty and Swan Lake both being performed at the Palace Theatre by the ballet company, I was spoiled for choice but settled on Swan Lake - purely for my love of that scene in Billy Elliott I think with the jump, you know the one I mean.
Swan Lake is a familiar story for most, telling the tale of Prince Siegfried (played by Daniil Orlov) and his love for Odette Odile (played by Lolita Orekhova) who is Queen of the Swans and trapped in a lake of tears until a prince can break the spell, from the sorcerer, Von Rothbart (played by Talgat Kozhabaev).
This production is just breath-taking, from the stunning backdrops to the outstanding talent on stage. I don't think I have ever seen such mesmerising routines.
The dancers are supported by a score from Tchaikovsky performed by the Hungarian Sinfonietta Orchestra led by the talented Igor Shavruk.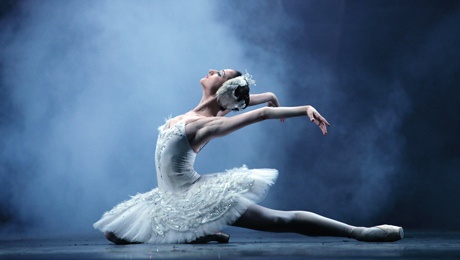 I particularly like the fact that you can still hear the footwork on stage, it's strangely compelling to hear the feet of the troupe as they dart across the stage with the orchestra complementing the dancers as opposed to drowning them out.
The entire troupe deserve so much praise for this show, but I must mention Orekhova's (Odette) and Orlov's (Prince) performance, technically it surpassed anything I had witnessed before and they held the audience with every move displaying passion and soul into their routines, a chemistry unrivalled from any other I have seen.
The jester also needs a special mention played by Faroukh Sadvokassov who delivers some light hearted moments in the middle of this rather emotional story, he was definitely a favourite amongst the audience getting big rounds of applause throughout.
The Artistic Director; Lyudmila Nerubashchenko has managed to make this well known ballet feel fresh and relevant, with wonderful routines, an extremely talented troupe and extravagant backdrops, it's everything a night at the ballet should be and it comes as no surprise that the evening was a sell out show.
Verdict: Awe-inspiring performance!
Reviewer: Max Eden
Reviewed: 1st March 2018
North West End Rating: ★★★★