No, it's not an instruction, it actually IS a musical about Donald Trump. From the same people who brought us "Boris The Musical", we have a new production which is set in 2020 when Donald is running for re-election. Vladimir Putin is determined to get even with Donald for dumping him ("Donald, you little slut!") in favour of his new friend: King Nigel Farage of England ("do you think they are doing the sex?")
Blowfish Theatre's first production was 'Boris The Musical' which had some great songs, a terrible wig and some snazzy curtains. 'Trump The Musical' also has some great songs, a terrible wig and some snazzy curtains.
This is very fast and clever comedy and I won't pretend that I understood all of it but that didn't matter because it made me laugh and it entertained me. I felt the audience took a little time to get warmed up tonight; possibly they didn't know what to make of the show at first (it is a bit like being thrown in the deep end of the political satire pool). I did hear more and more laughter as the evening progressed though.
David Burchhardt's portrayal of 'The Donald' is ludicrously good. He has the mannerisms, the gestures, the speech and is totally hilarious. Sadly, no matter how exaggerated the portrayal of the President and his ideas may be, I think most of the world now wouldn't put anything past him! David's highly energetic performance, together with non-stop pouts had me in stitches.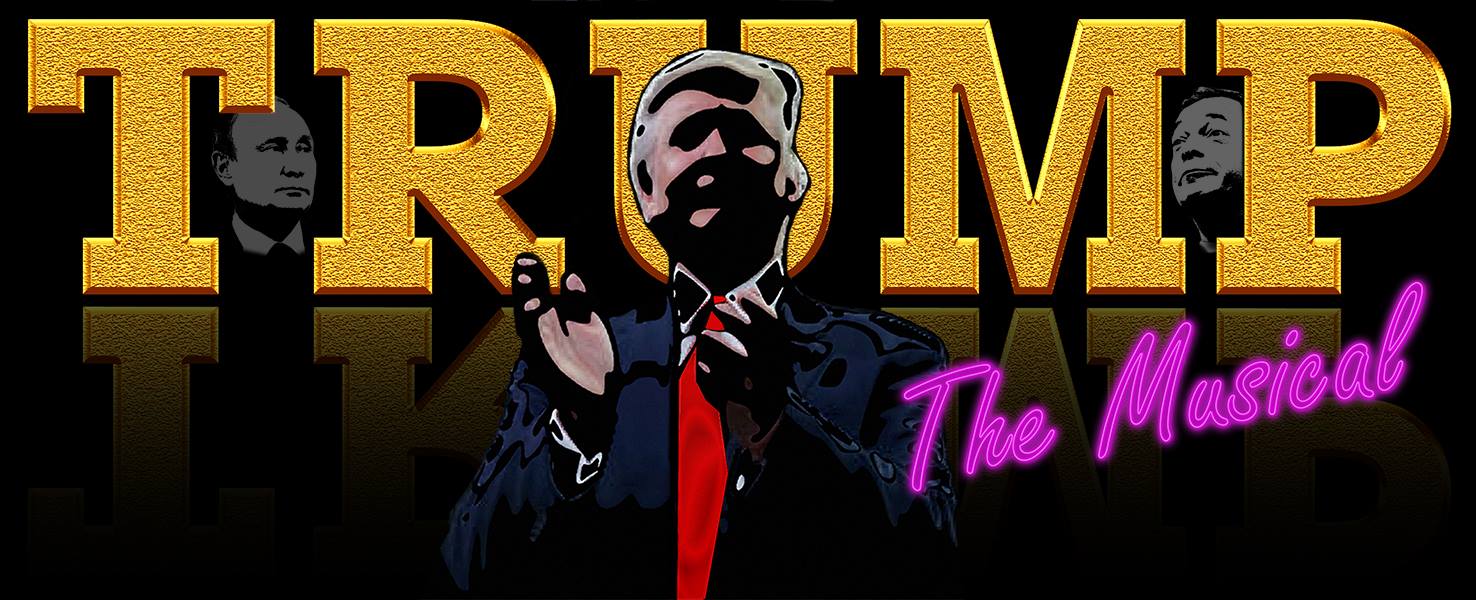 I loved Polly Bycroft-Brown as Rod, Donald's Press Secretary. Donald couldn't get the name right and poor Rod was called various names such as "Blob", "Cob" and "Pod" which was a running joke (I do like running jokes).
Kim Jong-un (or 'little rocket man' as this Donald refers to him!) and Vladimir Putin were both played by Natasha Lanceley who I thought was absolutely fantastic. Her Putin impression (loved the swagger!) was disturbingly hilarious and I really loved the song "It's Putin" - the whole thing was so bizarre but really compelling as it combined Natasha's priceless performance with some brilliant choreography from everyone else. Absolute genius! As for her 'Kimmy' impression: she played him as an excitable, squeaky, unstable prankster ("peace and love everyone!") I believe that at a recent performance, some people walked out when 'Kimmy' was on the stage and I really don't understand why – maybe two bad wigs in one night was too much?!
This is like 'Spitting Image' without the latex and with much better songs. I'm sure Blowfish won't mind me saying that this isn't sophisticated theatre: it's full-on political satire but it doesn't take itself seriously at all and even if some of the political points go over your head, the comedy is big and out there so you can take what you like from the evening. Without revealing any spoilers, all I can say is that I never thought I'd see Nigel Farage in a gimp mask (and why would anyone want to) nor Donald Trump getting jiggy with Vladimir Putin. Some things can't be unseen...!
Notwithstanding Blowfish's self-confessed low budget, they have produced another highly entertaining, hilarious, irreverent, slightly bizarre and disturbing gem. The low budget exterior belies the massive talent, wit and ingenuity which has gone into this show. Anyway, who needs an extravagant set when you've got snazzy curtains?
I thought it was a very nice touch that at the end of the show, Kyle Williams (Co-Artistic Director and Director) and Laurence Peacock (Co-Artistic Director & Writer) (they both also perform in the show) thanked the audience for their support and for turning out on such a very cold night.
I have enjoyed both of Blowfish Theatre's productions and I can't wait to see what they do next. They are definitely one to watch...and that's not fake news.
Reviewer: Nicky Lambert
Reviewed: 1st March 2018
North West End Star Rating: ★★★★